So, what happened then is that Kitchen Scrapbook ended up totally missing Christmas! I was living the moment, er, moments, surrounded by family and making food and snacks without blogging about it.
You know how when you get a whole bunch of Christmas cards in a row, 4 one day and 5 the next, and then it tapers off towards the end of December and then no more cards and then the 2nd week of January, you get another Christmas card? Well, that's how this post is… the other blogs you read have posted Christmas now and are switching from red & green colors to January blue and New Year's resolutions, but here, we're pulling you back to Christmas…
First, we have Pretzel Turtles


I got this idea from Judy on a message board that I frequent. Take small pretzels and put a Rolo candy on top of each one. Then, put them in the oven for a couple minutes at 350. When you get them out, immediately press a pecan half on top of each Rolo. Yum! They went over very well here!
We also had monster cookies, party mix, and gingerbreadmen: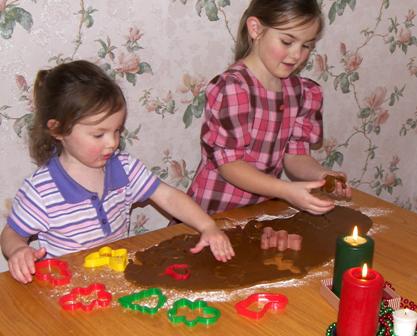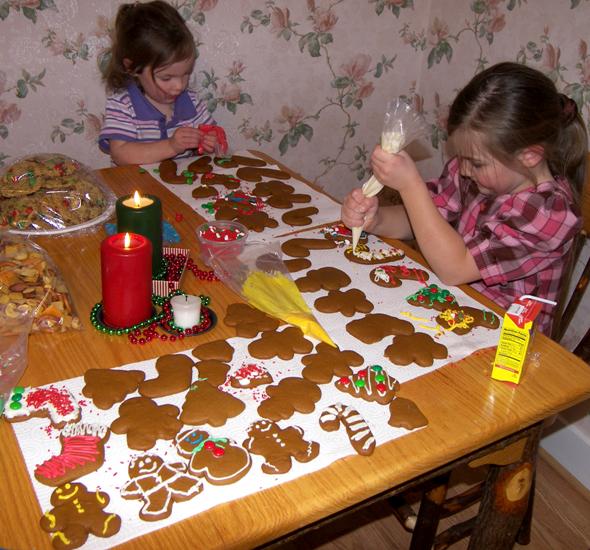 Lexi said, "Mom, look! I made twins!"…

Hmmm, someone samples cookies as she decorates…

And then onto our Christmas meal…
Here was our menu:
–Mashed potatoes and gravy
—Ham, rotisserie on the grill
–Noodles
–Baked corn
–Candied sweet potatoes
–Corn chip salad
–Rolls
–Jellied cranberry sauce
–Pies (pumpkin, lemon meringue, and peanut butter)
This is my husband, making some awesome ham…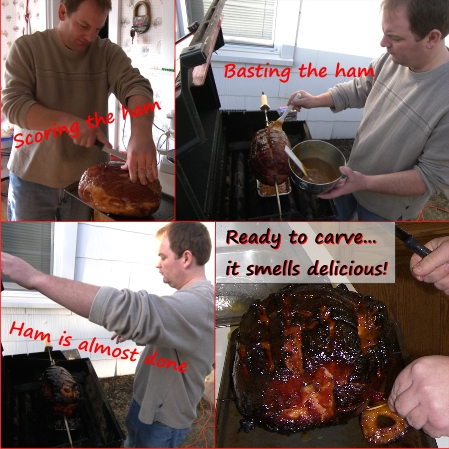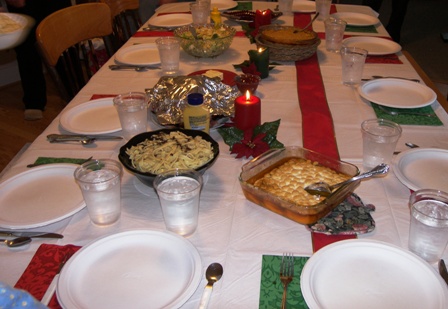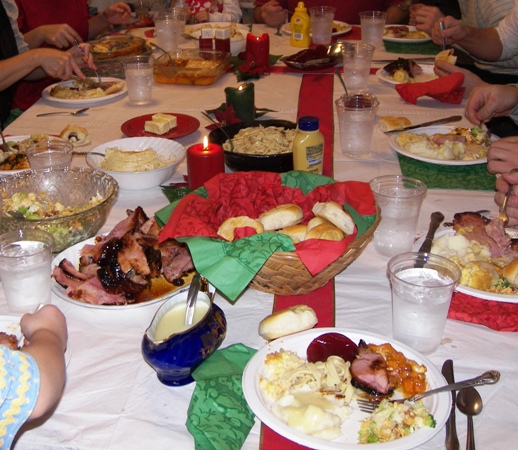 Missed the pies before they were eaten…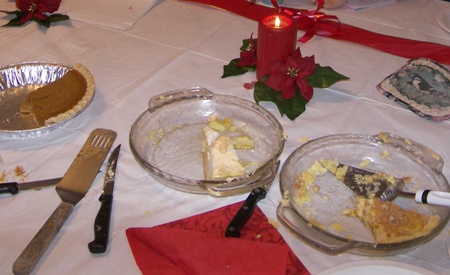 Pictured in the picture right under the ham collage is the candied sweet potatoes. I was trying to make a knock-off of Texas Roadhouse's loaded sweet potato. I baked 3 sweet potatoes, peeled them and put them in an 8×8 pan and mashed them with a fork. Then, melted a stick of butter and stirred in some cinnamon and about 1/2 cup of brown sugar, poured it over the potatoes, put a layer of marshmallows on top, then baked it at 350 until the marshmallows were browned. It was GOOD!!!
In addition to food, our Christmas consisted of gift opening, football throwing, baby holding, and much more…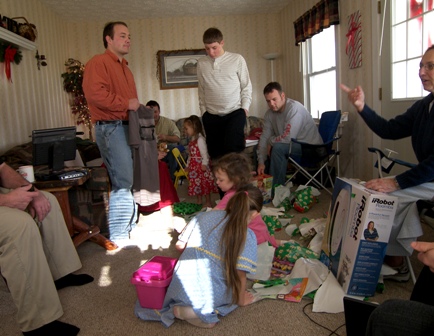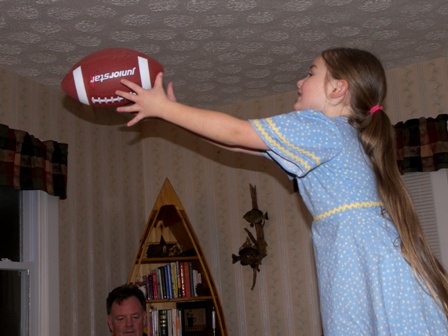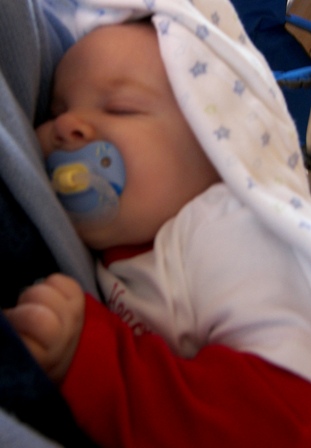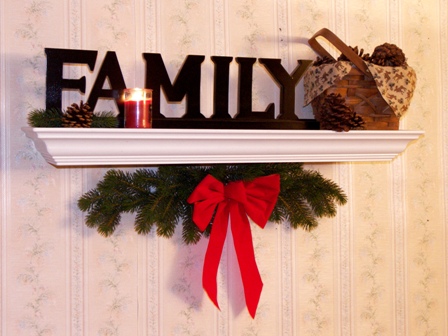 I love party mix! For me, it is another 'must' for the holiday season! As much as I like it, I oughta make it year-round. It freezes well, so I could make a big batch and get a small bag out of the freezer as needed. Do any of you do that? Or is it more of just a holiday snack for you, too?  
One thing about party mix is that is so variation-friendly. You can replace some of the Chex for other unsweetened cereal, you can use mixed nuts or peanuts, you can use different shapes of pretzels, and then the cracker part can be any kind of small cracker, cheesy crackers, bagel chips, or whatever. I don't think I've ever made it the same twice.
I do use a recipe to get the total amount of cups about right for the amount of sauce, then follow the sauce recipe exactly. And where this recipe comes from is… the back of the Chex cereal box, but I bake it instead of microwave it.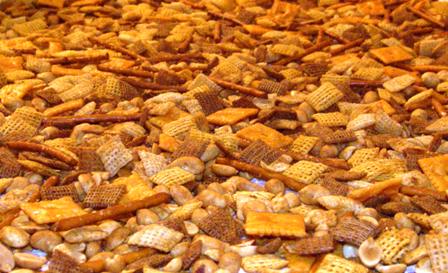 The Original Chex Party Mix
3 cups Corn Chex cereal
3 cups Rice Chex cereal
3 cups Wheat Chex cereal
1 cup mixed nuts
1 cup bite-sized pretzels
1 cup garlic-flavor bite-sized bagel chips or regular-size bagel chips, broken into 1″ pieces (I used Cheezits)
Or about 12 cups of any combo of the type of things listed above 
6 Tbsp. butter or margarine
2 Tbsp. Worcestershire sauce
1 1/2 tsp. seasoned salt
3/4 tsp. garlic powder
1/2 tsp. onion powder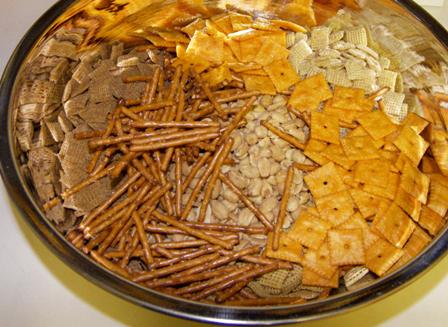 In a large bowl, mix cereals, nuts, pretzels, and bagel chips; set aside. In small microwavable bowl, microwave butter uncovered on High about 40 seconds or until melted. Stir in seasonings.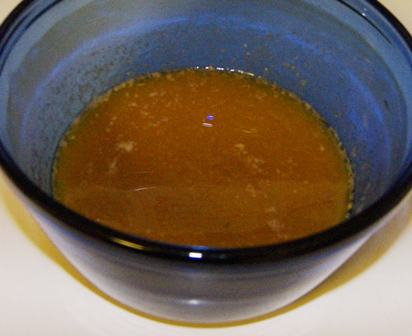 Pour over cereal mixture; stir until evenly coated.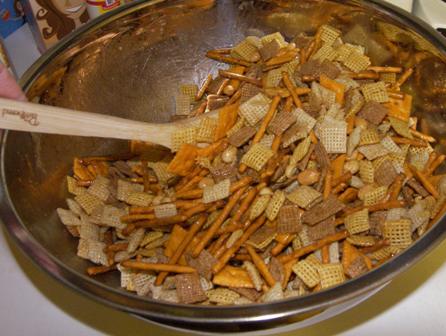 Microwave uncovered on High 5 – 6 min, thoroughly stirring every 2 minutes OR spread mixture out onto baking sheets and bake at 250 for 1 hour, stirring every 10-15 minutes.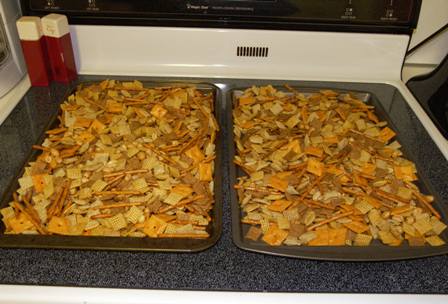 Spread on paper towels to cool.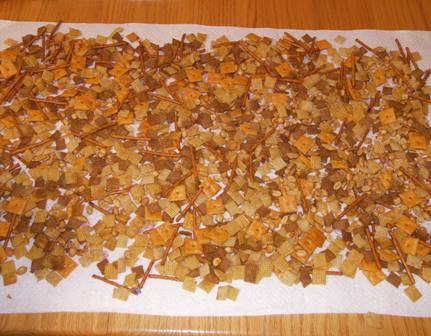 Store in airtight container.
So… what all do you put in your party mix? My sister, Jan, is looking for new ideas too. We just talked about it a couple days ago. And neither of us gave each other any good inspirations.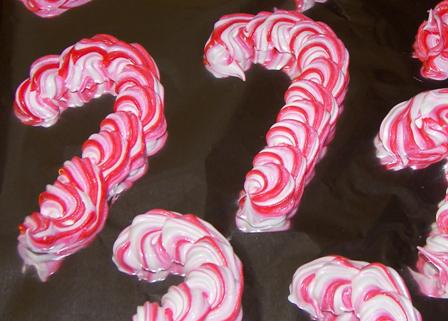 Mostly when we talk about food, we think of taste. Well, not this time… the strong point of these candy canes is the looks, not the taste. Aren't they pretty? I think they'd technically be called a candy… they have no substances like a cookie does. Speaking of substance, they might even be calorie-free because when you take a bite of one, within seconds, that bite dissolves into nothing inside your mouth, so the calories must dissolve into nothing too, right? 😉 Lexi says they taste like dried out frosting.
They were fun to make… you get to make swirls with a decorating bag. I actually did something I've never done before in featuring cooking and took a video. It's a very poor video, but my standards have gone from no videos to poor videos, so gradually, I'll up my standards to good videos. Part of the problem may be that my lighting was bad or that I saved it in low resolution or that I was piping the meringue with one hand while holding the camera and videoing with the other hand. Not a good idea. Live and learn.
By the way, if someone would just out of the blue ask you, "How do you spell meringue?", could you spell it? It has gotta be one of the weirdest-spelled words in the English language! 
Meringue Candy Canes …from the Taste of Home Christmas Cookies and Candies cookbook
3 egg whites
1/2 tsp. cream of tartar
3/4 cup sugar
1/4 tsp. peppermint extract
Red paste food coloring
In a mixing bowl, beat egg whites until foamy. Add cream of tartar; beat on medium speed until soft peaks form. Gradually add sugar, 1 Tablespoon at a time, beating on High until stiff peaks form and sugar is dissolved, about 6 minutes. Beat in peppermint extract.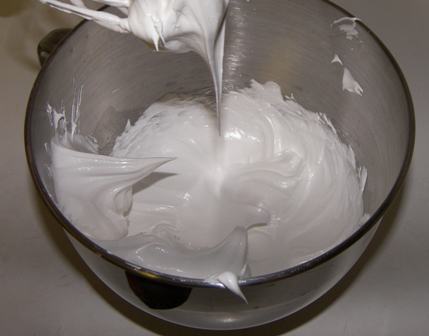 Cut a small hole in the corner of a pastry bag; insert star tip #21. On the inside of the bag, brush 3 evenly spaced 1/4″ strips of red food coloring from the tip to 3/4 of the way to the top of the bag. Carefully fill bag with meringue. Pipe 3″ candy canes onto parchment-lined baking sheets. I didn't have parchment paper, so I used tin foil. Worked great and they didn't stick to it.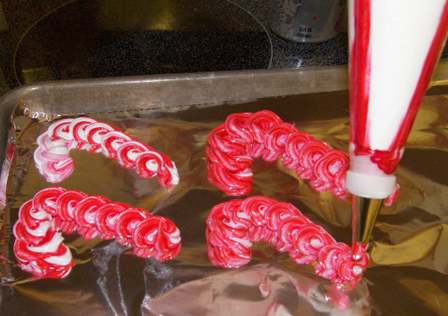 And now for the video: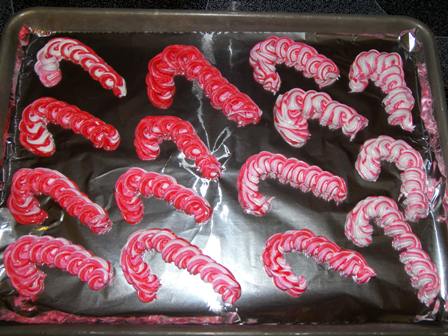 See the difference in redness here in these 2 panfuls? The top ones on the left were made first. I guess the food coloring got less concentrated as the meringue slid past.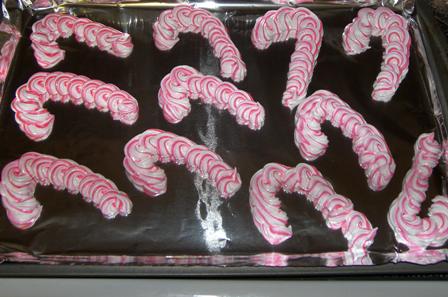 Bake at 225 for 25 min; rotate baking sheets to a different oven rack. Bake 25 min longer or until firm to the touch. Turn oven off; leave canes in oven with door ajar for at least 1 hour or until cool. Yield: 4 dozen. I must've made them bigger because I got only about 2 1/2 dozen, but I did use the #21 tip.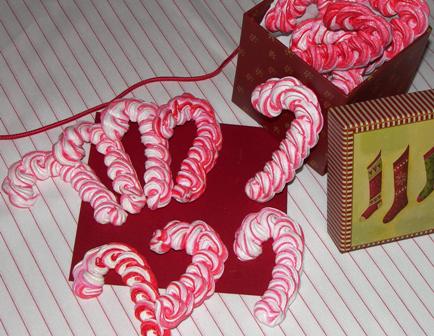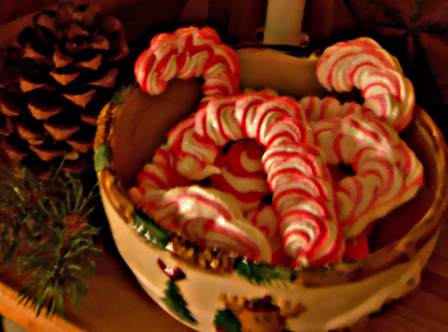 Put these festive candy canes on an assorted cookie plate for your mailman this Christmas! Or take a plate to your local fire dept. Or to your neighbors. Or eat all your Christmas cookies yourself.
I love hot breakfast foods. Sometimes when we go out to eat to we-serve-breakfast-all-day restaurants, I never get past the breakfast section of the menu. So, there I am, eating an omelet or stuffed French toast while everyone else is eating a cheeseburger and fries. But I'm fine with that. I don't get hot breakfasts enough. And now that I think of it, I guess that's nobody's fault but mine, what with me being the cook around here.
I oughta start doing what my mom does… I grew up with having one evening meal a week a breakfast foods meal. With school and Dad going to work early, it didn't work out in the morning to have breakfast as a family, so that is how we got those good hot breakfast meals in… have them for supper. I know quite a few of my friends do that now and then too.
This baked omelet is what we had for a Saturday brunch recently. Mmmmmm, it was good! And quite easy too! It comes from the 2001 Quick Cooking annual cookbook. By the way, if you're keeping track of how often I've used this cookbook lately, awhile ago I sat down with it and whenever a recipe grabbed me, I wrote the recipe name and the page # on a separate piece of paper. Till I got to the end of the cookbook, I had 25 recipe names written down. So, little by little, I'm making them.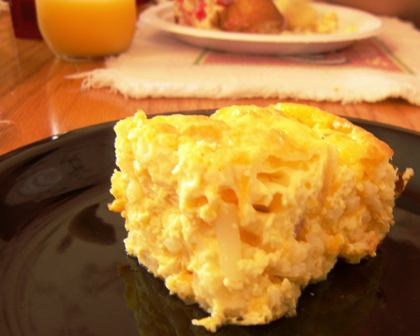 Oven Denver Omelet
8 eggs
1 cup milk
1/2 tsp. seasoned salt
2 cups frozen shredded hashbrown potatoes
1 cup diced fully cooked ham
1 cup (4 oz) shredded cheddar cheese
1 Tbsp. dried minced onion
In a large bowl, beat the eggs, milk, and seasoned salt.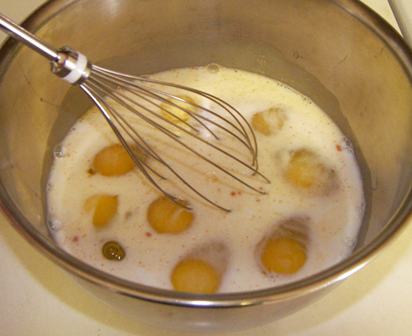 Stir in the remaining ingredients.

Pour into a greased 8″ square baking dish.

Bake, uncovered, at 350 for 45-50 minutes or until a knife inserted near the center comes out clean.
Yield: 6-8 servings.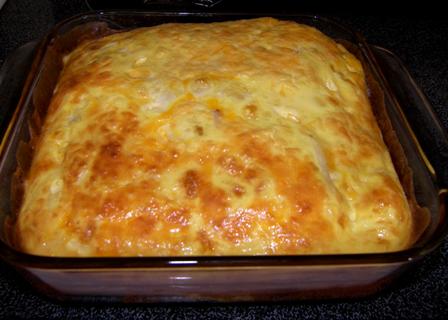 I'm going to have you all start helping me a little with serving ideas. I find a recipe I want to make and then get stuck on the 'What shall I serve with it?' question. I like to have a minimum of 3 things at each meal. What would you serve with the Oven Denver Omelet?
I know, it won't help for this time because I already served this omelet, but I want your suggestions anyway for future reference, in case I make this again or something like it. By the way, I served this with Raspberry Cream Cheese Cinnamon Rolls, fruit, and orange juice.
Lexi turned 6 yesterday. The big 6. She's got a loose tooth and she starts Kindergarten in March, then 1st grade next Fall. Life is pretty exciting for her right now.
See?…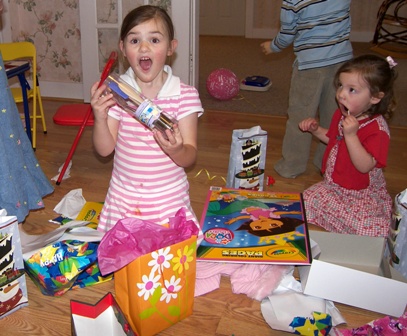 Actually, what she's exclaiming about here is the mini kitchen set that she got from her cousin Krista. I think we'll have a kid's cooking post coming up soon… she's anxious to try it out. It IS really cute.
And here is her birthday cake: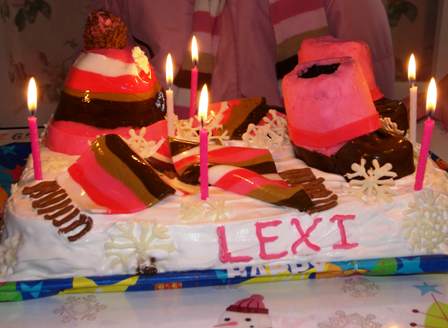 It was an attempt to match her hat, gloves, scarf, and boots. She gets all excited every time it snows, even though we haven't had much yet. The colors didn't exactly match, but it was obvious at what I was trying for.
Especially because I had her put on her snow stuff for the picture:
The base is an ice cream cake, covered with Cool Whip. I was trying to copy the cakes that Dairy Queen makes, you know, with vanilla ice cream and chocolate ice cream layered on either side of that to-die-for fudgy layer. If I'd do it over, I'd get regular vanilla instead of French vanilla because I think it's whiter.
I lined a 9×13 pan with plastic wrap (so it would turn out onto a tray easier), then put a 1/2 gallon of vanilla ice cream in, then a layer of crushed Oreos, then about 2 jars of Smuckers hot fudge topping, then a 1/2 gallon of chocolate ice cream, then froze it for awhile, then turned it out onto a tray, then covered the top and sides with Cool Whip.

And now for the fun part! 😉
The things on top are just carved out of a baked 9×13 chocolate cake, then covered with fondant (a roll-out icing). The gloves got carved to about half that size… they wouldn't have fit on the cake being that big.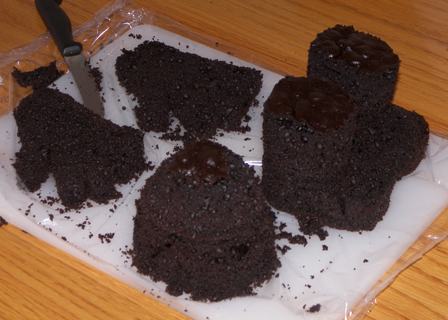 The scarf shows the fondant process the best. To make stripes, the fondant (which is pure white) is tinted different colors, then rolled into 'sticks', lined up against each other, and rolled out flat…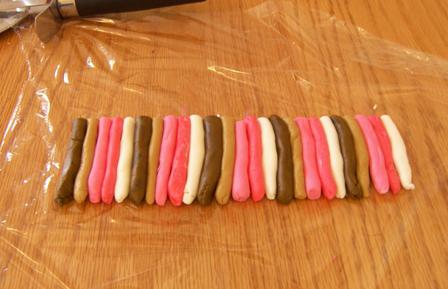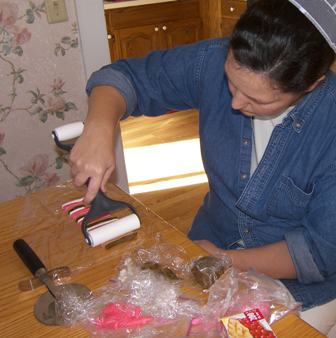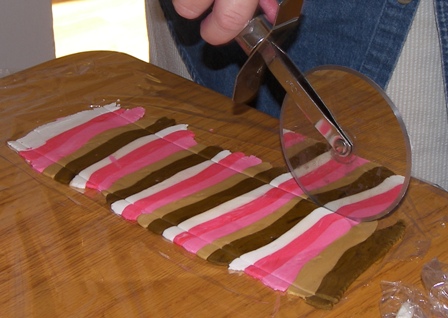 The fondant is soft and pliable, but dries out pretty fast, so it was pretty easy to get a the-scarf-was-just-thrown-over-there look by lifting up one edge and putting a ball of tin foil under it and then flipping the other end over. Then, instead of covering it, I let it out to dry and it hardened in that shape. The fringes were piped on later.
 Here is a progress picture and then the finished product. It was fun to make and I learned alot about using fondant! One main thing is that it you need to keep it tightly covered because as soon as it dries out even a little, it breaks instead of bends. I do think I'll use it more often though. It's fun!

The only other time I used it was 5 years ago to cover the building blocks on Lexi's 1st birthday cake. But that time I bought it and just let it white, no tinting it.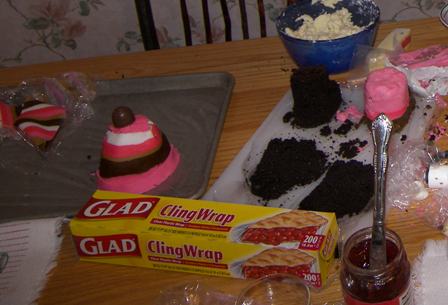 If you see that jar of jelly in the foreground, they say fondant holds to the cake better if you spread jelly on the cake first.
Oh, one thing I forgot to mention was the snowflakes… I melted white chips and then piped snowflakes onto plastic wrap on a cookie sheet and chilled them till they were hard, then placed them on the cake. They were fun for the kids to pick off and pop into their mouths.

Enjoy the snow if you have some! We've got a little bit on the ground here.