I've made these twice now… both times they were inhaled in a short amount of time. They are great with applesauce. Have you ever tried cookies with applesauce? I hadn't until my husband introduced me to that combo after we were married. The girls LOVE the frosting. When I saw that these cookies take caramel frosting, I thought 'No way. It's gotta be cream cheese frosting', but I decided to try them with caramel frosting after all and it turned out to be a good decision.
By the way, it's nearly Thanksgiving… are you cooking a Thanksgiving dinner at your house? I'm not. We're going away for dinner. I'm just planning to bring something to go with the meal, like a salad. I just went to put a link to the post with the recipe of one of my favorite salads and realized I have not featured it yet! It's the Robust Italian Salad pictured on this post. It's SO good and you DO need to have the recipe, so be looking for it within the next week or so! It's got homemade croutons, and just before serving, you toss it with Italian dressing. I'm also planning to make a pumpkin pie this week. I want to try a Custard Pumpkin Pie from a 'blank' cookbook that my grandma hand-wrote recipes in for me. This pumpkin pie recipe was given to her from my great grandma. Mixing my nostalgia with my cookbook collection, a couple of the cookbooks I own are PRICELESS. The pumpin pie recipe is in this cookbook next to the Brown Sugar Pie, which is also passed down from my great grandma. Mmmm, just seeing that brown sugar pie again makes me hungry for it!
Ok, back to the pumpkin cookies with caramel frosting…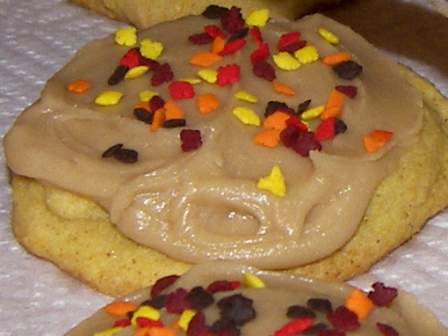 I got this recipe from my friend Freida… This recipe is 1 cup of this and 1 tsp. of that for most of the ingredients… if you ever want to memorize recipes, this would be a good one! 😉 Is there any recipe that you make so much that you've got memorized (I don't mean made-up stuff, like you dump-and-bake cooks do 😉 )? From age about 12-17, it was pancakes for me. Not sure if I was the chief pancake-maker or what, but I knew the recipe. Now, it's Raspberry Cream Cheese Cinnamon Rolls and Red Lobster Biscuits and maybe a couple others, but that's all I can think of right now.
Pumpkin Cookies
1 cup Crisco
1 cup sugar
1 cup pumpkin
1 egg
1 tsp. vanilla
2 cups flour
1 tsp. baking powder
1 tsp. baking soda
1 tsp. cinnamon
1/2 tsp. salt
Cream shortening and sugar. Add pumpkin, egg, and vanilla. Blend in dry ingredients.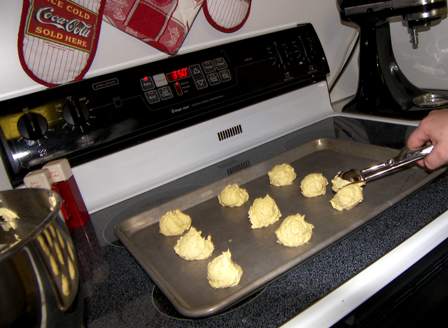 Bake at 350 for 15 minutes. (Freida said, "I only baked them for about 12 minutes and they were perfect." And now I add, "Me too.") Spread caramel frosting on top. Also good with cream cheese frosting.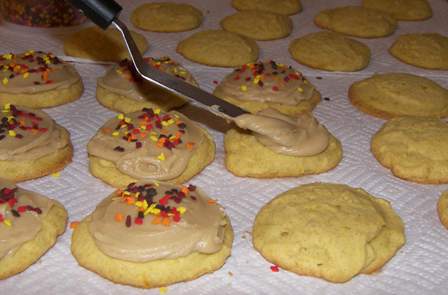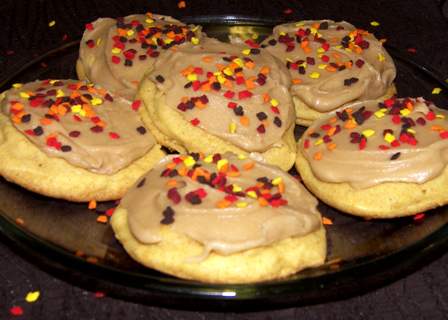 Caramel Frosting
1 cup brown sugar
1/2 cup butter
1/4 cup milk
1 tsp. vanilla
1 1/2 cups powdered sugar
Combine brown sugar, butter and milk and bring to a boil over medium heat. Cook and stir for 2 minutes.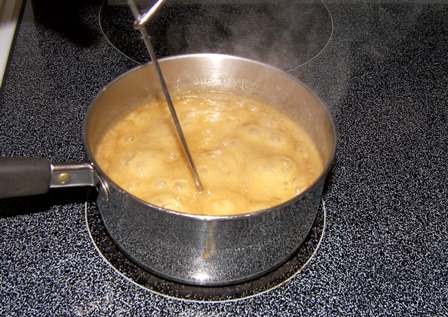 Remove from the heat and stir in vanilla. Cool to lukewarm, then gradually beat in the powdered sugar until frosting reaches spreading consistency.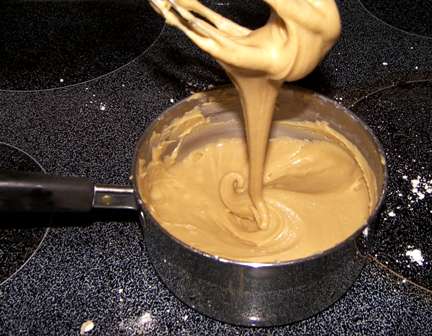 The more powdered sugar you add, the faster it will harden. I made the frosting while the first batch of cookies was in the oven. It took forever to cool to lukewarm… next time, I'll either make the frosting ahead of time or make the cookies while the girls aren't around! "Mom, is the frosting ready yet?… 20 seconds later… "Is it ready now?"…

My mom gave us some little leaf sprinkles, so we used them on the cookies for a bit of garnishing. We (er, they) sprinkled them on right away before the frosting hardened.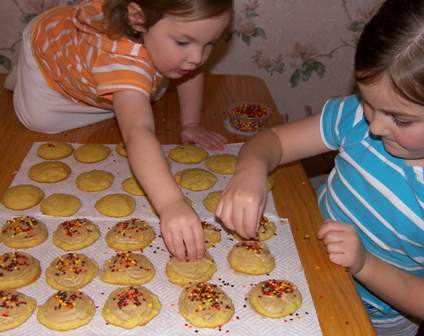 Lexi was explaining this picture to someone and here's what she said, "We were sprinkling sprinkles on pumpkin cookies with delicious frosting. At first, I sprinkled a little bit so I needed more and then Tiffany came and she wanted to sprinkle some on too. At first she was sprinkling on too many sprinkles, but then she got better at it. And then she patted it down and got her hands all messy." Yup. That's pretty much how it went. 
Ok, it's about time to feature something sweet again, wouldn't you say? I would! I have to force myself to try to keep this site balanced… would be more fun to have all desserts. But maybe the reason for that is because that's the type of stuff that I'm addicted to get cravings for the most. So, of course it's more fun to post about it. That's probably why I haven't posted the crunchy-baked fish yet that I made awhile ago.
This recipe is hand-written in my 'blank' cookbook. It's my mother-in-law's recipe. I'd never had it or even heard of it until she made it one time when my family went over to their house for a meal one time many years ago, before I even dreamed she'd be my mother-in-law someday. Ok, I'd better take that back… it may have been in my dreams for the future… 😉
I think this cake is meant to be a knock-off of the TastyKakes Peanut Butter Kandy Kakes, which are (in my opinion) the BEST in the entire TastyKake line. It does actually taste a lot like them, except those have chocolate on all 4 sides instead of just the top. Hmmmm, never thought of it till right now, but I could cut them out in circles after the peanut butter is on and dip them in chocolate. Given the choice of chocolate on 1 side or chocolate on ALL sides… that's a no-brainer.  
Peanut Butter Candy Cake
4 eggs
2 cups sugar
1 cup milk
1 tsp. vanilla
2 cups flour
1/4 tsp. salt
2 tsp. baking powder
1 cup peanut butter
8 oz. milk chocolate chips (I used most of a 12 oz. bag)
Beat and beat the eggs. Gradually add the sugar, milk, and vanilla.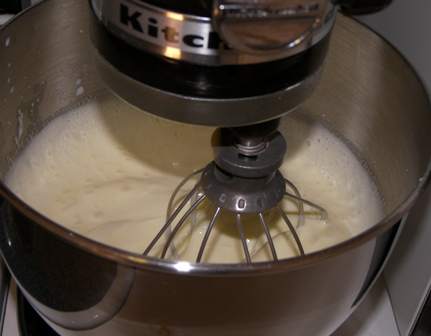 Then add the flour, salt, and baking powder. Pour into a greased jelly roll pan.

Bake 15-20 min at 350.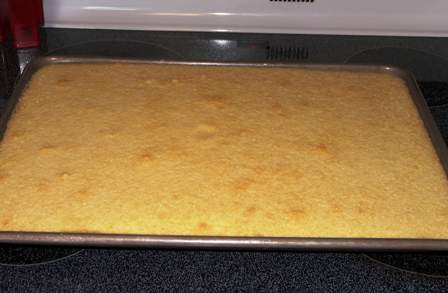 When you get the cake out of the oven, put dollops of peanut butter all over the cake. When it softens and melts a bit, start spreading it out until the entire cake is evenly covered. I didn't actually measure out 1 cup for this (and probably put on over 1 cup), so don't hold yourself to 1 cup if it seems like more would be better.

Same with the chocolate.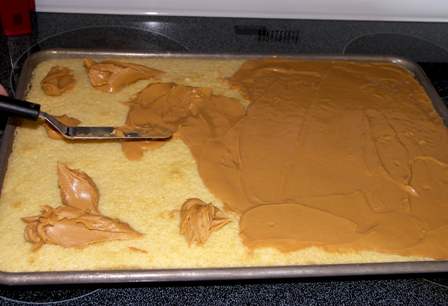 Let the cake cool, then put it in the freezer for awhile until the peanut butter firms up. Melt the chocolate and spread on top of peanut butter. It'll harden because the peanut butter underneath is cold.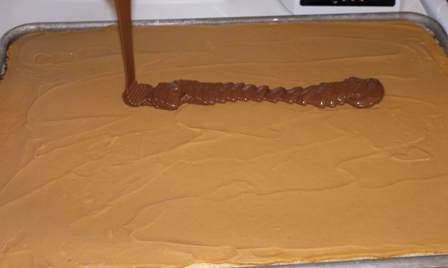 Cut into squares. Some of my pictures got blurry, and I don't have a good one of the cake all covered with chocolate. I really should check my pictures before eating the food!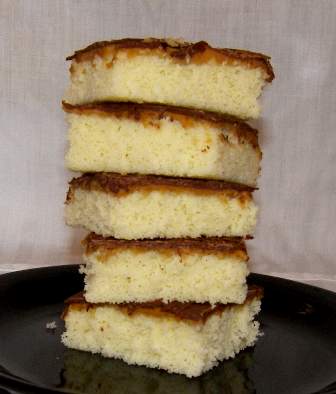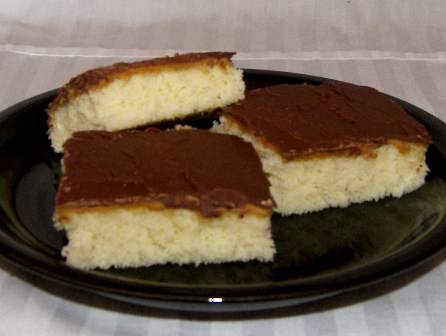 I don't think I need to sell the idea that this is good stuff! The cake part is kind of like a moist pound cake. Moist cake with peanut butter and chocolate… nothin' wrong with that combo!