I'm not just being gushy about the pizza subs by adding the word 'super' in the title… that's actually the official name of them in the cookbook that I got the recipe out of, which is the 2001 Quick Cooking annual cookbook. They do live up to their name, though, and the 'super' in the title is very fitting.
Another fitting name would be Meat Lover's Sub, what with having 4 different kinds of meat on them.
The recipe called for 6 9″ sub rolls. What I had was 7 6″ sub rolls… don't do the Math because the inches won't hold out. (If any perfectionists out there wonder why I had a 7-pk of rolls instead of an even #, it's because I had stolen one out of there before to make a sandwich because I was out of bread.) I know this is one of those things that you can just throw together and don't need a recipe for, but I wanted to follow the recipe (ingredient-wise) to see if I thought the ingredients went well together and then I'd add or delete stuff from there.
Super Pizza Subs
6 submarine sandwich buns (about 9″), split
1/2 lb. bulk Italian sausage, cooked and drained
1 lb. shaved deli ham
1 can (8 oz.) pizza sauce
1 lb. sliced mozzarella cheese
1 medium onion, halved and thinly sliced
36 mild banana pepper rings
2 pkgs. (3 1/2 oz. each) sliced pepperoni
1/4 lb. thinly sliced hard salami
I toasted the buns first because I thought a little extra crunch would be nice. On bottom half of sandwich buns, layer sausage, ham, pizza sauce, cheese, onion, banana peppers, pepperoni, and salami. Replace tops. Wrap each sandwich in heavy duty foil; place on baking sheets. Bake at 425 for 12 – 15 minutes or until cheese is melted. Serve immediately. Yield: 6 servings.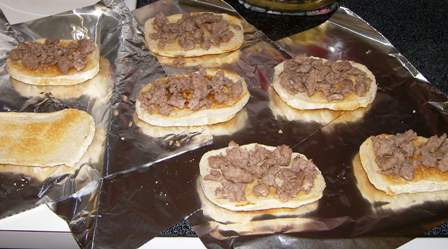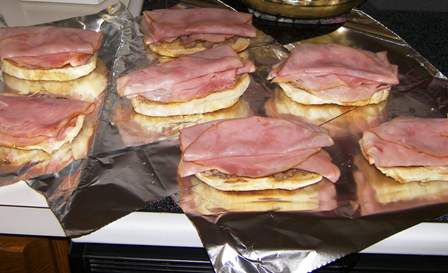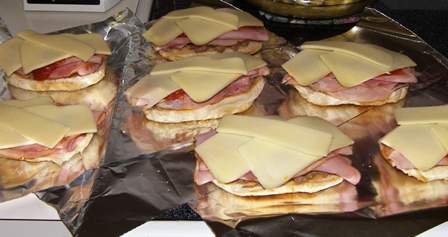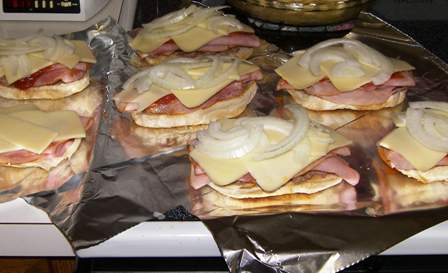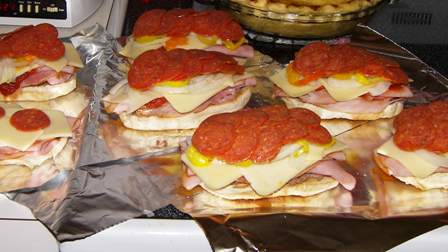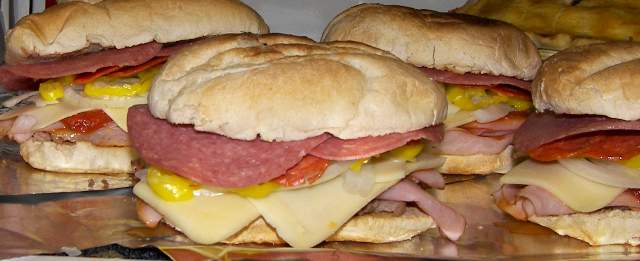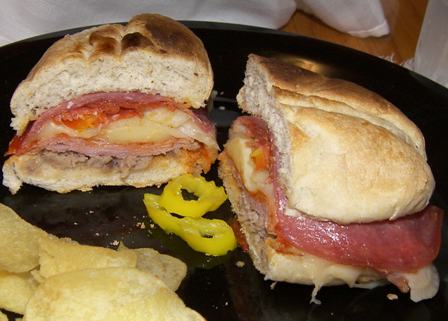 They were great! Yum! Here's what I would change though… use more pizza sauce, go easy on the onions, and sprinkle on some Italian seasoning. Or, I'd saute the onions first, then use the full amount… we're not cracked over raw onions, even though they were baked a little. And then if I'm sauteing onions anyway, I'd throw some sliced raw mushrooms in the pan too. 😉 By the way, if you notice that the one sandwich in the front on the far left didn't get all the ingredients, it's because that one is for my picky little eaters to split.
I served them with chips and then had fresh warm apple pie (recipe posted here) and ice cream for dessert…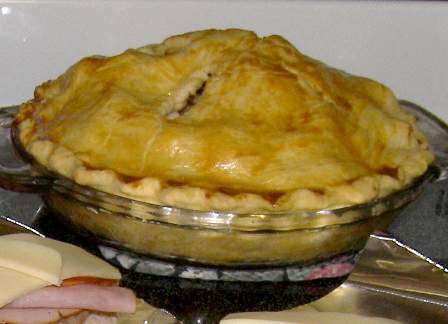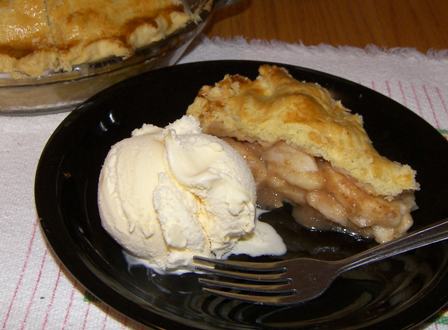 I've never made baked oatmeal. I think I've had it before (Mom might have even made it at home), but I don't really remember when. The only oatmeal I really liked (before this) is the stuff in packets, the maple & brown sugar flavor. I just saw this recipe while looking for something else and it kind of grabbed me, so I decided to try it. And, it was GOOD!!! It's filling too! (with seconds, that is) 😉
It's easy and quick too… you can get out of bed, make it in your pjs, put it in the oven and by the time you're dressed and combed and have the bowls, spoons, and milk around, it's ready to pull out of the oven. Make it tomorrow morning!
Baked Oatmeal    … recipe taken from the Simply with Taste cookbook
1 cup brown sugar
1/2 cup butter, softened
2 eggs, beaten
3 cups quick oats
2 tsp. baking powder
1 cup milk
1/4 tsp. salt
Cream sugar and butter together until light. Then add the eggs and mix well.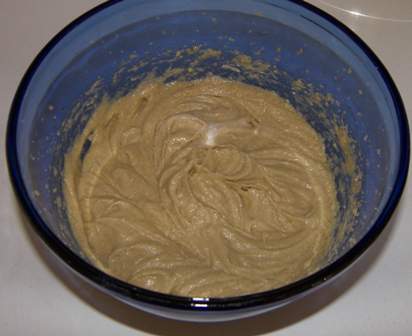 Add the baking powder and salt, then alternately add the oats and milk, mixing just until well blended. Pour into a greased 9×9 baking dish.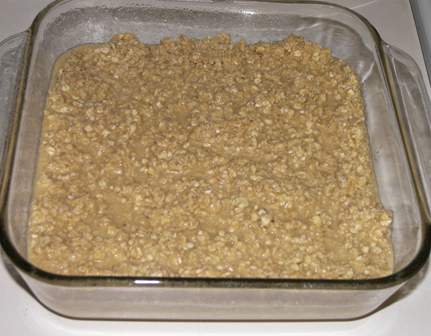 Bake at 350 for 30 minutes.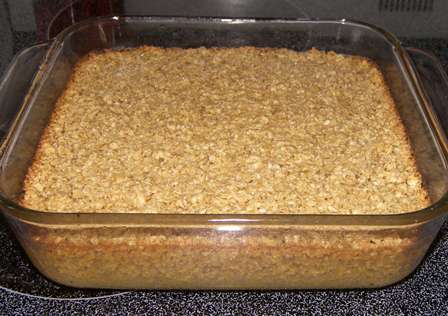 Serve this warm with milk for a breakfast dish or with ice cream for a dessert. When I got this out of the oven, Lexi thought I had made bars! We all really liked it, even the girls had seconds, which by the way is quite something… usually at mealtime we deal with "Do I have to eat all this?" instead of "Can I have more of that stuff?"
Up next on Kitchen Scrapbook: Super Pizza Subs (from the 2001 Quick Cooking annual cookbook, if you have it and want a sneak peek)
Because Mom's is always the best, isn't it? No matter who 'Mom' is.
 This potato salad is not my mom's recipe, it's just potato salad that's like hers… just basic potato salad, with no fears of biting into a piece of celery or a pimiento. The reason it's not her exact recipe is because there is none. She just cooks a few potatoes, cooks a few eggs, and makes the dressing, which is a few dollops of salad dressing, a bit of milk, a squirt of mustard, a scoop of sugar, etc., then she tastes it and adds more as needed.
 I think that's what makes a truly good cook… when you don't need recipes, yet the food turns out great. My sister Jan inherited that style of cooking, but not me. I do really admire that style of cooking and am impressed when I ask someone for a recipe and they say 'I don't actually have one'. But the times I've tried to fling it without a recipe, it's been mostly flops, so I'll stick to recipes.
This recipe doesn't have progressive pictures because I wasn't planning to post it when I made it, but then after tasting it again, I changed my mind because I just love it. But, you didn't miss much by no progressive pictures, it's pretty basic.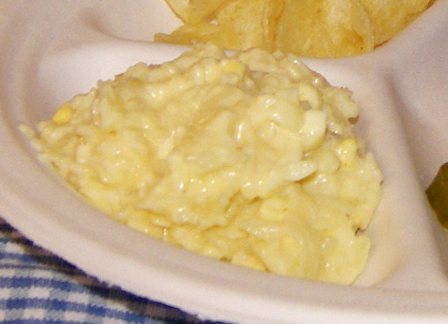 Mom's Potato Salad
6 hard boiled eggs, cut up (I put them thro' the egg slicer one way, then the other)
5 medium potatoes, cooked, then peeled, then cooled, then shredded 
Dressing:
1 1/2 cups salad dressing
1 1/2 Tbsp. Dijon mustard
2 Tbsp. vinegar
1 heaping cup of sugar
2 tsp. salt
1/4 cup milk
Pour dressing over potatoes and eggs and stir slowly till evenly mixed. Refrigerate. It can be made ahead… it's just as good or better the next day. Enjoy!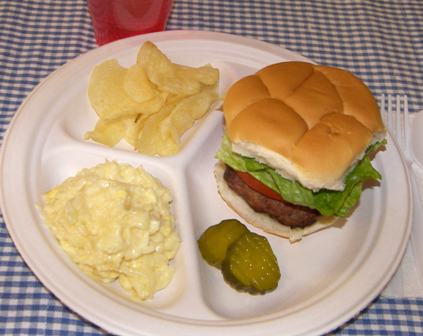 Here I am, equipped with my feather-duster, ready to dust off this site again. Ah, how I missed it! I had a list a mile long that I had to get done before I was going to allow myself to start posting again. But, I'm pretty gracious, especially with myself (sigh!), and I let that little rule slide. Not totally slide though, I did get about 3/4 of the things done that I wanted to.
 So, have any of you ever moved? Do you know how much WORK it is?! You have to still do the laundry, make meals, take care of the kids, go scrapbooking, clean the house, PLUS decorate the house, unpack boxes, and fit everything into cupboards and closets. And it doesn't all fit quite as good as it did… you know how when you go grocery shopping and you've got a full cart, then you put it all on the checkout counter and when you load it back into the cart bagged up, the cart is overflowing and you've still got 5 more bags to put in it. So, I have quite a few things that don't have homes yet. Like the Kleenex box. It is on top of the fridge, but how many guests will manage to spy it up there? And the spices, I need to figure out a better system for them. They have a home, but not a very organized one. …Not like I'm stuck on being organized or anything.
 I think for the next while, my house will be like a Rubikscube (I have no idea how to spell that, so just sound it out and you'll know what I mean). Once everything is in place, I'll still be changing this and changing that till it feels right.
Anyway, I'm not posting a recipe right now, just checking in to say Hi and that you'll be seeing more action on this site again now.
And if you ever get bored, make a duck bill with Pringles chips…