*Digging myself out from under a mountain of boxes* All I've been thinking of lately is bananas and an occassional apple… maybe it has to do with the fact that I've been spending alot of time with banana boxes and an apple box now and then.
We are moving.
From
WISCONSIN
to
OHIO.
So, this website will be put on the back burner for the next month or so. Ah, how fitting to use the term 'back burner' in a kitchen-related post. You know, it is true that when I make a meal, I very seldom need more than 2 burners and always use the front ones. The back ones aren't used near as often. I wonder if they keep that it mind when they're making stovetops. Not sure exactly what they'd do to make the front ones better and last longer, I guess that was just a weird random thought.
 Anyway, for tonight, I'm making, er, WE'RE making Grilled Chicken Breast Salad. It's 'we' because the grill is not my territory, and I'm quite happy to keep it that way.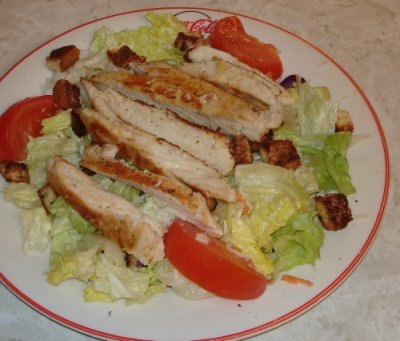 As I was saying in the last post, we had breadsticks with our ham meal that was featured and they went into the 'don't make again' department.
And as I've said hit-n-miss in previous posts, me and making yeast breads from scratch don't go together too well.
I don't know, do you think those 2 facts had anything to do with each other?
Parmesan Breadsticks …recipe from an Easy to Bake Easy to Make recipe card
Printable recipe
3 cups all-purpose flour
1 envelope (.25 oz) quick-rising yeast
3/4 tsp. salt
1 cup warm water (120F – 130F)
2 Tbsp. olive oil
1 large egg white, lightly beaten
2 Tbsp. grated Parmesan cheese
Combine 1 1/2 cups flour, yeast, and salt in a large bowl. Mix water and olive oil in a small bowl; add to flour mixture. Beat w\ an electric mixer on low speed until moistened. Beat on medium speed until well blended, about 2 minutes. Gradually add remaining flour until a soft dough forms. Turn dough onto floured work surface. Knead until smooth and elastic, about 6 minutes.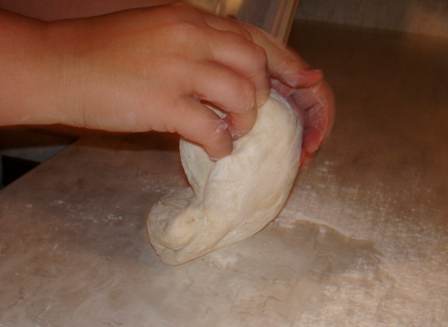 Cover; let rest 10 minutes. Coat 2 large baking sheets with cooking spray. Divide dough into 16 equal pieces. Roll each piece into a 12″ rope. Place on prepared baking sheets.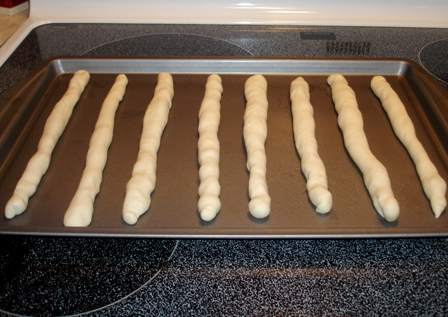 Cover; let rise until almost double in size, about 20 minutes. Lightly brush breadsticks with egg white.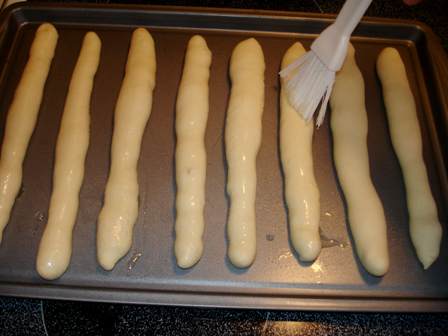 Sprinkle with Parmesan cheese.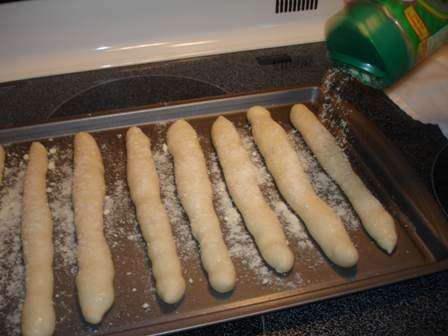 Bake at 400 until lightly browned, about 15 minutes. Transfer to wire racks to cool completely. Makes 16 breadsticks. I made an entire batch of 16 breadsticks and put the other half (unbaked) in the freezer to see if it works to get them out, thaw them, let them rise, put egg white and Parmesan on them and bake them for fresh breadsticks at another meal.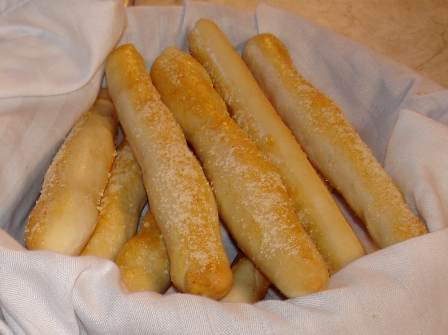 Ah, don't they look just delicious?! Well, they're not. They were dry and not very flavorful and you could smell the olive oil.
Soooooo…
After we were done eating, while I was cleaning up, I made the rest into croutons. I think there were 4 or 5 left over out of 8. I cut them up into chunks with a scissors…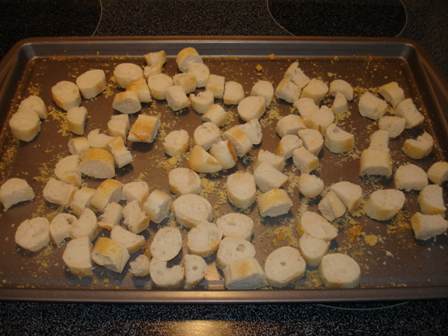 then added about 1/2 tsp. of Italian seasoning and a couple shakes of salt to 1/4 cup melted butter and poured it over the bread pieces and tossed it till they were all coated.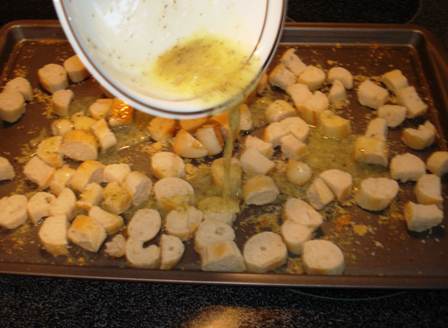 Then I baked them at 400 for 10 minutes, turning them over once during baking.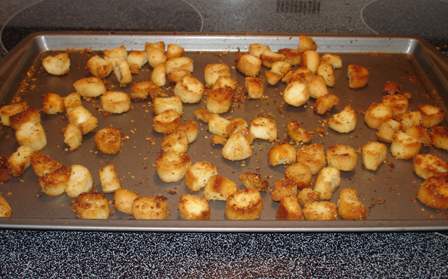 Mmmmm! They were great! Probably the BEST croutons I've ever had! Kind of a roundabout way of making them though. Maybe they were so good because I may have gone a little overboard on the butter. And what isn't good, laden with butter?!
Oh, and by the way, those extra breadsticks I put in the freezer, you know, the other half of the batch? Someday, I'll get them out, thaw them, let them rise, put egg white and Parmesan cheese on them, bake them, chunk them up, drown them in butter and Italian sesoning, and eat them on a salad or in soup. Or just plain.
Wow, where did my week go?! Here it is, Saturday morning already. Did you ever wonder why life seems to go faster now that you're older? The first I remember wishing life would pick up a little speed was 6 years old, er , 5 years old, I wanted to be the big 6. And then it was like that up until 19 when I got married. You know all the milestones… 13 – teenager, 16 – driver's license (which I flunked twice, by the way… once was an over all lack of driving experience and the other was getting caught in a funeral procession at a stop light. And worse than the fact that I still didn't have my license was the fact that I had to blushingly tell my friends that, sigh, I flunked again. At 16, it's not easy to admit mistakes to friends. I guess that goes for any age, actually.) Anyway, after I got married, I had no more milestones to be reaching ahead for. I just wanted to settle in and have life slow down. And be in the 'young marrieds' group forever. Now a couple years ago, we got 'kicked out' of that. But, that's not too bad, we just passed our 12th anniversary a few days ago.
Anyway, this has nothing to do with HAM, but I still wonder where my week went!!!!
This recipe comes from the Grandma's Recipes cookbook. I love this cookbook! Maybe one reason is because I know Ray and Elsie, the ones who compiled it. And I must compliment them on the index! It's VERY user-friendly! I think in a cookbook, one of the hardest things would be making the index, categorizing everything and making sure you didn't miss a recipe.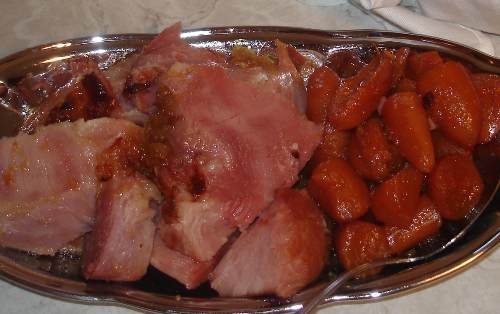 Baked Ham with Sweet Potatoes and Pineapple
1/2 ham, 5-6 lbs.
1 c. brown sugar
6 medium sweet potatoes (didn't have these, so I subbed canned ones)
1 c. crushed pineapple
Rub fat side of ham w\ brown sugar. Peel sweet potatoes and arrange around ham (or dump in a can or two of canned ones, they didn't get too mushy). Pour crushed pineapple over ham.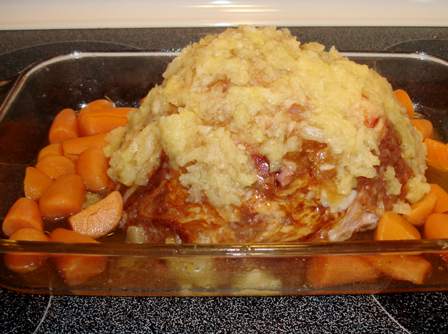 Bake at 325 allowing approximately 25 minutes per pound or until internal temperature reaches 160.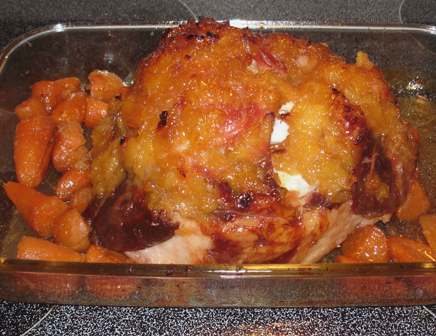 That white part is the bone.
This was great! And easy! No scoring the ham and poking a bunch of cloves in. I baked it uncovered and the ham was really moist. Those sweet potatoes tasted candied, just delicious!!!! Part way through baking time, I took some of the juice and basted the ham and also turned the potatoes over. Not sure if that made a difference or not.
Here was the rest of our meal: Ham and sweet potatoes along with breadsticks and applesauce…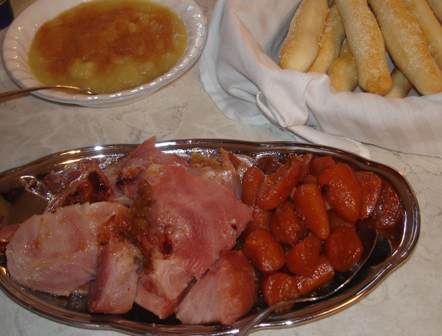 Those breadsticks landed on the 'Don't bother making again' list, but I'll feature them sometime anyway.

Can't have all top notch recipes… as Pioneer Woman would say 'Just keepin' it real'.
Ok, I'll just show you how I do it, but don't expect alot of tips and all. Who knows, after this post, you might be giving me a lot of tips! 😉 That would be great, it would make us all better pie crust makers. And you might laugh at how I do it, for example, I use Saran Wrap in the pie-crust-making process. *Huh?!*
Warning: Eyes may glaze over… there are lots of pictures and it got a little wordy.

First, the recipe. This is the only pie crust recipe I use and I don't even try others because this one works great and has only 4 ingredients and it gets compliments now and then:
Pie Crust
1 1/3 cups flour
1/2 tsp. salt
1/2 cup butter-flavored shortening (Does shortening have an 'e' in it? I keep adding then erasing it. I should go look on the can.)
3 Tbsp. ice water
I put the flour and salt into a bowl and give it a few stirs w\ the teaspoon that I measured the salt with. Yeah, I about always measure stuff, I'm not one of those 'just dump it in' people. Then, I mix the shortening in with a potato masher…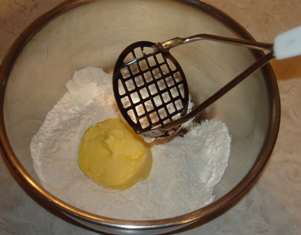 I've tried a pastry blender, two knives, a fork, and nothing works quite as good as a potato masher.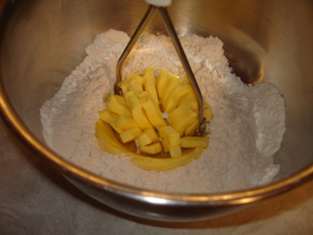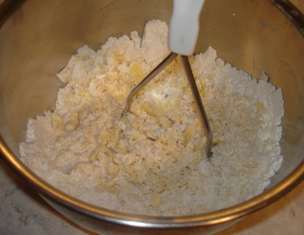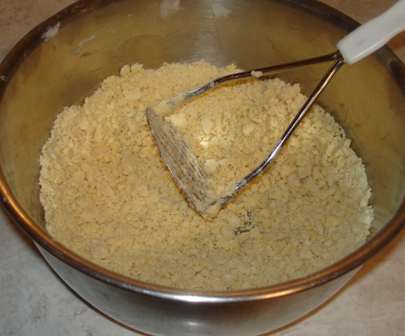 When it looks about like this, pour the water in all at once and quickly stir it with a fork. More like pourthewaterinallatonceandquicklystiritwithafork. Not sure why, but I feel some urgency to get it stirred in, maybe because I'm afraid it would soak into the part where it's pooled, then not get evenly dispersed. Anyway, I think that little tidbit might fall under the category of 'Weird Quirks' instead of 'Pie-Crust-Making Tips'.
When it looks like this,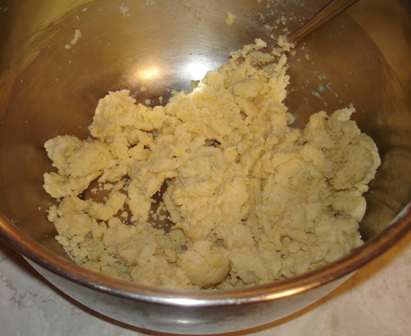 stop stirring and get a piece of Saran wrap, lay it on the counter, and sprinkle it with flour. Then, with your hands, get all the dough and squeeze it together into a ball, then flatten it a bit and put it on the floured Saran wrap.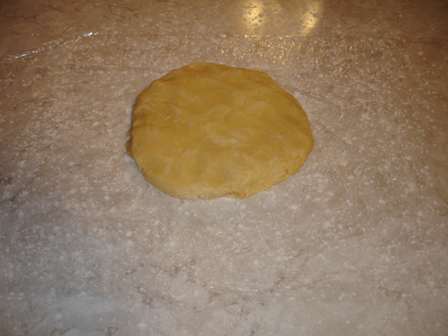 Sprinkle flour over the top.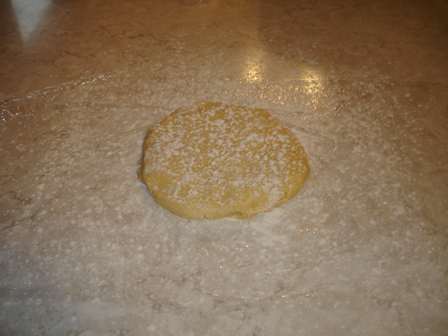 Take the rolling pin and roll it this way,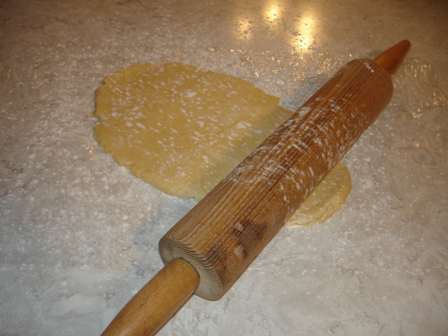 then that way.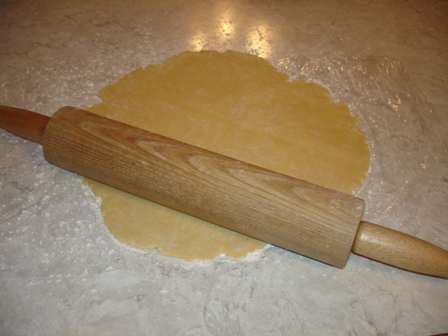 Sprinkle some more flour on because the rolling pin will be starting to stick a little.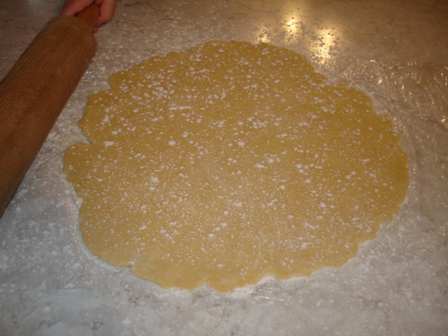 Roll it out some more till it's a couple inches bigger than the pie plate all the way around. Put one hand under the Saran wrap and the other hand on the back of the pie plate, and flip the whole works over.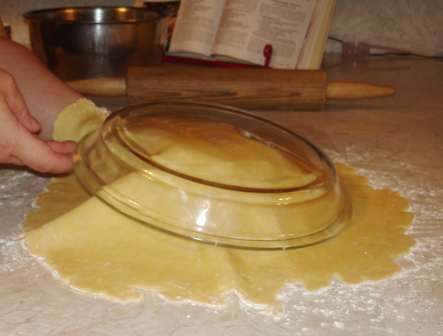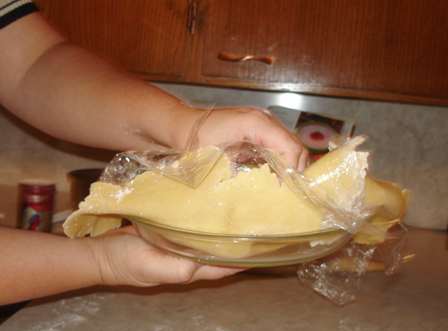 Peel off the Saran wrap. Now, here's an actual tip: Instead of just pressing the crust down into the pan, lift it up off the edge and let it line the pan without pushing down on it. Otherwise it will stretch the dough, then it'll shrink when it bakes. I don't really know how to explain it, but just DON'T make the dough stretch by pressing it down into where the side and bottom of pan meet.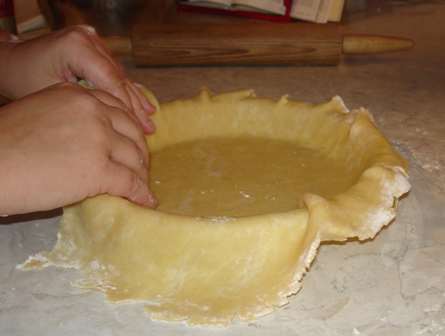 You can't really see it, but I'm not just pressing the dough down in with my fingertips… I'm lifting up the edge and putting it down in to line the 'corner'. Once it's all in there, press down a little around the top edge, this'll make it easier to cut the extra dough off. Take a knife and cut it off.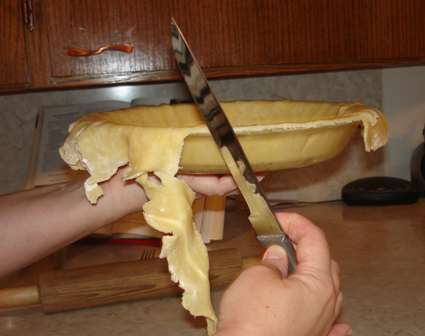 Here's where my extra dough always goes…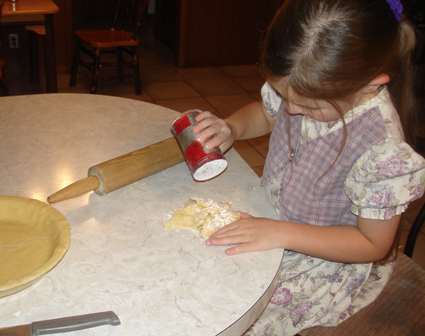 And she'd get my camera and take pictures of her own pie dough creations. Close up pictures. And the camera would focus on stuff behind the subject being photographed…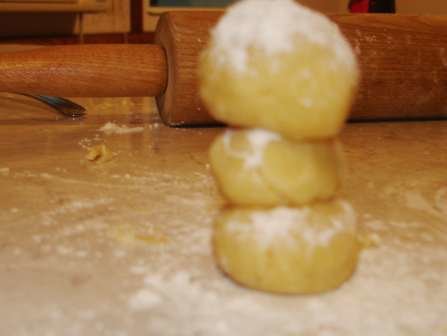 I usually crimp the edges of the dough between my thumb and finger.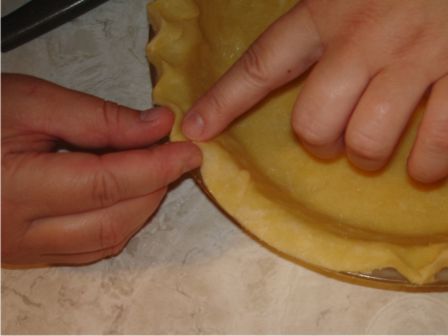 Poke the bottom and side of crust with a fork.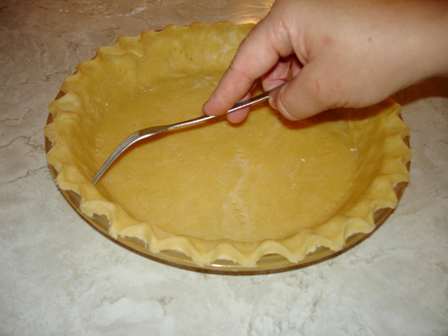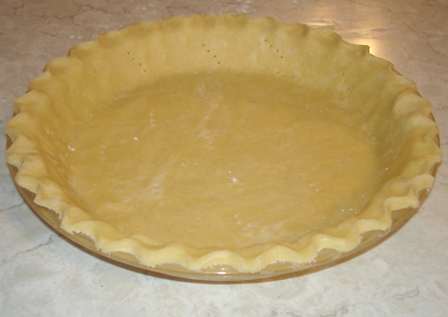 Bake at 375 for 12-15 minutes. And you've got a pie crust.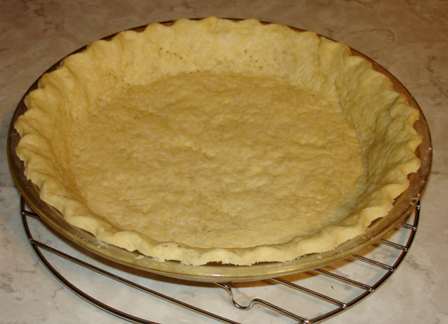 Yeah, it does shrink just a tiny bit, but it's good enough for me. I'd rather have that than mess with putting beans in it to bake it.
And, last but not least, the famous pie crust question… Is it flaky? I think so…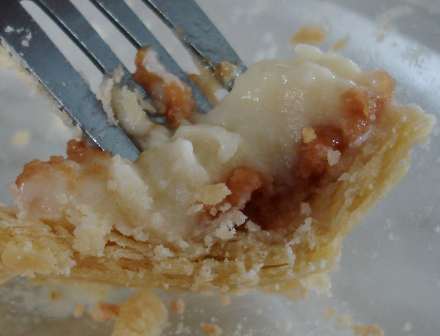 Now, let's hear from you… I know alot of you out there make pies. Please give us some more tips!

I get cravings for this pie. And it's so easy to make. And you can make it and put it in the fridge and it cools down and firms up in less than 3 hours. I've already got the craving in the morning, made it, and had a piece for lunch. Mmmmm, now I'm thinking afternoon snack today…
This recipe comes from the Derstine cookbook. But I skip the meringue. Meringue on peanut butter pie?! No way! What's crazy is that most regular peanut butter pie recipes have meringue. One time I tried it and it just seemed really weird. Maybe because Mom always made it without the meringue. I guess people put it on because the filling takes egg yolks and then what do you do with the eggs whites?
I should actually study up on eggs a bit. When I make something that takes yolks only, I throw away the whites. When I make something with whites only, I throw away the yolks. I do wonder how long yolks or whites would last in the fridge if I'd save them. And I also wonder about freezing them… on that laminated substitution chart that I have (part of it is posted here), for the "when you're out of eggs" part, one of the substitutions is 3 Tbsp + 1 tsp thawed frozen egg. Probably they would only work in baking or cooking. I'm out of eggs right now and couldn't even make pancakes this morning! And I can't even make that peanut butter pie that I'm craving! Oh, hey, speaking of peanut butter pie…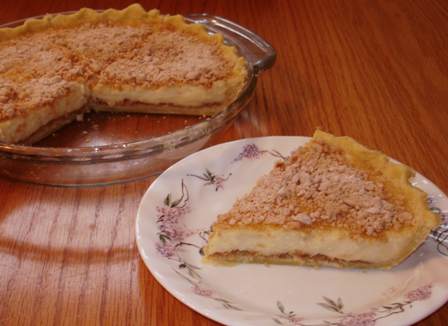 Peanut Butter Pie
1/3 c. peanut butter
3/4 c. powdered sugar
1 9″ baked pastry shell
Filling:
1/3 c. flour
1/2 c. white sugar
2 c. milk (always use whole milk, it turns out much better)
2 tsp. butter
1 tsp. vanilla
1/8 tsp. salt
3 egg yolks, slightly beaten
Combine filling ingredients and cook in heavy saucepan over medium heat until thick, stirring often.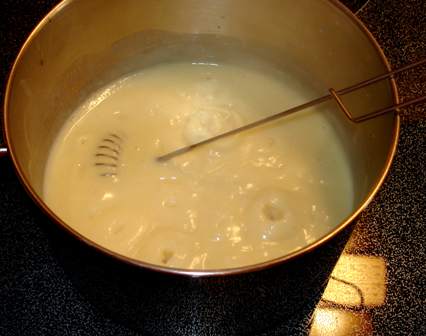 Blend peanut butter and powdered sugar. Sprinkle 2/3 of mixture into baked shell. Pour filling on top.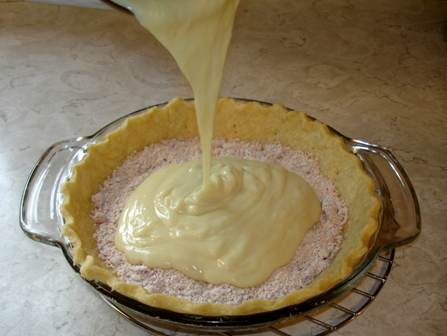 Sprinkle with remaining peanut butter crumbs.


I think I'll just leave the meringue details off of here because I'm afraid then you'd be tempted to make it with the meringue.
Note of interest: That picture up there where I'm pouring the piping hot filling into the crust was taken at 8:54 a.m. on July 10. And this picture was taken at 11:39 a.m. on July 10. That's how fast it cools down and sets up!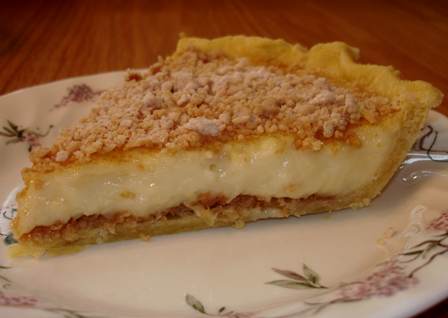 I won't clutter this post with it, but sometime I want to feature making a pie crust, how I do it anyway. I'm not a pro and don't really have secret tips and techniques, but they don't shrink and they taste fine. I counted up what I can remember and I've rolled out about 20 pie crusts in the last 2 months, and enjoyed every minute of it. Most of those pies were for bake sales, we don't eat THAT much pie! Two of those pies were peanut butter pies, um… not for bake sales. But I did give one of them away. I made one to go with a meal for a new mom and then got home and was feeling like I had slighted myself by not getting to eat any (I could not figure out a way to take a piece without her noticing it, that's what's nice about bars… you can bake a panful, put them out on a plate, snitch a few, and the recipient will never know 😉 ). So, anyway, this no-peanut-butter-pie-for-me thing was still bugging me the next day, so I made one for me… the very one that's featured above.
———————————————————————————————-
Edit: (This will make more sense if you've read the comments on this post.) I tried peanut butter pie with Cool Whip…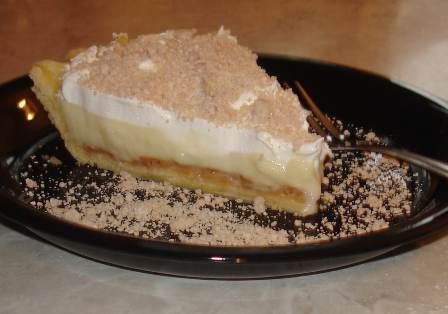 It was great. It added something to the looks of it. I still prefer the taste of it without the Cool Whip though. I'll put it on now and then, especially if I'm taking it away somewhere. But if I'm making it to settle a craving for me, it'll be without. Richer-looking: WITH. Richer-tasting: WITHOUT. That is, of course, just my opinion.