It was a wonderful trip. Lexi and Tiffany travelled well. And if it wouldn't've been for the gum episode (where Tiffany took it out of her mouth and was playing with it and it got on her carseat and the floor and on Shannon's computer case) and the cappuccino episode (where I actually dropped mine and caught it upside down and had to wash up part of the area in and around the cup holders), we'd have had an uneventful trip, disaster-wise.
The wedding was beautiful… have you ever seen one that wasn't?! It was pink and brown w\ aqua accents. Here are some food-related pictures from the reception…
The cake. Neat, huh?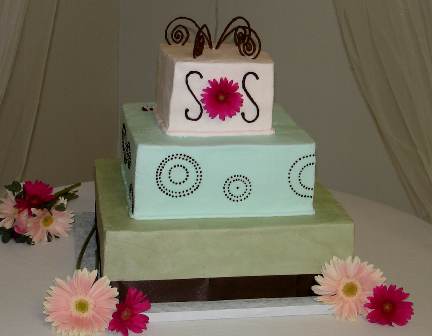 As we entered the reception hall, there was a table with a chocolate fountain and fruit and pretzels and marshmallows and also a punch table that we stopped at before being seated. I don't have a good picture of those tables, but here's my plate from it…

Decor on the guest tables was little cups filled with mini buckeyes and tied shut with tulle and ribbons and there were tea lights sitting on top of coffee bean filled votive candle holders. They looked really neat. Some people were actually munching on the coffee beans. I love the chocolate covered ones, but never ate one plain! 

The meal was chicken sandwiches, baked beans, chips, and macaroni salad (I think, for some reason I'm having a hard time remembering the salad and I don't have any pictures of the main meal part). Good food! My b-b-qued chicken sandwich was great!
The dessert area. Instead of the usual cake and ice cream, they had an impressive display of desserts. Cheesecakes, cookies, chocolate roll, trifles, bars, cakes, fruit pizza… Just delicious! It was so hard to choose from…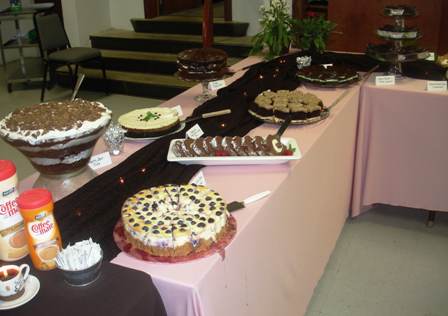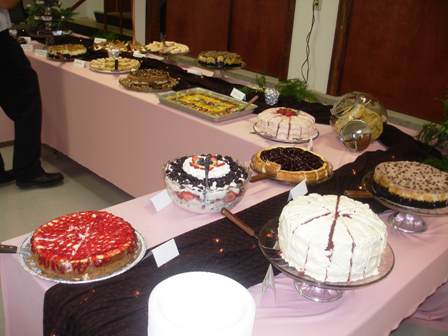 And the bridal table, beautifully decorated…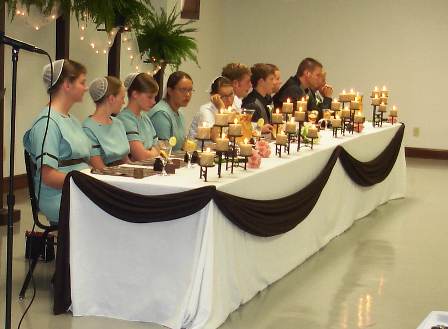 No, the kitchen didn't fall off of my house. I've taken to eating out instead of cooking… we're on a trip, left on Wed. We're in Ohio, going to a wedding later today, and then catching up with some friends tomorrow and Monday. We should be getting home Tues or Wed, so I'll be updating again then, after getting the salad of duffel bags and all down to the laundry room.
The motel room that we're in actually has a little kitchen and in the Guest Services Directory book, there is a section of recipes. I copied a few down to try at home. Here are 2 of them:
Hole-in-One Eggs
2 slices bread
2 tsp. butter, softened
2 eggs
1 strip bacon, cooked and crumbled
Cut a 2″ round circle out of the center of each bread slice. Spread both sides of bread with the butter. In a skillet, toast bread on 1 side over moderate heat till golden. Reduce heat to moderately low. Turn the bread over. Break an egg into the hole in each slice. Sprinkle the bacon over the eggs. Cook, covered, for 5-6 min until the eggs are firm. Serves:2. I can picture having some fun trying different shapes for that middle part.
Slice-of-Comfort Pie
16 marshmallows
4 milk chocolate candy bars (1.45 oz) w\ almonds
1/2 cup milk
1 8-oz carton Cool Whip
1 9″ graham cracker crust
Heat and stir marshmallows, chocolate, and milk till melted. Remove from heat; stir in Cool Whip. Pour into pie crust. Refrigerate until firm. Serves 8. This just plain sounds GOOD!
After we get home, I'll feature these with pictures.
Have a good day!
Silk is right. I wonder whoever came up with that term for pie. But it fits this one. Smooth as silk. And creamy and light. Light as in not heavy, not light as in diet. Far from it!
My grandma always said that she likes to make pies better than she likes to eat them. That doesn't mean that she doesn't like pie! Sometimes while I'm making pie, I wonder if I have reached that same status now. Then, I eat a piece and decide I'm not quite there yet. BUT, this pie may have been an exception. Not that the pie itself was so fun to make. The fun was in the garnishing… chocolate curls.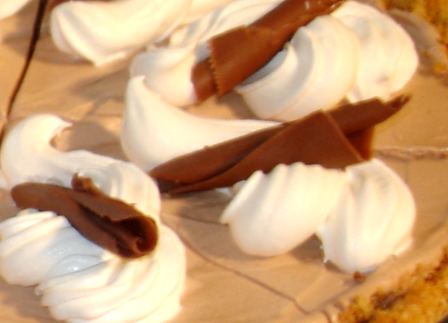 This recipe is taken from my newest cookbook… Simply with Taste. I got it about a week ago. I love it! Sometime, I'll tell you more about it and its nice features. This silk chocolate pie is the first recipe I tried from it.
Silk Chocolate Pie
1 pkg. (4 oz) Bakers German sweet chocolate
2 Tbsp. milk
6 oz. cream cheese, softened
1/4 cup milk
3 Tbsp. sugar
4 cups whipped topping
2 baked or graham cracker pie crusts
Microwave the chocolate along with the 2 Tbsp milk on high at 20-30 second intervals until chocolate is melted, stirring frequently. Beat the cream cheese, sugar, and 1/4 cup milk until smooth; add the chocolate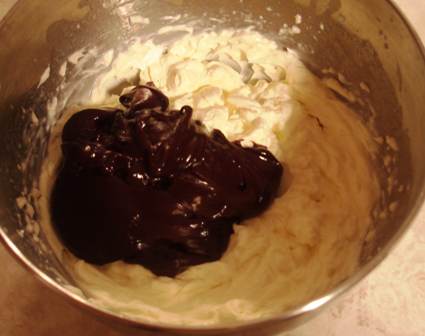 and mix until well blended.
Refrigerate for 10 minutes. Fold in the whipped topping.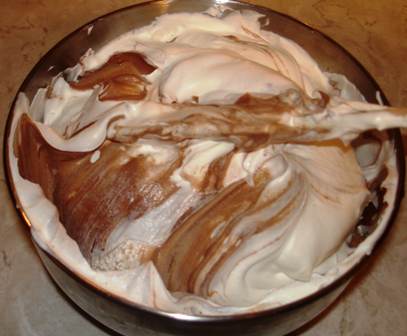 Spoon into the prepared crusts. May freeze if desired, or use within a day. Top with whipped topping and chocolate curls for garnish.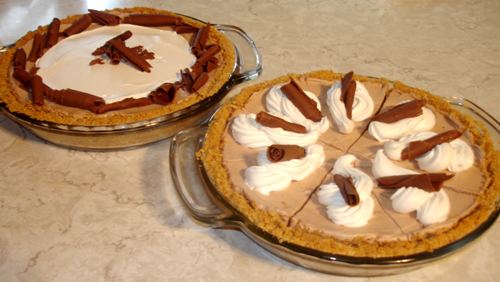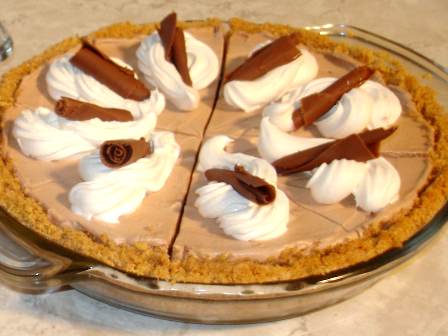 And now for the fun… How to Make Chocolate Curls
Melt about a 1/2 cup chocolate chips w\ about 1 Tbsp. of shortening.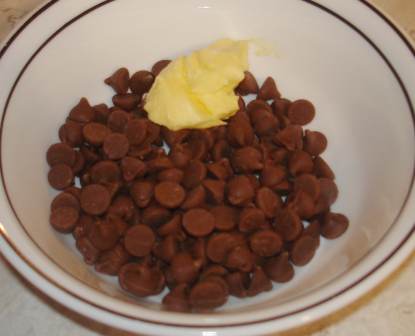 Spread into a thin layer on the back of a metal cookie sheet.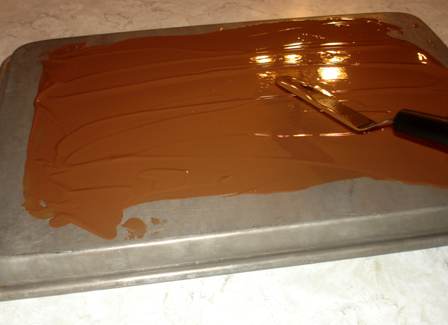 Put in the freezer for 3 minutes. Take it out of the freezer. Immediately, take a flat tool of some sort (I used my Pampered Chef little square scraper that's actually for cleaning stoneware, I use that little thing for alot of stuff!) and hold it at about 45 degrees and push down and across the baking sheet. The chocolate should curl right up.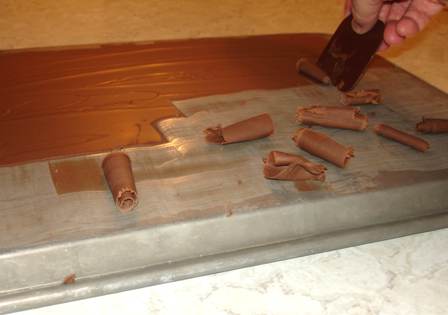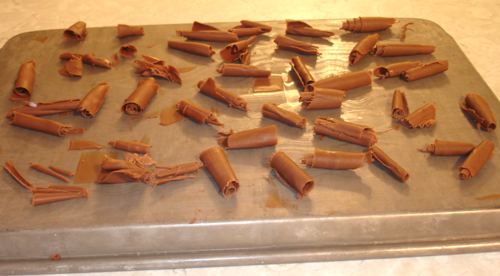 If it just breaks, wait a minute or 2 to let the chocolate soften, then try again. If it doesn't curl, put it back in the freezer for another minute or so. Depending how long it takes to curl all the chocolate, you may have to put it back in the freezer to harden up again before you're done. Use a toothpick or utensil of some sort to move the rolls to a plate and put them in the refrigerator. When they're good and hard again, you can put them in a plastic bag and store in the refrigerator. Or you can just put them on the pies like I did.
Whenever there's a microwave recipe, I usually shy away from it. Here's the reason. It's because of my microwave… sounds like a good reason, huh? My microwave is a half-pint. I can't fit a 9×13 pan in it and when my girls were babies on bottles, I always had to lay the 8-oz bottles down to warm up the milk because they wouldn't fit in there standing up. The size isn't the only reason. The other reason is that it takes SO long to cook stuff in it. We joke that the microwave has only one setting and that's DEFROST. True, it does have only 1 setting, but it is a bit hotter than defrost. It takes forever to boil water and it literally is faster to throw a pan of water on the stove rather than do it in the microwave, like when I make finger jello. But the microwave works great for warming up serving-sized portions and thawing meat, but other than that, I don't use it for general cooking. Oh, I guess I do cook half a bag of frozen veggies in there sometimes.
But, you can't beat the deal we got on it. We got married about 12 years ago (in fact our 12th anniversary is in a couple weeks) and a little bit after we got married, we realized we need a microwave, so we found one at a pawn shop for $25 and it's still the same one we use today. Not sure why it doesn't give out! Here it is: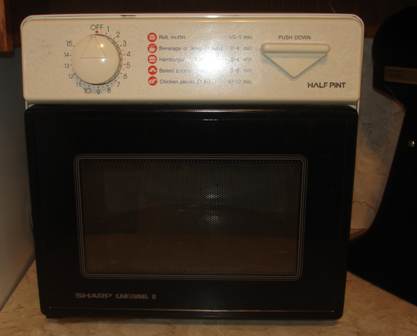 Anyway, having said all that, I decided to try a microwave dish. For the Cooks in Training foods, I don't like to use the stove because my little cooks might burn themselves, even with adult supervision, but the microwave is fine. So, here you go, a food that kids like… and made by them.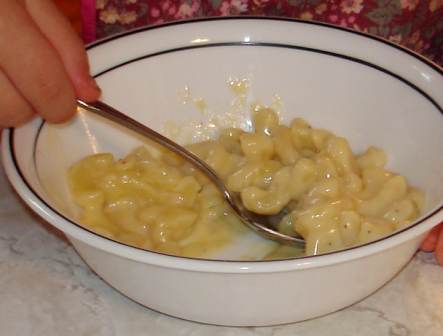 Microwave Mac 'n' Cheese  …taken from the 2000 Quick Cooking cookbook
2 cups uncooked elbow macaroni
2 cups hot water
1/3 cup butter or margarine
1/4 cup chopped onion (I had to do some fast talking to get that in there because I couldn't sneak it in! I said we wouldn't put in as much as it says, we only put in a couple tablespoons)
3/4 tsp. salt
1/4 tsp. pepper
1/4 tsp. ground mustard
1/3 cup flour
1 1/4 cups milk
8 oz. process American cheese, cubed (we used Velveeta)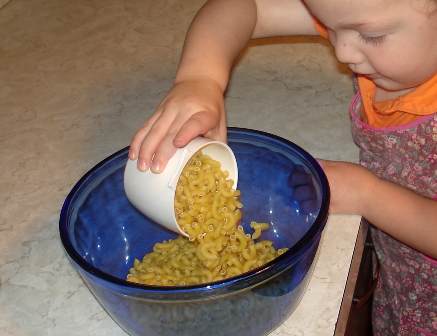 Hmmmm, I may have to outlaw the aprons! We don't really plan ahead and suddenly decide to cook or bake and away they dash for the aprons, putting them over whatever clothes they already have on! In this cooking session, Tiffany's combo clashes even more than usual.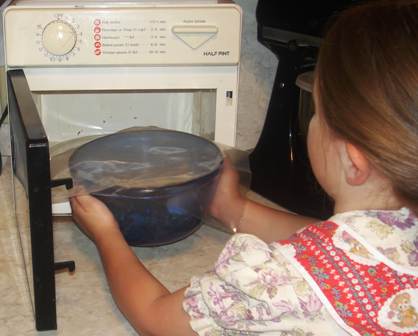 In a 2-qt microwave-safe dish, combine the first 7 ingredients. Cover and microwave on high for 3 1/2 minutes; stir. Cover and cook at 50% power for 4 minutes or until mixture comes to a boil, rotating a half turn once. (I didn't rotate at all because my fashionable microwave has a turntable, and it still works.)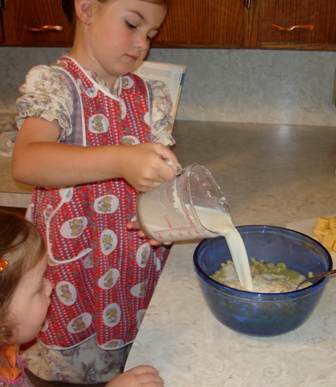 Combine flour and milk until smooth; stir into macaroni mixture.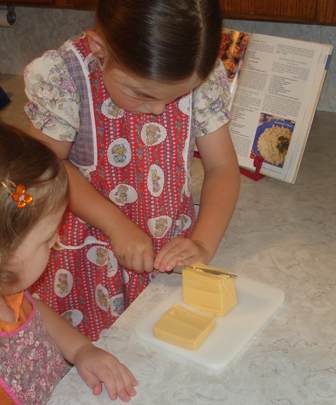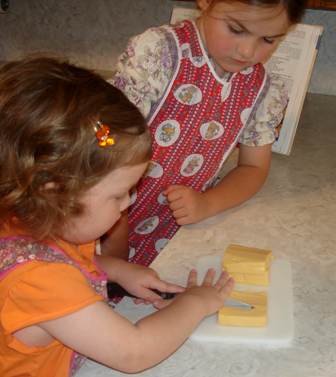 Yeah, I was watching this process very closely, and it was one of my duller knives. Velveeta is soft… a butter knife may have even worked.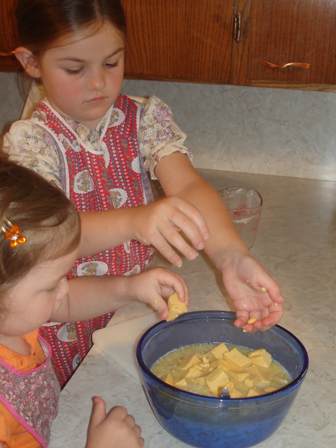 Add cheese. Cover and cook on high for 6-8 minutes or until the macaroni is tender and sauce is bubbly, rotating a half turn once and stirring every 3 minutes.  Yield: 4 servings.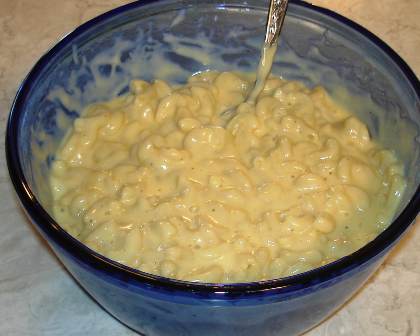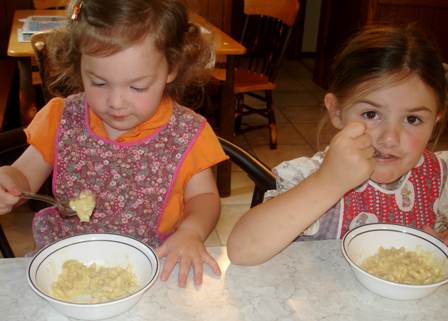 This was really good, although I've tasted better made-from-scratch macaroni and cheese. I missed the buttered crumbs that are usually on top of macaroni and cheese. This definitely beats the stuff from a box though and got rave reviews by the girls. Plus, Lexi thinks it's more fun to eat food that they made themselves.
I bought peanut butter chips for something and had half the bag left over. A few days later, I got a (another) baking urge and got the bag out of the cupboard and looked on the back for some ideas. On the back, was a recipe for chocolate cookies with peanut butter chips in them. So, I made them, with the intent of featuring them. After I was done, I was cleaning up, and never thought to save the empty bag with the recipe on it. So, into the trash it went. And I didn't even think about it till a day or so later when I went to feature them. By then the trash was already taken out. And it would be rather anti-climatical to feature them without a recipe. So, if you ever are in the baking aisle at the store, these cookies would be worth your time. All you'd need to do is get a bag of Recees peanut butter chips and check the recipe on the back to make sure you've got all the ingredients. I don't even remember the name of the recipe, but here is what the cookies looked like…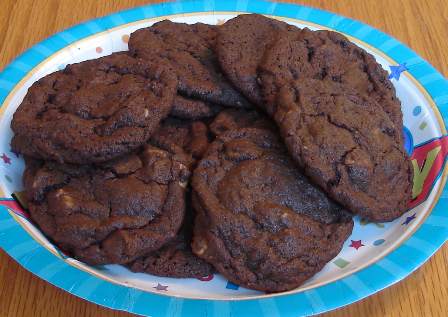 They're easy to make, soft, fudgy, and taste great!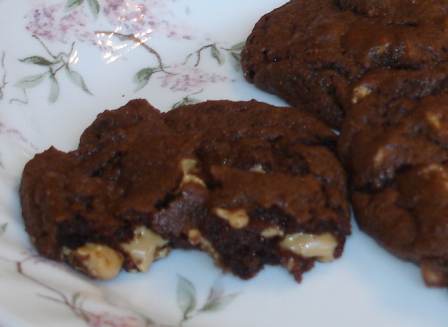 Tiffany was having quite a time keeping everything on her lap here. I offered to take her doll, but no, she wanted to multi-task…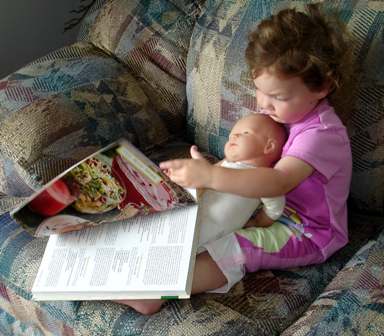 She also finishes my coffee alot of mornings… she asks "Wome o' hot?" If I say 'warm', she reaches for it and says, "Cn'I have it?" Goodbye coffee… which actually is using the term 'coffee' very loosely… my cup is full, but only about half of it is coffee, the other half is chocolate milk and some sugar.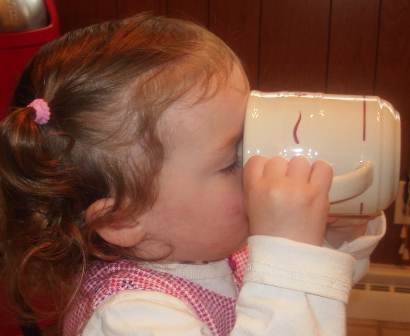 And then we have a fork…


It just suddenly got like that and we don't know when or how it happened. It seems like the whole tine would've bent instead of just the top part. It's not bent down or up, just over. Weird!

Tomato soup: Once in awhile, we have a quick meal of grilled cheese sandwiches and tomato soup. I usually keep Campbell's tomato soup on hand, but the last time I went to make it, I didn't have any. So, I found a recipe and made some from scratch. It took considerably longer, but it was WAY better than the stuff from the can! So, now I guess I'll have to weigh the pros and cons of time vs. taste every time I make that quick and easy meal. Do you always make tomato soup from scratch? I remember Mom making it from scratch when I was younger.
Recipe index: I don't know if you noticed the Recipe Index link up at the top of the header. Slowly, but surely, I am getting all the recipes under their respective categories on that page. I just started it, so only a fraction of it is done, but I think when it's done, it'll make the site more user-friendly. You can use it awhile for the recipes that are there so far.
Have a good day!