I've always wanted a recipe for this. I've tried recipes, but they never taste like the ones you get at restaurants, like Perkins and Cracker Barrel. Not long ago, Mama's Southern Cooking posted this recipe. So, last night, I tried them. They were perfect! Tasted just like I hoped they would!
So, now, these will be added to my list of veggie dishes to make for meals. Tiffany (2) will be glad about that. She ate a serving spoonful, then said, "Mo' caccots", ate another serving, and asked for more! She ate 3 servings! They are not low-calorie by any means, but man, are they ever good!
Glazed Carrots
2 pounds of fresh baby carrots
1/2 cup of butter
1/3 cup of sugar, or 1/2 cup of honey (I used sugar)
1/2 teaspoon of salt
In a small pot, add the carrots and cover with water. Bring to a boil.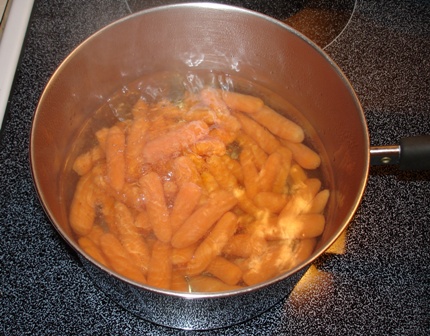 Reduce heat, cover and simmer over medium heat for about 10 minutes. Drain. Set aside.
In a saucepan, melt the butter and the sugar.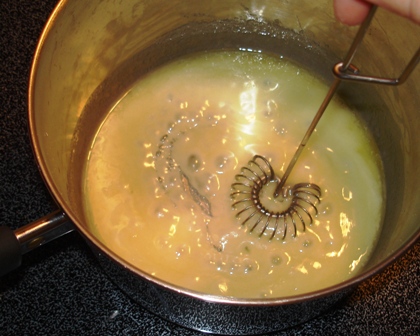 Add the carrots and salt. Saute over medium-low heat until carrots are fork tender.


This could take anywhere from 10 to 20 minutes depending upon the size of your baby carrots.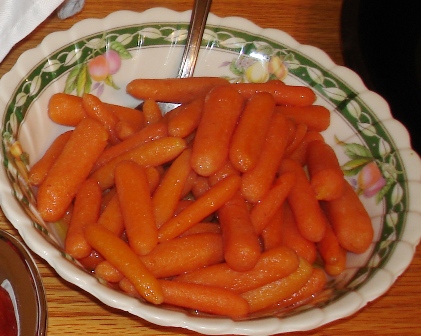 Mmmmmmm! Delicious!
Here is the rest of our meal. I'll post the other 2 recipes too (breadsticks and chicken), but for lack of time right now, that will be in later posts. That chicken is awesome. It's breaded, fried, and topped with cheese and speghetti sauce. I make it now and then, but haven't featured it yet.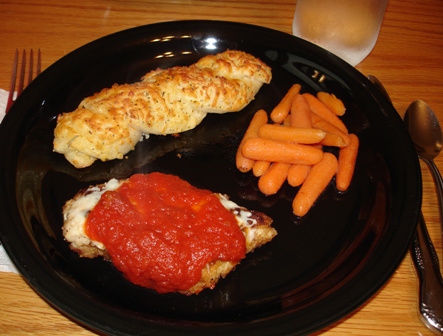 I just ran across some pictures of a baby shower that I was at recently. So, I'll post pictures of the food in case anyone needs any ideas if you're planning one. As I go to more baby showers, I'll be sure to take pictures of the food and post them. I'd love to post some other pictures too, like of the washline game we played, but I guess I'll just stick to the food.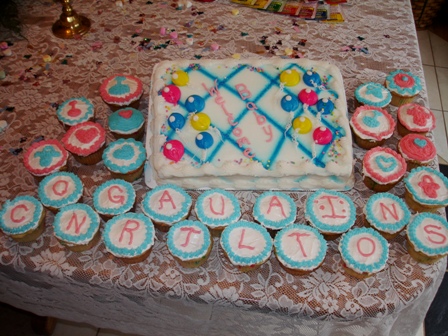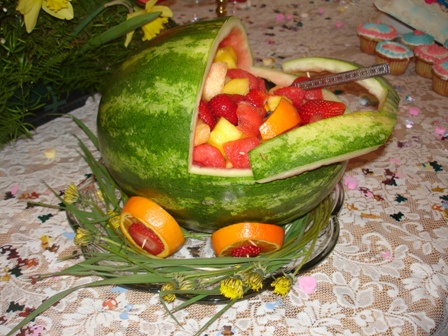 This baby carriage was so cute. Someone did a good job on it!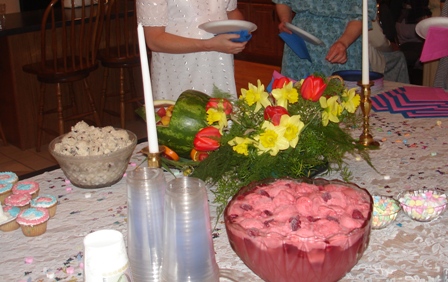 The girl in the white dress is the new mother-to-be… lookin' good for 8 months pg! We also had chips and dip, which you can't really see on any of the pictures.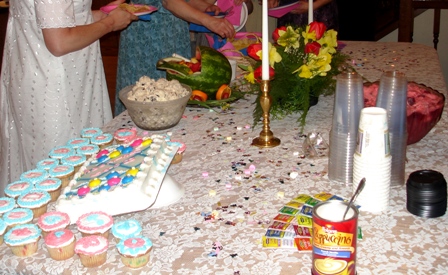 ——————————————————————————————————–
This shower was from a couple years ago. We had a baby boom at church and one of them was a first-time mom.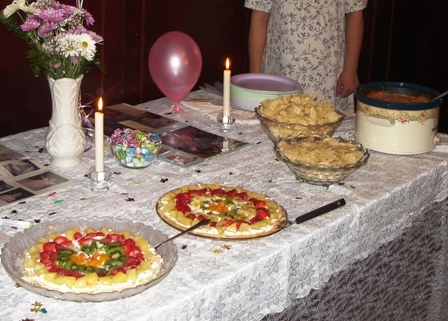 That fruit pizza was great!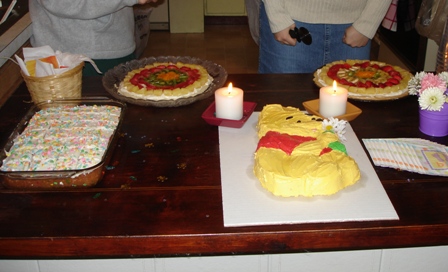 The ice cream wasn't out yet on this picture. We also had hot chocolate made with melted candy bars. It was SO good. I need to get that recipe from my friend who made it.
———————————————————————————————————
And I'm also adding a couple pictures of the baby shower that my friends did for me just before Lexi was born 5 1/2 years ago. I don't have digital pictures of it, I just scanned a page of Lexi's baby album, so the quality isn't as good.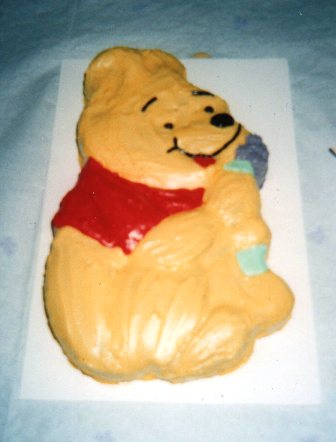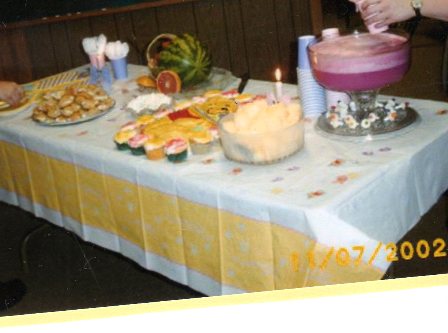 Notice there's another watermelon baby carriage. That must be THE thing!
What other foods have you seen at or made for baby showers?
Are Mondays crazy for you, too? They always are for me and I'm not sure why. Extra cleaning up from the weekend, more laundry, lack of energy? Anyway, today was one of them days and so the post I wanted to post this morning is happening now instead.
Speaking of Mondays, my family rarely gets anything special for supper on Monday evenings. In fact, I almost always make the same thing… fried chicken breasts and veggies and bread to go with it. That meal can be made from chicken-still-in-the-freezer to eating in under a half hour. That timing fits in well with my Monday schedule. Or lack of schedule… I don't want to give the wrong impression here.
Last Friday evening, we tried something new. My sister was here and my mom and dad were coming for supper, so we decided to get fancy with the rolls. And if they didn't turn out, it didn't really matter because our extra people for supper were comfy guests. And my mom always likes kitchen experiments anyway. I took 2 loaves of thawed frozen bread dough (does 'thawed frozen' make sense?) and split each loaf in half, making 4 equal 4ths (I think my English is having a Monday, too. 4 equal 4ths sounds weird).
4th #1: Divide it into 4ths. Divide each 4th into 3rds. Put 3 3rds each into 4 'holes' of a muffin tin. Did you at all get that? It should look like this:

 Should've rolled each ball a bit longer to get them more smooth, but they looked better in real life. At least I didn't notice the roughness. 
4th #2: This was the easiest one. Divide it into 4 balls. They seemed too big, so I pinched some off of each ball and gave it to Lexi to play with. So, now that the 4 balls are the right size, put them in the muffin tin. Then take a scissors and snip it almost the whole way thro', first one way, then the other way. It should look like this: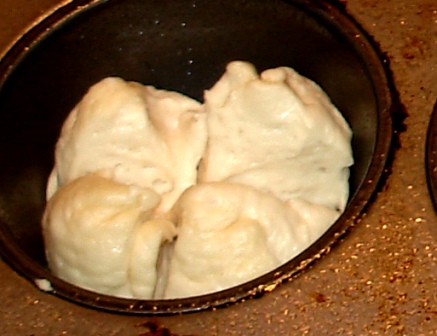 4th #3: You'll need a bit of help from 4th #4 for this one, so don't save it till last! Put the 2 together and roll into a 12″ circle. With a pizza cutter, cut it in half. Cut the one half into 4 or 6 triangles, then roll each one up starting at the wide end. Should look like this:

4th #4: Roll it out into a rectangle about 6″ x 6″ and butter it. With a pizza cutter, cut it into 4 strips. Then stack the strips on top of each other and cut the other way, making 4 square stacks. Lay each stack sideways into a muffin cup. Should look like this:

And now, you should have a total of something like this:

Then, let them raise for about 45 min…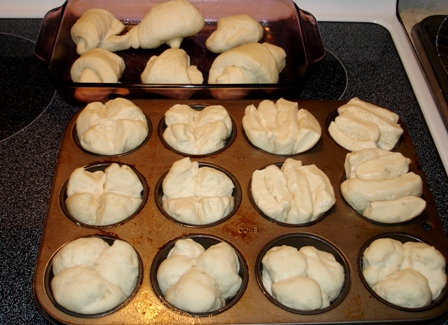 Bake them for 25 min at 350.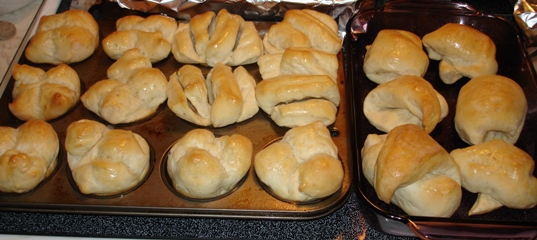 And you've got yourselves a fine assortment of rolls to pick from! Those stacked ones separated while baking, must've been because of the butter. Next time I'd skip the buttering. Lexi and Tiffany made the crescent rolls. The reason there are 6 crescent rolls and only 4 of the other kinds is not a thought-thro' culinary reason. It's simply because I'd have run out of room in the muffin tin and I only have one. They would've been a better size divided into 6ths instead of 4ths though. Some of them got pretty big.
They were fun to make. And it added more character to the meal. Ok, that may have bumped it up a level, saying a meal had character. The rest of the meal was glazed meatloaf, twice-baked potatoes in a casserole dish (instead of putting the potato mixture back into the shells), and peas. Our dessert was chocolate peanut butter milkshakes later in the evening.
Off-the-subject tidbits:
I'm still going to do 'Out of my Comfort Zone' posts, but they'll be more hit-n-miss now instead of weekly. Also, I figured out a way (um, after talking to my tech support husband… maybe that should say 'we' instead of 'I') to do printable recipes now, so one of these days, I'll start adding one to each post. And eventually making one for each recipe all the way back to the beginning. That last sentence makes me want to run and hide. Just kidding. It's fun.
Now I want to open a bakery again. This happens every year. I bake a bunch of stuff for a bake sale and love it so much that I dream of opening a bakery. I could bake to my heart's content. And people would come and pay me for doing it. But I don't want to be that tied down and another major thing is I'm not sure exactly how bakeries make money! Must be the mass production and the wholesale ingredients.
I figured up my time and ingredient costs and if everything would sell that I baked, I would've made less than $4/hr. Yeah, my bakery would be a place of voluntary service and a non-profit organization. When I figured that up, it wasn't figuring in heating, air conditioning, electricity, rent for the building, advertizing, appliances, or anything besides the labor and ingredients. Another thing that would help at a bakery is that it's done every day… for example, I made 10 pie crusts (5 double crust pies) and by the 6th crust, it was going much faster than the first crust did! 
So, yeah, I contribute to the bake sale because I love to, not to make a bunch of money. I'm kicking myself for not taking a picture of everything all sitting on the counter ready to go. Maybe I didn't think of it because it wasn't all sitting on the same counter ready to go all at the same time. But, I did the same 4 things as I did last year (monster cookies, apple pies, rice crispy roll, and fudge), so the picture would've looked about the same as last year's picture. Here's last year's post.
I did get a couple pictures of the pie operation…
This first one was taken sometime between 5:30 a.m. and 6:00 a.m. this morning. I was going to do a self-timer picture and be dutifully peeling apples, but then I thought about it that I was in my pjs, so I just stayed behind the camera instead.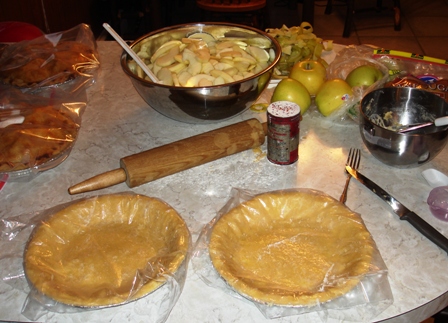 Here are the pies in the oven, almost ready to come out.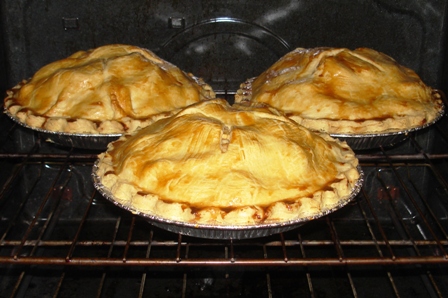 See ya later. If you need me, you'll find me in the kitchen eating monster cookies…
I faithfully serve French bread of some sort whenever we have an Italian meal. The reason for that is because I serve hot bread or rolls or biscuits at every meal and that goes the best with an Italian meal.
Hmmm, that's weird, I just skimmed what I wrote and it's Italian and French and I'm saying it goes great together! I wonder what the French and Italian people would say about that theory! I've never been outside the US, except for Canada, so I don't know that much about other countries, except from what I've read or heard. My dream is to someday fly over to Europe and spend 2 or 3 weeks there, just seeing the sites and hearing the people talk (I love the sound of French, the little bit I've heard) and eat a REAL authentic Italian pizza and see the Swiss Alps and then sail back to America on the Queen Elizabeth or Queen Mary. I think about that dream every time I think about anything Europe.
Anyway, this has nothing to do with France and Italy! We're talking American-baked French bread from a grocery store bakery. Or worse yet, a popable can of French bread or Italian bread! I usually either do the popable can thing or take a bought loaf of French bread, cut it into diagonal slices, butter both sides and sprinkle garlic on one side, then broil both sides till they're toasted. I've been dodging around a recipe I'd had for awhile, scribbled in my own handwriting, not sure where it came from. I was always afraid it would be too soggy and then I finally made it Tues evening to go with our meal of tortellini and Italian mix vegetables.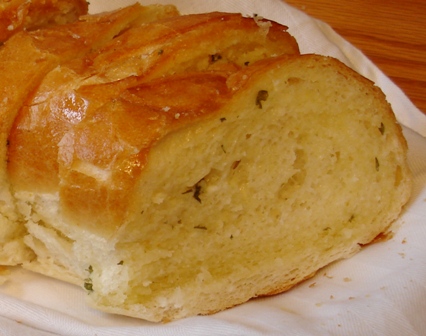 It was wonderful. And now I regret the last couple years of thinking about making it but saying "No, not this time."
Garlic Bread
1 loaf French bread
1/4 cup butter
1/4 tsp. garlic powder
1/2 tsp. parsley flakes
1/4 cup grated Parmesan cheese
Cut bread diagonally into 1/2″ slices, but not quite the whole way through.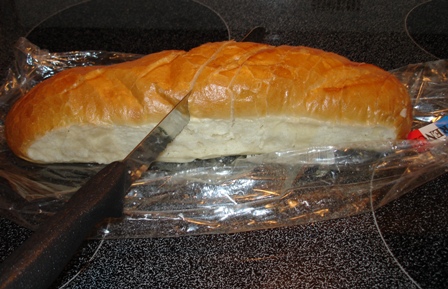 Soften butter and mix it with the garlic powder, parsley and parmesan cheese.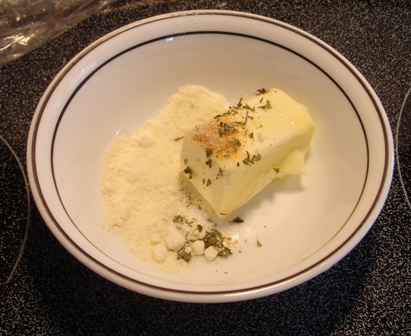 Spread on both sides of each slice of bread.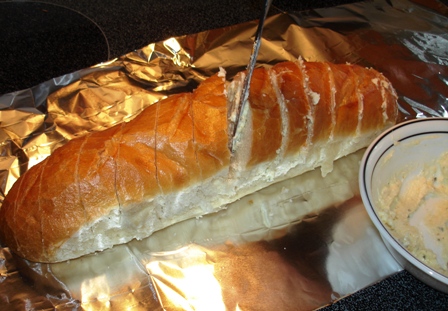 Wrap in foil.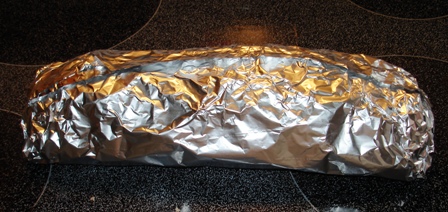 Bake at 350 for 15 minutes.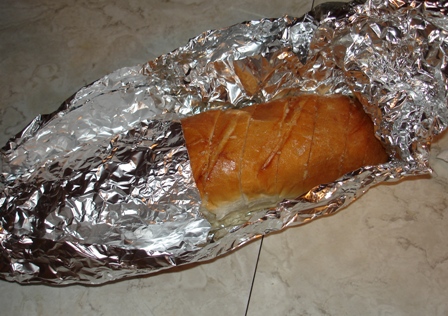 Unwrap and cut the pieces the rest of the way apart. Serve immediately.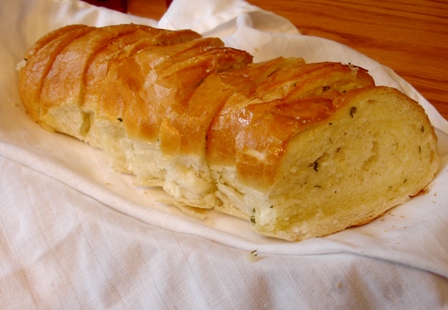 Man, that was so good! I could eat a piece or two right now! It was soft and buttery and chewy and looked good too. Sometimes I'll still broil individual pieces of garlic bread, but this will definitely be on the menu more often! It's so easy too! You don't have to remember to watch it like you do when it's under the broiler. I've wrecked many garlic bread pieces that way, or salvaged them by scraping off the burnt part. When I made this garlic bread, I made it a bit ahead of time and then threw it in the oven 15 min before mealtime.