I love looking thro' recipes, cookbooks, etc. It can keep my attention as good as any interesting book. And one nice thing about it is that it is calorie-free… the looking and reading, that is! Where I get into trouble is when something reaches out and grabs me and I can't help but go out to the kitchen and make it. That's why I purposely don't keep chocolate chips on hand. Chocolate is my weakness. And I do believe that I've become immune to getting sick from it.
Anyway, it was raining yesterday evening and the church ballgame got cancelled, and I was in the mood to bake something. So, I started going thro' recipes. I had no chocolate in the house, so any recipe with that was out. I also had no brown sugar, so that threw out alot of cookie recipes. Then this lemon bar recipe caught my eye, and I had everything on hand, including fresh lemons. I didn't know if any of us even liked lemon bars, but they sure looked tempting on the picture, so lemon bars it was.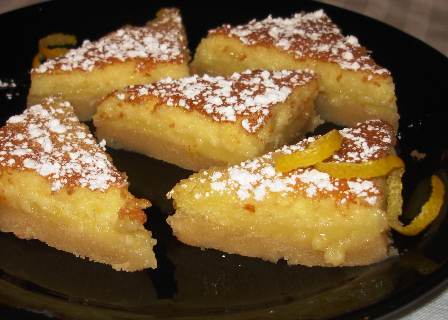 Sweet Lemon Bars …recipe taken from an Easy to Bake Easy to Make recipe card
1 cup flour
1/2 cup butter
1/2 cup powdered sugar
2 eggs
1 cup sugar
1/4 tsp. salt
2 tsp. grated lemon rind
2 Tbsp. lemon juice
1 3 oz pkg cream cheese, softened
Preheat oven to 350. Line bottom of  8″ square baking dish with parchment paper. I didn't do that, I just greased the pan well. Mix flour, butter, and powdered sugar together using hand mixer until fine crumbs form. Using drinking glass, press crumbs evenly into bottom of lined baking dish.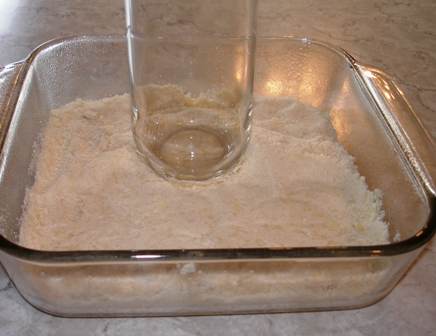 This was sort of a joke. I started like that, but then ended up using my hand. Worked great!
Bake until crust is lightly browned, about 15 minutes.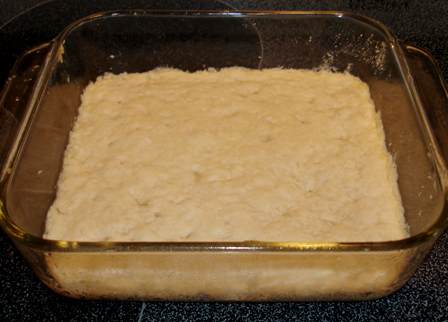 Meanwhile, beat eggs, sugar, and salt until light and fluffy. Add lemon rind and lemon juice. Blend in cream cheese. Pour over baked crust.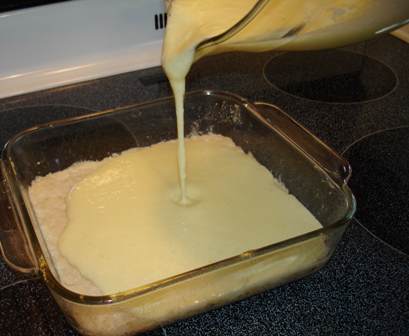 Return to oven and bake until firm in the center when touched, about 25 minutes longer.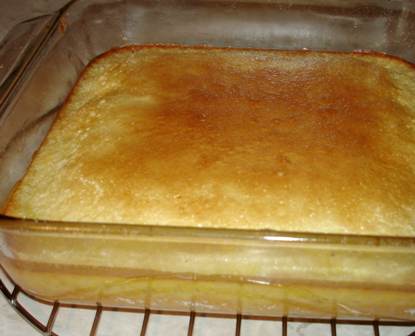 Cool to room temperature; sift powdered sugar over top.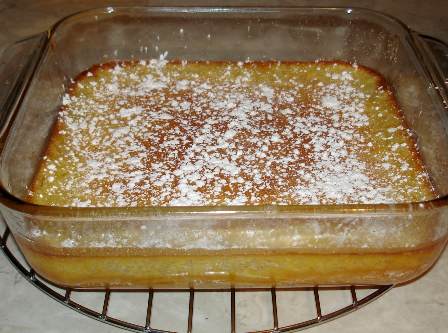 Cut into 9 squares and cut each of the squares in half diagonally to make triangles. Serve or store in refrigerator. Makes 18 triangles.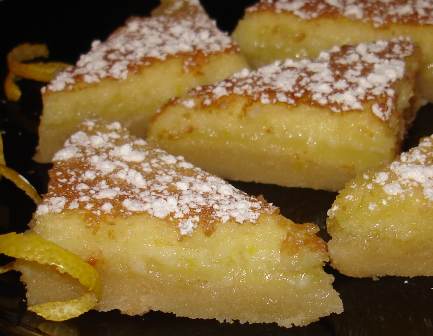 For the grated lemon rind and the lemon curl garnishes, I used the tool pictured below. Not sure what it's called, maybe a lemon zester/scorer. It's a Pampered Chef item and it works like a charm! I cut off a string of peeling with the part in the middle of the tool, then curled the peel around a pen so it would be more apt to curl on the plate later. I tried to find a utensil with a round handle and had none, so I used a pen. Yeah, even my wooden spoon handles aren't round! The grating was actually lemon zest, done with the top part. I do it in as tiny pieces as possible so it dissolves or whatever it does that you don't see it or feel the texture of it in the finished product.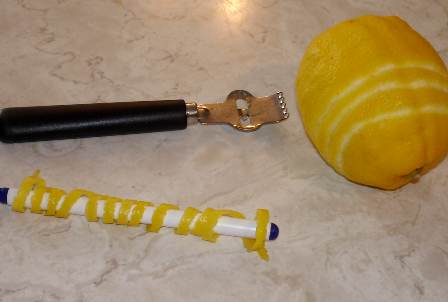 I liked these bars the best chilled. When I told Shannon that, he said he's tried them at every temperature from slightly warm to chilled and they passed with flying colors at all stages. They were just tops and I do know now that baked stuff doesn't have to be chocolate to taste great and leave you coming back for more. So, we were pretty hard on them and I don't think I'll tell you how much of the pan is left! And we're not sharing, so you'll just have to make them yourself.

I keep up with about 45 blogs via my Google Reader, but I'm slipping behind now and there are 73 unread posts. They keep faithfully updating (as opposed to me) and I only check them now and then. I do keep up with Pioneer Woman though, no matter how busy I am. And no, it's not just so I don't miss when she's giving away a big beautiful KitchenAid mixer in the Cooking part of her blog!
Thanks for all your tips on the whoopie pie filling and I'm glad to know that a few others make more filling than the recipe calls for.

I wasn't sure if you'd agree when I said that's what I'm going to do from now on or if you'd have fits at all the extra fattening unnecessary filling that would make.
Also, Lorinda (Hi!, by the way. Glad to see you on here!), you said you're experimenting with homemade pizza and wondered if I have any recipes on here. I do have one recipe on here: Saturday Night Pizza. The crust is homemade and is just tops! One thing I don't do (yet) is make my own pizza sauce. I have a friend Linda who is known for her good pizza sauce, so maybe I'll ask her for her recipe and start with that one, then try a few others. So far, I'm just buying Ragu pizza sauce from the grocery store.
Now, for the breadsticks. This is one of those recipes that I made awhile ago, featured here, and didn't like it how it was and said, "Next time, I'm going to…". So, here is 'next time' and the breadsticks were much better AND easier and faster! These are the breadsticks I had pictured with the glazed baby carrots and the zesty mozzarella chicken.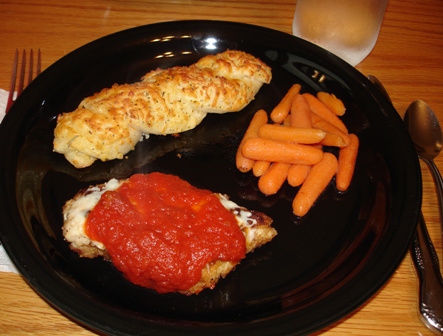 Italian Breadsticks
1/2 cup shredded mozzarella or Italian blend cheese
Italian seasoning
1 can (11 oz) refrigerated breadstick dough
1 egg
1 Tbsp. water
Preheat oven to 375. Spray baking sheet with cooking spray. Unroll dough; separate breadsticks. Cut each strip in half crosswise. On a lightly floured surface, with floured fingertips, twist the 2 halves together. Put the breadsticks on the baking sheet and press down on the ends to prevent unraveling.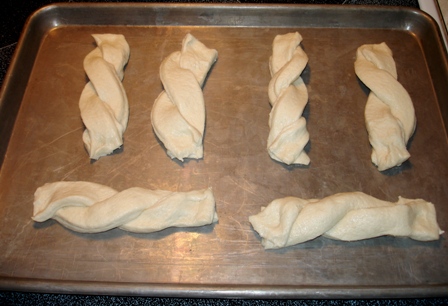 Beat egg w\ water. Lightly brush tops of breadsticks with egg mixture.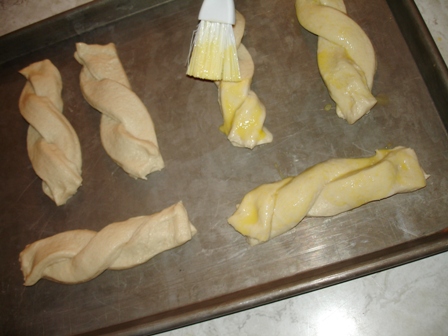 Yeah, I know, the picture is crooked. That's because I was holding the camera with one hand and brushing with the other hand.
Sprinkle with cheese and Italian seasoning.

Bake until golden brown, about 15 minutes. Serve warm.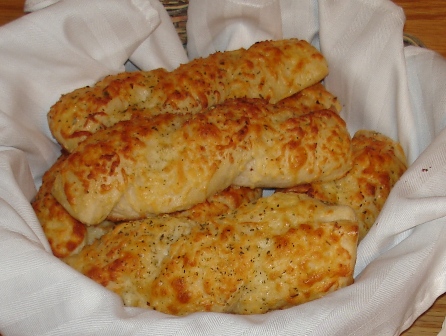 I was just thinking, I wonder how it would work to put melted butter on in place of the egg and water. Would be easier and seems like it would taste at least as good. I'll have to try some of each like that next time and compare them.
Back again. I survived the week of the 4-yr-olds. There were 7 of them… you know the McCaugheys that had septuplets around 10 years ago? Now I know a little bit of what the mom was going through when they were 4. Only, she couldn't send them home mid-afternoon and then go home herself and take a nap.
The week actually went good though. The first day, they were all low-key, then they got progressively roudier each day as they learned the ropes a little better and we got used to each other. By the end of the week, there were more sommer-saults going on and more 'falling' off the bench during assembly and bringing an inchworm to class. Do you want proof of an inchworm in class? Here you go: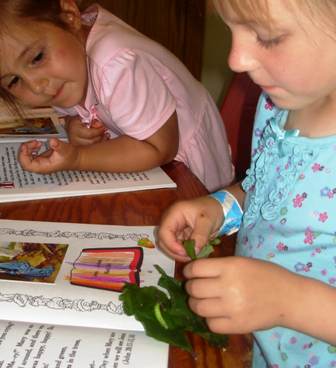 It's the light green thing on the leaf. It was Sammie's worm and she'd rip up little leaves for it to eat. That's what she's doing on the picture.   ——————————————————————————————————————————————————————————–
Teaching these little people was definitely more like being a mom than a teacher. For example, at lunchtime: "Can you open my juice/yogurt/pudding/lid for me?" "I don't like this green stuff on my sandwich (lettuce). Can you get it off?" "I spilled my chocolate milk on my dress." "Do you have a napkin? Look at my hands." "I'm gonna go play now" as the lunch bag is thrown down beside me and on and on.
We had snacktime every afternoon… cookies, finger jello, rice crispy treats, pretzels, fish crackers, chocolate milk, juice, iced tea, etc. So, in honor of this post, I'm posting a rice crispy treats recipe. It's nothing special, just the usual, probably what you'd get off of the rice crispy box.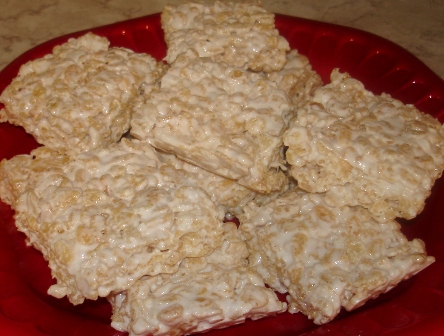 Rice Crispy Treats
1/4 cup butter
10 oz bag of marshmallows
5 1/2 cups rice crispy cereal
Melt the butter and marshmallows in the microwave.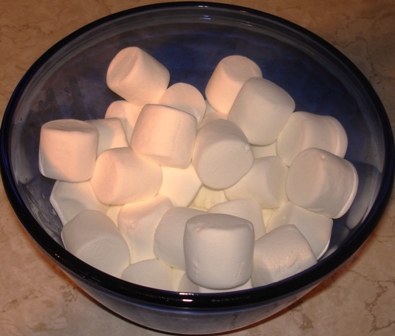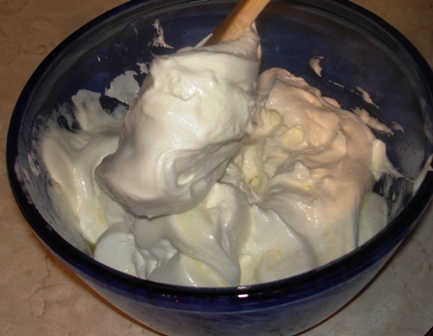 Stir cereal in.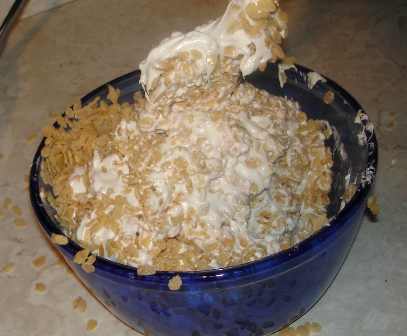 Press into a greased 9×13 pan. I spray cooking spray on a sandwich bag and put my hand inside to press the mixture into the pan.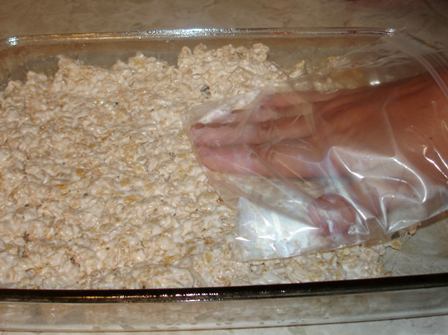 Let sit for awhile till it cools and firms up. Cut into squares. If you're making squares for 4-yr-olds, take extra time to cut the squares as evenly-sized as possible… this cuts down on the "Hey! She got the biggest piece!" and pawing through them, touching every piece, looking for the biggest one.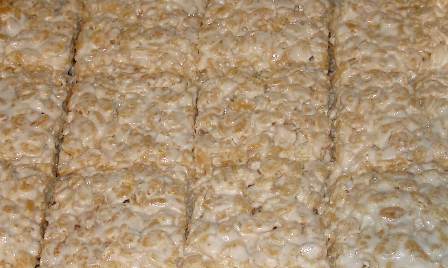 Serve with pretzels and chocolate milk.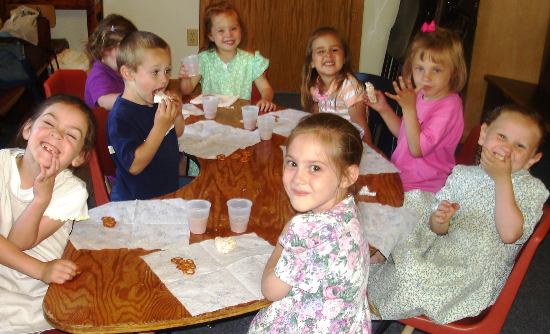 My Father's Day post I had planned didn't really happen then, but Happy Belated Father's Day anyway. Especially to the father of my daughters. And also to my own father.
I've got good memories growing up. Dad spent alot of time with us, from laying on the floor playing games with us to taking the family out on the boat multiple times a week in the evening in the summer.         Dad taught us children how to play chess when we were pretty young. He'd take off his queen AND give us hints. As we got older, the hints stopped and eventually the queen came back on, and we could even beat him sometimes.       We went boating and picnicking on islands and fishing alot too. I grew up here among the many lakes in the northwoods and a boat was almost as important to own as a car, in our opinions. At a certain age, Dad stopped taking the fish off of our hooks and said we were old enough to do it ourselves. I don't remember exactly what age that was (maybe 9 or 10 yrs old), but whenever it was is when I started mostly just going along fishing for the ride and not getting my pole out. I missed seeing my bobber jerk underwater and feel the tug on the line, but it was worth giving up not to have to take a fish off the hook!         His storytelling ability is amazing and kept us very entertained and wide-eyed growing up… especially the stories involving his horse Dusty and the stories about their one-of-a-kind neighbor.    Oh, and one other thing, not alot of people grew up with yearly Donald Duck renditions by their dad of the "Happy Birthday to you" song.

Another thing about Dad is that he loves whoopie pies. Every year for his birthday, Mom would make him whoopie pies and at least one year, she made a whoopie pie cake. It was huge (maybe about 12″ across) and looked exactly like a whoopie pie. I haven't made whoopie pies for years, but I did just lately. I was so disappointed that they didn't turn out like Sheila's OR Julia's… the 2 people that I consider to be whoopie pie queens. But oh well, they were good anyway.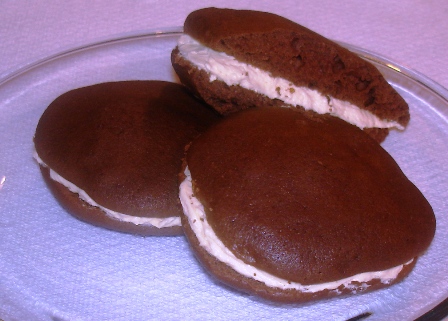 Not sure why this picture has a lavendar hue! ????
Ever wonder why whoopie pies are called whoopie pies? I didn't really wonder it until Lexi wondered it and started questioning me like I'd just automatically know. It's like 3 desserts all in one… they taste like chocolate cake with frosting, but you bake them like cookies, and they're called pies! Maybe it's one of those things that will forever be a mystery… try explaining that to a 5-yr-old! Her world is full of questions and she's not satisfied with no answer.
Whoopie pies …recipe taken from the Tasty Favorites cookbook (Pleasant Grove Mennonite Church)
2 cups sugar
1 cup shortening
2 eggs
3/4 cup cocoa
2 tsp. soda
2 tsp. salt
2 tsp. vanilla
1 cup hot water
1 cup sour milk or buttermilk
4 cups sifted flour (sift?! Does anyone out there sift?)
Mix and drop by teaspoonfuls (I did more like 2 Tablespoonfuls) on cookie sheet. I spread them out a little so they wouldn't be so thick. I don't like thick whoopie pies… too much cake.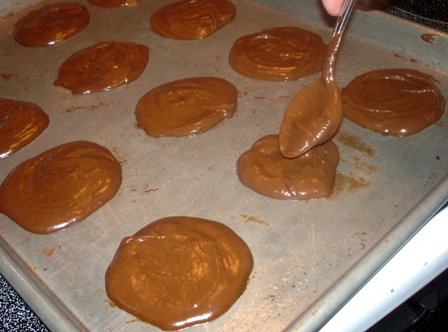 Bake at 400 for 8 minutes. I baked it for 7 minutes.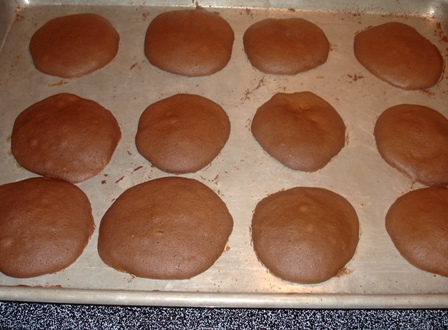 Filling:
2 egg whites
2 Tbsp. vanilla
4 tsp. flour
4 tsp. milk
2 cups powdered sugar
1 cup Crisco
Beat egg whites until stiff. Add vanilla, flour milk, and powdered sugar. Beat and cream, then add Crisco. Spread filling on bottom side of one cookie.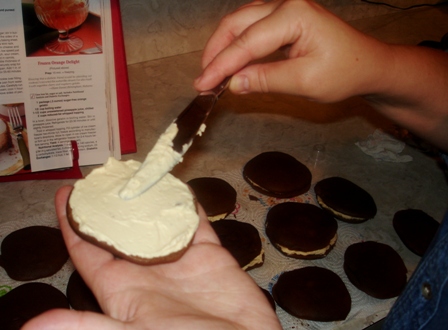 Top with another cookie. Yield: 66 cookies (33 sandwiches) Here you go, Dad… I wish you could just pick one off the screen!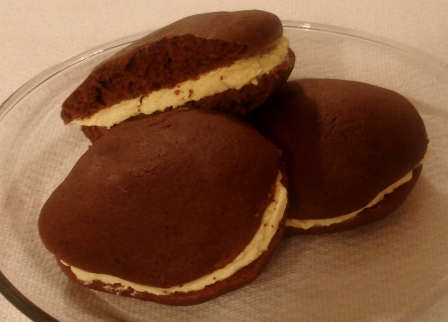 This recipe tasted great, but I had a couple problems with it. The filling didn't get white. It was a light tan. Do you think the vanilla is a misprint? Should it be teaspoons? Everything else in the filling is white except the Crisco I used is yellow, so I think it was mainly the vanilla's fault that it got tan. The other problem I had was that the cookie part made 5 1/2 dozen cookies, which made 33 sandwiches, but the filling was gone after 24 sandwiches. And it was none too thick, either. So, next time, I'd either make 1.5 times the amount of filling or do what I did this time… filled the leftover cookies with ice cream.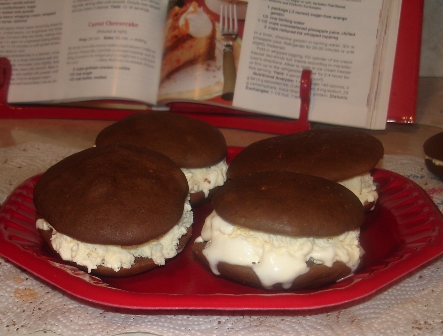 That was good! They tasted like ice cream sandwiches!
On a different note: I won't be posting on here much at all this week… we have Summer Bible School at church Monday – Friday and I'm teaching the nursery class (4-yr-olds), so that's where I'll be during the day. Then, the rest of the time I'll be trying to keep up with the laundry, cleaning, etc. around here. Some wonderful ladies from church who aren't teaching offered to make suppers, so I'll probably be doing little cooking this week. I will be making rice crispy treats for snack time at Bible School though.

This recipe would be worth your time. Not that it takes a bunch of time. I just really REALLY like it. The last time I made it, I was going to feature it, but I burned the chicken.
Hey, here's a question for you… How often do you make flops? …anything from desserts not setting up right to burning something to cooking veggies too long to forgetting to cut an ingredient amount in half when you're making half of a recipe. Maybe those don't all classify as flops, but I mean things like that where maybe only you as the cook know they even happened. For example, if I burn garlic toast under the broiler, if it's not too bad, I take a knife and scrape off the burnt part. Nobody ever knows the diff. And the ingredient thing, I do that quite a bit because I cook small and am often halving recipes. Anyway, I mess something up at least once a week. What about you?

This chicken recipe is taken from A Taste of the Country 8th Edition cookbook…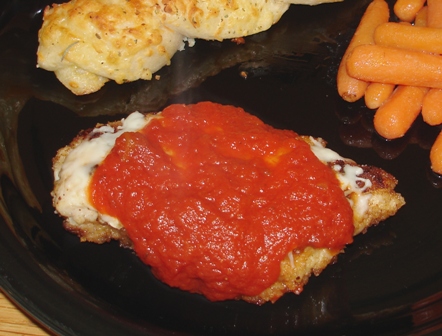 Zesty Mozzarella Chicken
1 egg white, lightly beaten
2 Tbsp. milk
1 cup dry bread crumbs (I use Club cracker crumbs)
2 Tbsp. Parmesan cheese
1/4 tsp. each salt, pepper, garlic powder, cayenne pepper, and dried oregano
8 boneless skinless chicken breast halves
1/4 cup butter or margarine
1 can (8 oz) tomato sauce (instead of the tomato sauce mixed with basil, I just use Ragu pasta sauce)
1 tsp. dried basil
1 cup (4 oz) shredded mozzarella cheese (or Italian blend cheese)
In a shallow bowl, combine egg white and milk. In another bowl, combine the bread crumbs, Parmesan cheese, and seasonings.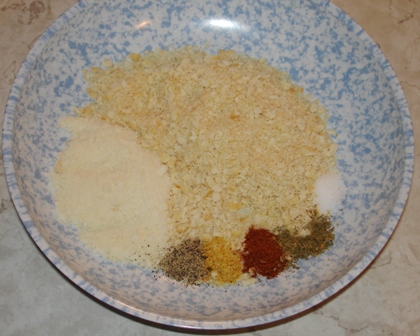 Dip each chicken breast in the egg white mixture, then in the crumb mixture. Melt butter in a skillet; brown chicken on both sides until pink and juices run clear.


To tell if the chicken is done, I either cut into a piece to see if it's not pink anymore or poke a fork thermometer into it. 
Meanwhile, heat tomato sauce and basil until warm. When chicken is done, sprinkle with mozzarella cheese.

Remove from the heat and cover for 2-3 minutes or until cheese melts. Serve with tomato-basil sauce.

I don't think the breading is enough for 8 pieces because I always make 4 pieces and use about 3/4 of the breading for a full recipe! So, if you do make the full 8-piece recipe, make more of the crumb mixture than it calls for. Or maybe I just like more breading than most people.
I usually serve this chicken with noodles, Pillsbury French bread, and salad.