Does 'carrot pancakes' strike you as odd? It did me, for 2 reasons: 1. The thought of carrots in pancakes. and 2. These pancakes do not get served with syrup… there is a cream cheese mixture that goes on top of them instead. All my life, pancakes have gotten served with syrup. Sometimes with peanut butter underneath the syrup, but always with syrup. If we'd decide to put jam on them instead, that was not the norm.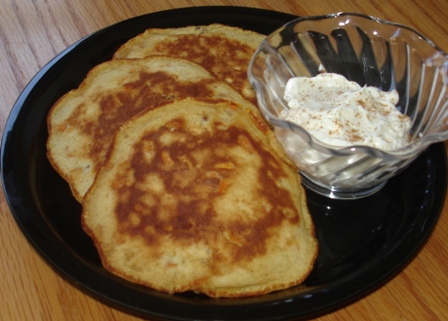 This recipe actually sounds really good. It's got pecans in it… YUM! and it's got cinnamon and brown sugar in it and that cream cheese spread sounds really good!!! And they are really good, except the carrots kind of wreck them, which is unfortunate because that's the main ingredient.
Carrot Pancakes – from the 2003 Quick Cooking Annual Cookbook
1 1/4 cups flour
2 Tbsp. finely chopped pecans (I didn't chop them very fine, I like running into chunks)
2 tsp. baking powder
1 tsp. cinnamon
1/4 tsp. salt
1/4 tsp. ground ginger
1 egg, lightly beaten
1/3 cup packed brown sugar
1 cup milk
1 cup grated carrots
1 tsp. vanilla
Cream Cheese Spread:
4 oz. cream cheese, softened
1/4 cup powdered sugar
2 Tbsp. milk
1/2 tsp. vanilla
Dash ground cinnamon
In a bowl, combine the first 6 ingredients. Combine the egg, brown sugar, milk, carrots, and vanilla; mix well.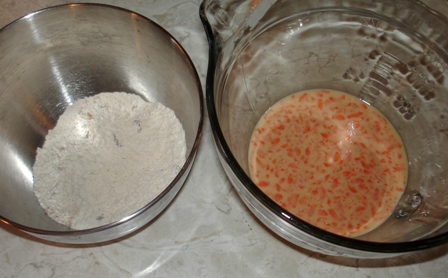 Stir into the dry ingredients just until moistened.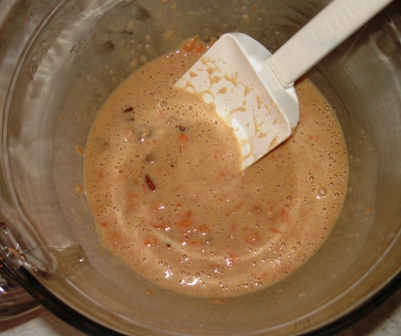 Pour batter by 1/4 cupfuls into a greased hot griddle.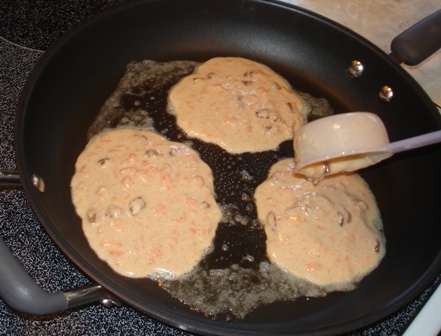 Mmmmm! Look at all those chunks! …too bad so many of the chunks are carrots, huh?
Turn when bubbles form on top of pancakes;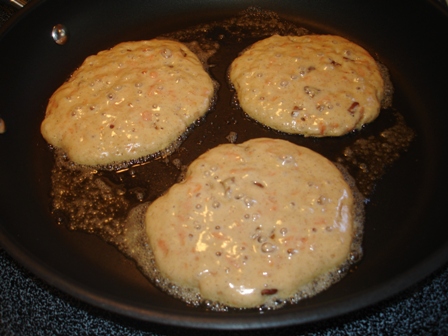 cook until second side is golden brown.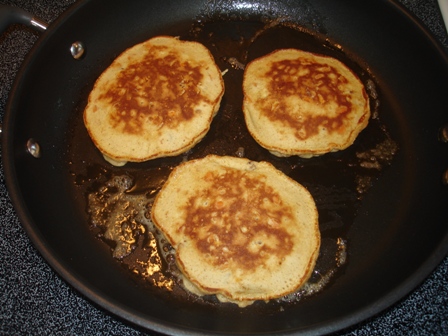 Place the cream cheese, powdered sugar, milk, and vanilla, in a blender or food processor; cover and process until smooth. Transfer to a bowl; sprinkle with cinnamon.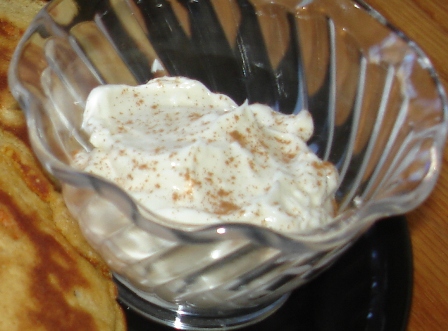 Serve with pancakes. Yield: 4 servings. This recipe makes 11 pancakes.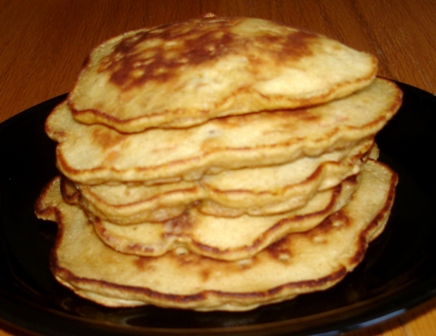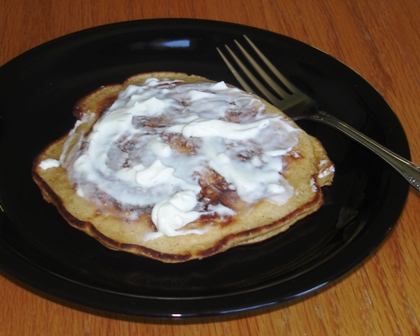 Next time, and I think there might be a next time, I would put in a few more pecans and considerably less carrots. They were fun to try for something different. Lexi (5) wouldn't touch them with a 10′ pole (and I sounded excited about them to her, carrots and all), but Tiffany (2) downed a whole pancake like nothing. Shannon didn't get a chance to taste them because he was at work, but I think his take on them would've been similar to Lexi's.
Edit: I tried these again later and replaced the cup of carrots with 1/3 cup of pumpkin and doubled the pecans, but kept everything else the same. I think I should've added nutmeg too. Anyway, they were delicious!
I'm actually having alot of fun with this Out of My Comfort Zone series. It's fun trying stuff I'd never try otherwise. Next week, I'm planning to try a lettuce salad with fruit and maybe nuts in it.
1. I usually put fat free half & half or skim milk in my coffee. But once in awhile, I put chocolate milk in it. It gives it a mocha flavor. Try it sometime!
2. I made finger jello for the school picnic this past weekend. To make the plate more colorful, I made 2 pans of jello and made sure that the colors on the bottom and top of the pans were all different. Then, when I went to put them on a plate, I flipped some one way and some the other way and it looked more colorful with red, yellow, purple, and green on top. Do you have no clue what I mean? Here's a picture: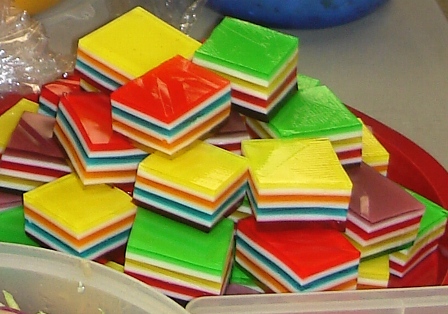 As opposed to less colorful, like this: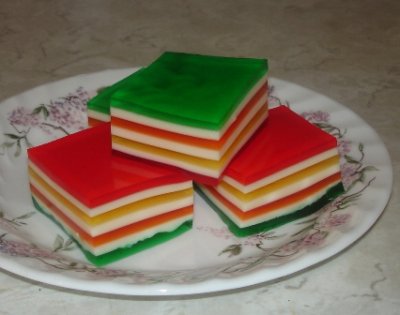 3. I just found out that if you want an egg at room temperature because it beats nicer and fluffier, you can put it in the microwave for 10 seconds, shell and all, instead of letting it sit out till it's room temp. I tried it and it does feel room temp when I comes out. I didn't check if it's that temp the whole way thro' though.
4. And because this is a cooking site, I'll post a couple pictures of the tables laden with food at the school picnic. The food was inside, but we ate outside. At the other end of the table in this first picture is the hot stuff… chicken breasts and shish-ka-bobs both off the grill, baked beans, hot dogs, and macaroni and cheese.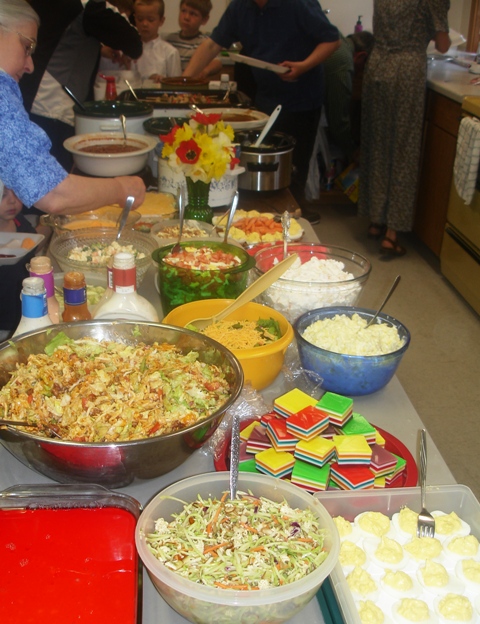 Then the salads.
Then the desserts.

What would you fill your plate with?
5. And even though this has NOTHING to do with cooking, I'm putting it on anyway. We church ladies made and quilted this friendship quilt for our school teacher this year. The school teacher is on the right. Her talented mom, who is on the left, handpainted those beautiful roses around the edge and the ones at the top. She used fabric paints and it is just so beautiful!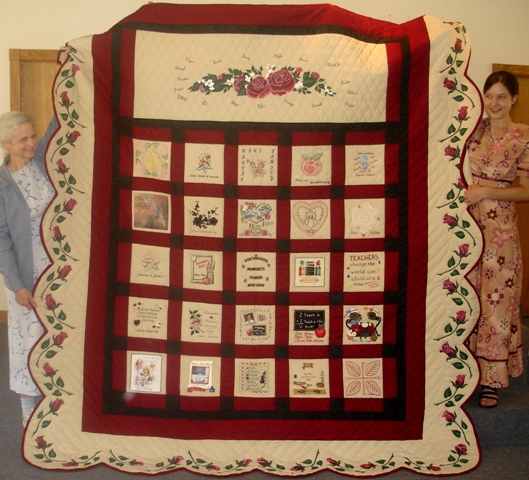 Ok, we'll stick to cooking now, just couldn't resist that one. I do see an apple on that one quilt block, though…
The reason the recipe this week is out of my comfort zone in NOT because of using an ingredient I don't like or because it seems like a weird ingredient combo. It is because right in the recipe directions there is the phrase "or the cans will explode".
We're talking canned cans, which are much thicker than pop cans. I have heard (but never seen) a can of Diet Coke explode. And I have cleaned up several DC can explosions in the freezer (you know, cooling it down quickly then forgetting about it) and in the car (winter time in WI). If a thin pop can can create that much of a bang and a mess, I don't even want to be around a regular can exploding. And I just had to think of the poor people who discovered that they do explode if you let the water boil dry. Also, I just cannot imagine 'covered with water' being such a magical thing to keep a can from exploding. So, because of these reasons is why I've never made this, even though I always thought it sounded so good!
But, here we are, kitchen still intact, no wild stories to tell, and a delicious dessert eaten!
Eagle Brand Milk and Pineapple Rings
Remove labels from Eagle Brank milk cans.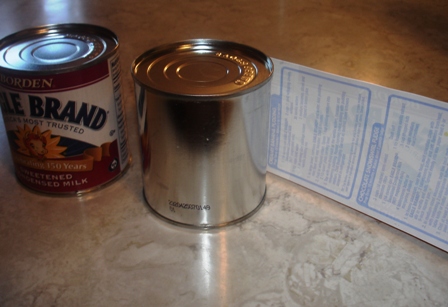 Set 4 cans in 4 qt stainless steel kettle. I did only 2 cans and used a smaller kettle because I don't have a bigger kettle, but that's another story… what happened to my big kettle. Fill with cold water. Turn on medium high heat until it cooks, then turn down to medium.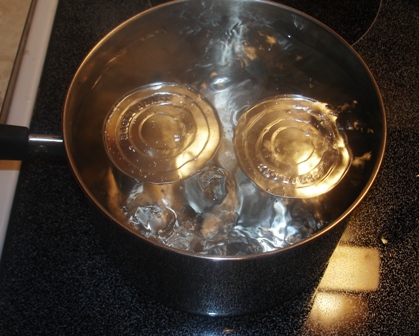 Keep adding warm water. Do not let the water evaporate or the cans will explode. Boil for 3 hours. Cool. Drain cooled pineapple rings and arrange on plate. (One can of Eagle Brand milk should be just right for 1 can of pineapple rings.)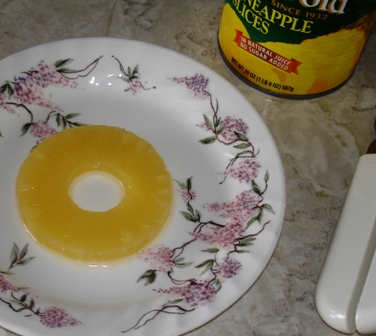 Open both ends of the milk cans. Remove one end and press the other end so that about 1/4″ sticks out of the end. Slice along the can with a sharp wet knife, slide onto pineapple ring.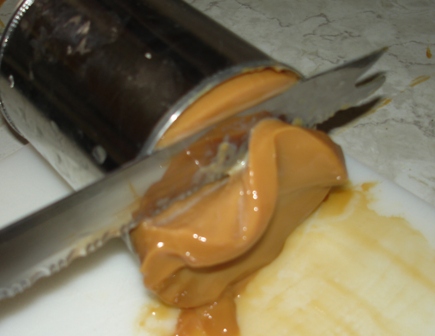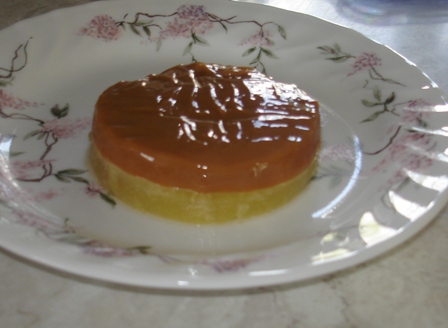 Top with Cool Whip and a cherry.

Man, this stuff is good! That milk tastes like caramel. And caramel goes great with pineapple! I'm not scared anymore to boil cans of milk and I'll make this again sometime! I'm also going to try that 'caramel' in a recipe that calls for caramel and see how it tastes. That was amazing to me how a can of white liquid could turn into a can of brown solid (soft solid).
Just thought of something I should mention yet so you don't learn the hard way like I did. If you have a Pampered Chef can opener, it'll go on the can like this:

That works great for the one end, but not for the other end (the end that you push on) because this can opener takes the lid off, including the rim. And the rim does not fit thro' the can when you go to push on it!
So, use a can opener that goes on the side of the can, not the top of the can. Thankfully, I kept my old Walmart can opener when I got my Pampered Chef one a few years ago!
At least mine didn't turn out square! And there's nothing else square about them except the chunked up chicken, so I'm pretty sure the ending shape was supposed to be square. But, I don't want to get hung up on trivial details. The taste, of course, is what's most important and that passed with flying colors! Although, depending what you're talking about, square versus round would not be a trivial detail… for example, the tires on your car or the boxes you're stacking.
Three things were just going on in my kitchen simultaneously (none of which were the chicken squares, so why am I writing this?)… I just got done doing the first major step of this week's "Out of My Comfort Zone" recipe that I'll post Friday p.m. or Saturday a.m. (by major, I don't mean major like butching a chicken). I also just got done making layered finger jello for the school picnic tomorrow. And I just got done making a pumpkin roll, also for the school picnic. We're supposed to bring 2 things and the hot dogs and hamburgers will be provided. If we'd have a beautiful warm day tomorrow like today was, that would be so perfect. Can you believe that we've already had to cancel the school picnic ball game because of snow?! And then the next year, we go home sweating and sporting sunburns! That's Wisconsin weather for ya!
Now, back to our chicken squares. This recipe is taken from the 500 Years in the Kitchen cookbook. Isn't that just a catchy name for a cookbook? I'd say they added up a group of women's years in the kitchen. Or maybe they figured up how long it took to make each recipe, added it all together, and discovered that if you'd make every recipe in the book, starting with the 1-2-3-4-5 Spare Ribs on page 1 and ending with Vanilla Foaming Bath Oil on page 136, that it would take you 500 years. Ok, just kidding on that one. It would make more sense that the ladies' years of cooking would be added up because it was compiled by the Badger Women's Club from Hayward, WI. Wisconsin is called the Badger State, if you didn't already know that. I know it because I live here, but I might not otherwise. I know a few others too though, like the Sunshine State and the Buckeye State and the Keystone State, but that's pretty much it. I'd do better on states and capitals, just so you know I'm not a total geography dropout!
Chicken Squares
1 3-oz pkg cream cheese
2 Tbsp. butter
2 cups chicken, cubed
1/4 tsp. salt
1/8 tsp. pepper
2 Tbsp. milk
1 Tbsp. onion, chopped
1 8 oz. carton crescent rolls
3/4 cup seasoned croutons
Tip: Fry the chicken rather than cooking it… tastes better.

Mix together everything except the crescent rolls and croutons. I mixed everything else first, then added the chicken.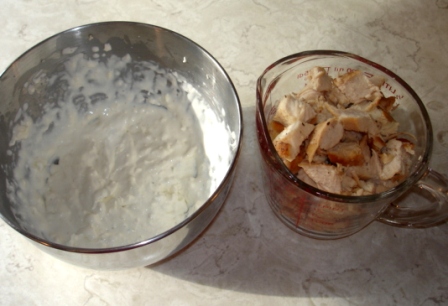 Separate rolls into 4 rectangles. Press perforations to seal. Spoon a half cup of meat mixture onto each rectangle. Or just divide it out evenly among them, that's easier.

Pull the 4 corners of each rectangle together and twist slightly to seal.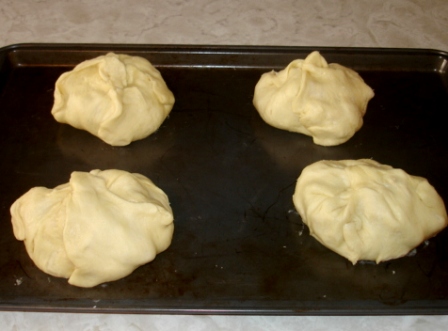 Brush tops with melted butter.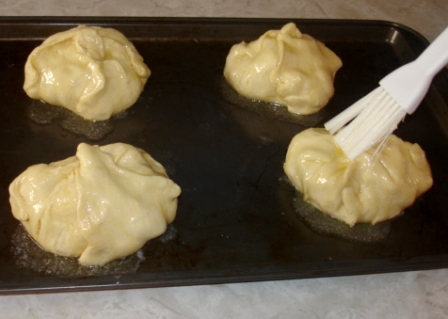 Dip in crushed croutons. Huh?! Dip them? Wouldn't the chicken stuff fall out? Sprinkling worked great.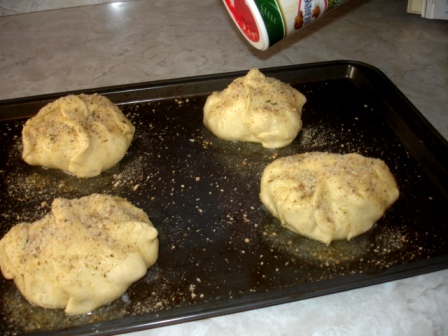 Bake 20-25 minutes at 350. And here they are, just out of the oven.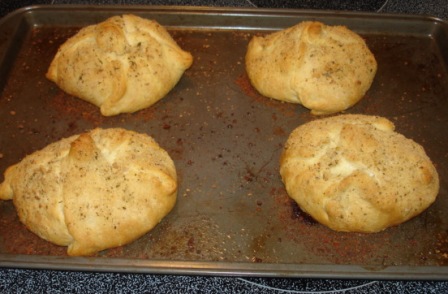 We had sugar snap peas and applesauce as sides.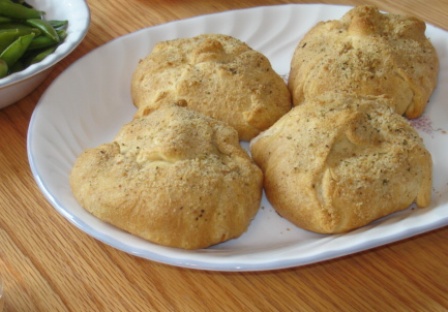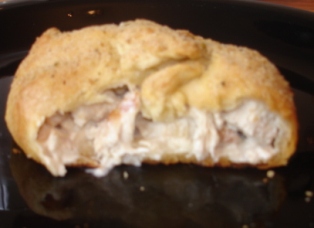 It bugged me that the 'cut-away' view pictures all got blurry, but here is one anyway. I hope it doesn't make you rub your eyes or squint.
These were great! Just great! My usual How-would-you-rate-this? question to Shannon got a "Make again, for company' rating. So, come on over, we'll serve you some chicken squares rounds.
Are you kind of curious about those 1-2-3-4-5 Spare Ribs? Me too. I wasn't curious about the bath oil recipe since I can buy that at Walmart, plus I don't even know what glycerin is, but I had to read the ribs recipe… it's ribs plus 5 other ingredients (sherry, soy sauce, cider vinegar, sugar, and water), which make the sauce. You cook the ribs in the sauce for 40 min covered, then uncover and turn it on High and stir till no liquid remains. Doesn't say how long it takes till the liquid is gone. Maybe 500 years or so. 
 These cookies don't have chocolate or nuts in them, so I'm not cracked over them, but I live with people who are. That's fine with me though because it gives me a chance to bake something that doesn't tempt me. I could inhale half a batch of monster cookies or s'mores sandwich cookies in, well, I guess I don't really want to say how fast I could do that. Anyway, I was just looking thro' my Cookies and Bars category and I was surprised how varied the selection is! It's not ALL just the kinds of cookies and bars I love. There are some others in there like gingerbread men and Mary's cream cheese cookies. And now these: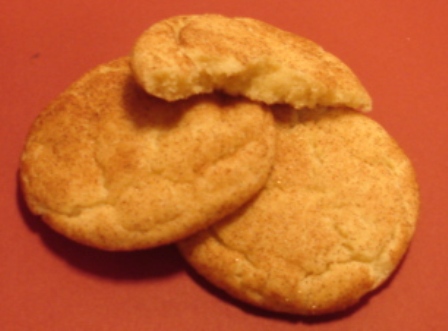 Classic Snickerdoodles
A bit of trivia first… did you know that Snickerdoodles originated in New England and the origin of the name is still a mystery. It may come from the German word Schneckennudeln, which were cinnamon-dusted sweet rolls. Anyway, I've often wondered where the name came from and always thought it was kinda fun to say, it just rolls off your tongue… Snickerdoodle, snickerdoodle, snickerdoodle.
2 3/4 cups flour
2 tsp. cream of tartar
1 tsp. baking soda
1/2 tsp. salt
1 3/4 cups sugar, divided
1/2 cup butter, softened
1/2 cup shortening
2 large eggs
1 tsp. vanilla
4 tsp. cinnamon
Preheat oven to 375. Coat baking sheets with cooking spray. Combine flour, cream of tartar, baking soda, and salt in a medium bowl. Combine butter, shortening, and 1 1/2 cups sugar in a large bowl. Beat with an electric mixer on medium speed until light and fluffy, about 1 minute. Stir in eggs and vanilla. Mix well. Stir in flour mixture. Beat with mixer on low speed until combined, about 1 minute. Mix remaining sugar and cinnamon in a small bowl. Shape dough into 1″ balls; roll balls in sugar mixture. Place balls on prepared baking sheets.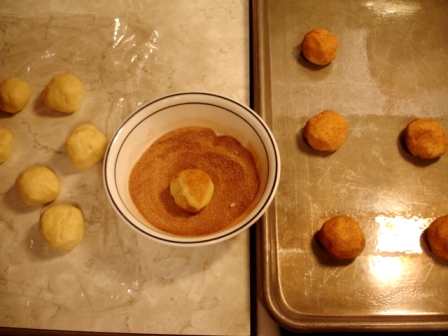 Bake until  lightly browned, 10-12 minutes. Remove from oven; let stand 1 minute.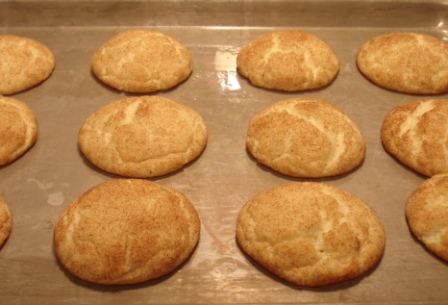 Transfer cookies to wire racks to cool completely. Makes 4 dozen cookies. I must've made mine too big because it made just under 3 dozen.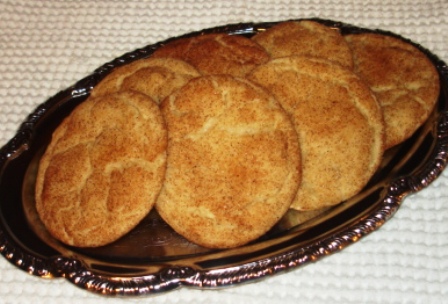 They were good. I asked Shannon how he'd rate them and he said, "They're 'make again frequently' quality". And judging by the way the girls ate them/asked for more, I think they'd agree!