This isn't going to be an entertaining post with pictures and all. It's more of a helpful post. We need to have some balance here. Not all fun and games and eating and pictures.
I guess I've never really put a game on here… I could though, one time I saw a bar recipe and a letter was piped on each bar and they made a crossword out of it. And I've also seen a meat and cheese checkers game. And one of the neatest looking things I've seen was square cakes frosted white and oreo cookie halves stuck on them in a pattern so the cakes looked like dice.  
Warning: Sudden change of subject. I used to cook pasta and be dumping the uncooked stuff into the water and then dump in more, thinking it surely wouldn't be enough. As it cooked, it grew and GREW and I'd end up with enough pasta to feed an army! Then, I found this info, and I haven't cooked way too much pasta since. But I still dump in the uncooked stuff and think 'Surely that won't be enough', but it always grows and sure enough, it's enough! I know, it says on the package how much cooked uncooked makes, but it seems to always have it in ounces! 
Or I would be crushing crackers crumbs with a rolling pin and empty the crumbs into a measuring cup, crush more, empty them, until I had enough. And then sometimes I crushed too many and had to decide what to do with the leftover crumbs… throw them away or throw them in.
Or I'd need 1/4 cup of lemon juice and want fresh-squeezed juice, so I'd go to the store and not know how many lemons I'd need to make 1/4 cup. So I'd buy 4 or so, just to be safe (I only did that one time, then I had a better idea of how much juice one lemon makes after that).
So, I hope this info helps you as much as it helps me! These measurements might not be exact, but it gives a ballpark idea anyway.
Macaroni               1 cup (3 1/2 oz) uncooked   = 2 1/2 cups cooked
Noodles, med        3 cups (4 oz) uncooked        = 4 cups cooked
Speghetti               8 oz uncooked                       = 4 cups cooked
Popcorn                 1/3 – 1/2 cup unpopped      = 8 cups popped
Rice, long grain     1 cup uncooked                     = 3 cups cooked
Rice, minute          1 cup uncooked                     = 2 cups cooked
Bread                      1 slice                                     =3/4 cup soft crumbs
                                                                                = 1/4 cup dry crumbs
Graham crackers  7 squares                               = 1/2 cup crushed
Ritz crackers         12 crackers                            = 1/2 cup crushed
Saltines                  14 crackers                            = 1/2 cup crushed
Bananas                  1 medium                              = 1/3 cup mashed
Lemons                   1 medium                              = 3 Tbsp. juice
Limes                      1 medium                             = 2 Tbsp. juice
Oranges                  1 medium                             = 1/4 – 1/3 cup juice
Lettuce                   1 head                                   = 5 cups shredded
Carrots                   1 pound                                 = 3 cups shredded
Celery                     1 rib                                       = 1/2 cup chopped
Corn                        1 ear                                      = 2/3 cup kernels
Green pepper        1 large                                   = 1 cup chopped
Mushrooms           1/2 pound                             = 3 cups sliced
Onions                    1 medium                              = 1/2 cup chopped
Potatoes                 3 medium                             = 2 cups cubed
Almonds                 1 pound                                = 3 cups chopped
Pecan halves          1 pound                                = 4 1/2 cups chopped
Walnuts                  1 pound                                = 3 3/4 cups chopped
 And while I'm at it, I might as well throw in some more equivalents that I'm sure you all know. But these still come in handy when your mind goes blank… blank like mine did this morning when I made coffee and after awhile was wondering why I didn't smell it and when I looked at the coffee pot, there was clear water in it instead of coffee! Shannon said 'the problem with coffee is that you need it first in order to be awake enough to make it', or something like that… it didn't sound as confusing when he said it.
I actually forgot what I was supposed to be writing here and had to go up and check… more equivalents:
3 teaspoons            = 1 tablespoon
4 tablespoon           = 1/4 cup
5 1/3 tablespoons  = 1/3 cup
8 tablespoons         = 1/2 cup
16 tablespoons       = 1 cup
2 cups                      = 1 pint
4 cups                      = 1 quart
16 cups                    = 1 gallon
4 quarts                  = 1 gallon
And from there, you're on your own.
I just finished eating a fresh strawberry scone… delicious! I'll post the recipe later. Do I mean fresh as in fresh strawberries or fresh as in fresh-baked? Yeah.
Do you ever just stop and wonder WHO decided what goes together? And who decided that scrambled eggs and pancakes are breakfast foods? And who decided that you shouldn't eat ice cream or a Hershey's w\ Almonds candy bar before 10:00 a.m.? And who decided that corndogs are a kid's food? And WHO was the first person to have the guts to put fruit and nuts in a lettuce salad?!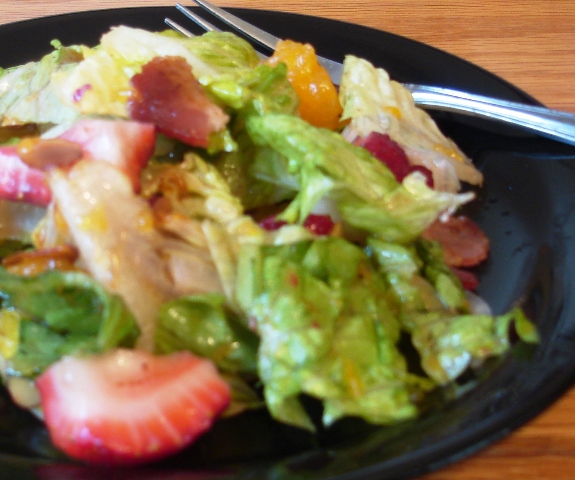 But, you know what, this salad was good! Really good! I could not believe it! And I could also barely stop eating it! If you have never tried it, this recipe would be a great one to try it on. Especially the strawberries were good with it. And the dressing.
If any of you are coming up for air about anything in the first paragraph… "Hey, we eat scrambled eggs and pancakes for supper sometimes!" "Hey, c'mon, I eat ice cream every morning!" "I LOVE corndogs and I'm 27!", I know, I know. Me too. Well, me too all except the parts about ice cream EVERY morning and being 27. But, when you have pancakes and eggs for supper, you call it a 'breakfast supper'. And I would think my husband was the one who decided that about no ice cream or candy bars before 10:00 (yes, we've had these discussions), except that Dairy Queen doesn't open till 11:00 a.m., so that's kind of another clue. And have you ever seen corndogs on the regular menu at a restaurant? Nope, you'd have to order them off the kid's menu. There, that oughta save some ranting in the comment section.

Back to this salad, it comes from the 2001 Quick Cooking Annual cookbook. There's a picture, and it is so colorful, and it grabbed me. I also learned something… I almost didn't put the onions in because I do not like raw onions in stuff and was afraid that the amount of them would for sure wreck it. The recipe calls for a sweet onion, so when I went shopping, I made sure to get an onion labeled 'sweet'. It was a world of difference from the regular onions I usually buy! These were good! And not as strong. I'd still use the regular onions for cooking, but I won't dodge around raw onions in other recipes anymore… I'll just make sure they're sweet onions.
Berry-Mandarin Tossed Salad
1/4 cup sugar
2 Tbsp. cider vinegar
2 Tbsp. honey
1 1/4 tsp. lemon juice
1/2 tsp. paprika
1/2 tsp. ground mustard
1/2 tsp. grated onion
1/4 tsp. celery seed
Dash of salt
1/3 cup vegetable oil
8 cups torn mixed salad greens (if you see grated carrots and red cabbage in there, it's because my bag of ready-to-serve Romaine salad mix had them in)
2 cups sliced fresh strawberries
1 can (11 oz) mandarin oranges, drained
1 medium sweet onion, sliced into rings
1/3 cup slivered almonds, toasted
4 bacon strips, cooked and crumbled
Note: To toast the almonds, I just tossed them with about a teaspoon of melted butter in a pan, then put them in a 400 degree oven till they started turning brown, maybe 10 minutes or so, I didn't time them, just kept checking them.
In a 2-cup microwave-safe bowl, combine the first nine ingredients. Microwave, uncovered, on High for 1 1/2 -2 minutes; stir until sugar is dissolved. Whisk in oil. Cover and refrigerate until serving.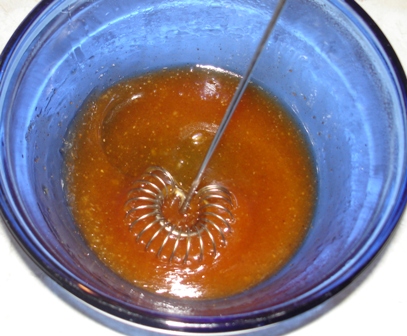 I actually had some problems with the dressing… the oil didn't want to blend into the rest of the stuff, the dressing got really thick after being in the refrigerator, and I thought it was too much dressing. And I did follow the recipe exactly, right down to the celery seed. It actually worked out ok and coated the salad evenly (I was afraid it would be thick in some places and none in other places). I think next time, I would put only about 2/3rds of it on though.
In a salad bowl, combine the greens, strawberries, oranges, onion, almonds, and bacon.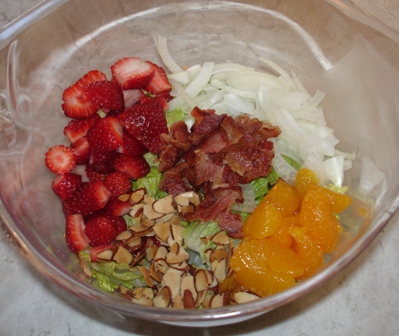 So pretty, huh?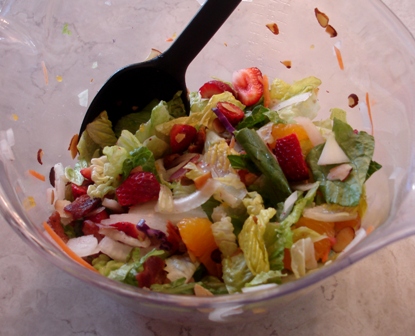 Drizzle with dressing and gently toss to coat. Yield: 12-14 servings.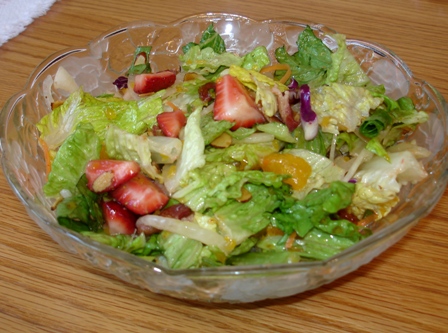 Maybe this type of thing is a regular dish on some of your tables, but we don't see it much around here. I'm going to take this salad to the next fellowship meal at church… see if anyone takes any.

And now, I have to get an inspiration for something to make for a meal this evening… we eat in a little over an hour and a half and I have no clue what we're going to have. Any ideas?
There are just some recipes you fall in love with when you read over them and you know you've just gotta try it. The recipe today was one of them. Most of the recipes like that for me are cookies, bars, or a dessert of some sort.
Sometimes I wonder why I didn't just do a dessert site instead of a general cooking site. But, on second thought, that might not be a good idea because think of all the desserts and cookies and stuff I'd have to make to keep it updated! That wouldn't be good for the wasteline.
In case you wonder, you pretty much get stuff hot off the press here. So, you know what we've been eating within the last day or two. I'm not a plan ahead person in any other area of my life (it's something I'm trying to work on though!), so I'm not with this site, either. I have no posts made ahead. For example, I'm planning to make my 'Out of my Comfort Zone' lettuce salad with fruit in it today and post it tomorrow. And no-posts-made-ahead is why my site died the week I went with Shannon on a business run to PA and also over Memorial Day weekend.    
Anyway, I don't know why I said all that just before saying this: these bars are an exception, I actually made them last week! I think it was maybe Thursday. So they are long gone by now. I only made half a batch because I didn't want a huge pan of them around here. Way too tempting! I got the recipe from Michelle. She said, "I think the title doesn't do them justice. I think a better name would be Peanut Butter Dream Bars. See what you think." And I agree! Oatmeal Bars sound like a healthy something with raisins in. These would NOT fit that mental picture!!! See what you think.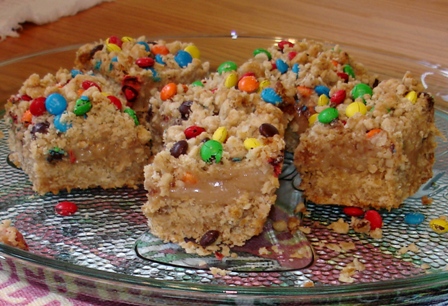 Oatmeal Bars
2 cups melted butter (starting out with melted butter… you KNOW they're gonna be good!)
2 cups brown sugar
2 tsp. soda
4 cups quick oats
3 cups flour
1 tsp. salt
2/3 cup peanut butter
2 14-oz cans sweetened condensed milk
2 cups mini choc. chips or mini m&m's
Mix together melted butter, sugar, soda, quick oats, flour & salt until it's crumbly.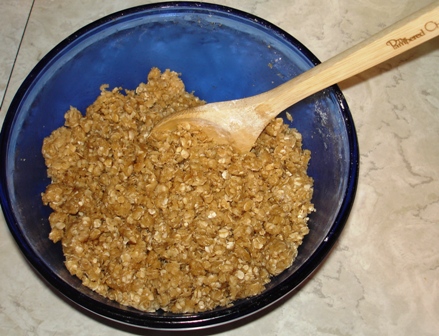 Set aside 3 cups. Press the rest into a greased 15×10 pan. Remember I made a half batch. I couldn't decide what size pan would be half of a 10×15. That's 150 square inches, so half would be something that's 75 square inches. An 8×8 is 64, a 9×13 is 117. So I picked the 8×8. Maybe I need more baking pans. Or maybe they don't even make 8×9 pans (72 sq in) or better yet, 7 x 10.5, that would be perfect. Um, let's see, I forget, were we baking or having Math class?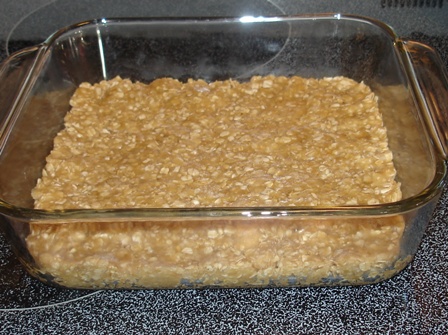 Bake at 350 for 10 minutes.
Mix peanut butter and sweetened condensed milk. Spread over the baked crust. Pour/drizzle worked great. Yum, doesn't that mixture look good?! It is. I licked the spatula afterwards.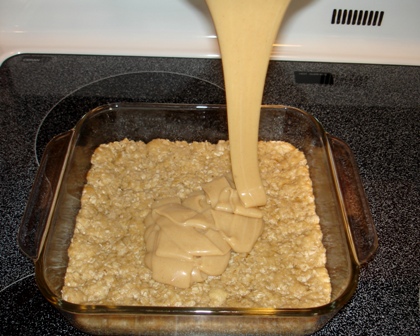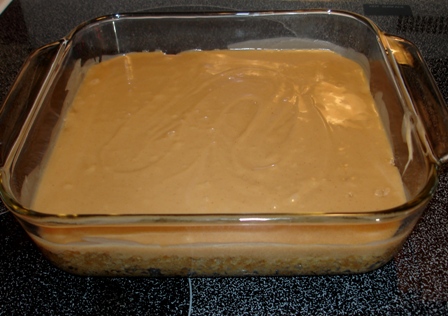 Mix mini choc chips or m&m's with the reserved crumbs. Sprinkle the reserved crumbs on top of the peanut butter and sweetened condensed milk mixture. Bake at 350 for 20 minutes.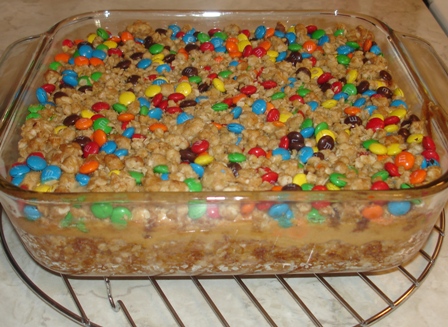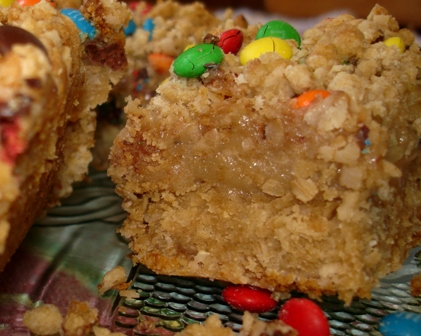 Enlarged to show texture. And that creamy caramelly peanut buttery layer. These definitely do not fit the 'Oatmeal Bar' name. In a recipe that has peanut butter and M&Ms and oatmeal, WHO would pick out the oatmeal and name them THAT?! So, Peanut Butter Dream Bars they will be. They are, of course, irrestistably good. They're a bit crumbly, for example, you wouldn't want the kids to walk around in the house eating them. But then, who'd ever let their kids do that anyway. Thanks for the recipe, Michelle! It's a keeper.
Edit: I made them again and put a half recipe in a 9×13 and that was perfect, they were not as crumbly as they were with the 8×8 pan.
This is what we call Summer. We are now between the holidays of Memorial Day and Labor Day. Living in a vacation town that is beautifully perfect in the summer and an at-your-own-risk deep freeze in the winter, this is prime time here in the northwoods. The population in our town skyrockets with alot of people coming up to their lake cabins for the summer. For anyone who makes a living here, these next few months will be your best shot. I love going to town in the summer, even if I have to wait 2 light changes to get a green because of backed up traffic… people are in a happy vacation mood and there are people everywhere. I love 'tourist season'.
And another reason to love summer: Here are just a couple things we pulled off the grill this weekend…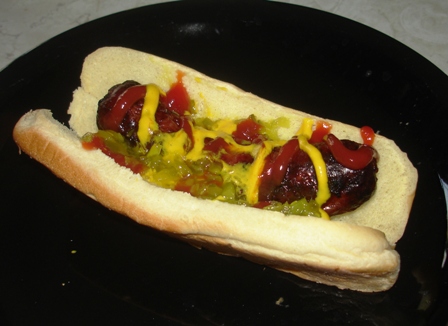 Johnsonville brats (pronounced 'brot', in case you're tempted to make jokes about mis-behaved children). You can't really see the brat itself because the toppings got a bit out of hand, but it is there.
AND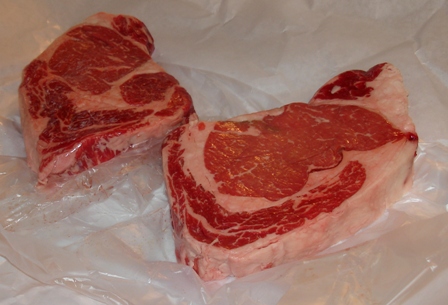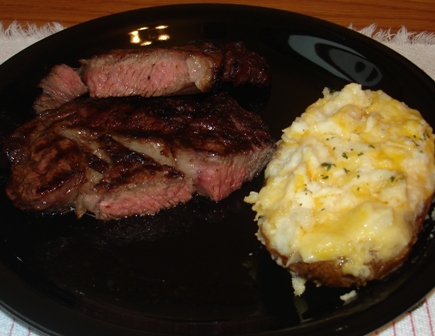 Rib-eye steaks, grilled to perfection. We like them done medium; pink in the middle, but the juices are brown. They were so tender and juicy that I could cut mine with a fork and they had so much flavor that we didn't even need the A1 sauce. In case you ask, yes, sometime this summer, we (as in mainly Shannon, but I do help, as in hand him a plate or utensil out the window occassionally), plan to do a "How to Grill the Perfect Steak" post. I just made that title up, I don't know what it'll be called, but something to that effect, with directions on how to get the different levels of doneness.
Our weekend was pretty relaxed, not alot going on. How was your weekend?
Hey! We've got a guest writer! Since I am not the griller around here (thankfully!), it seems fitting that I also shouldn't be the writer of the grilling posts, right? So, here is my husband Shannon:  
Did you read in the news this week about the restaurant on Wall Street in New York that serves a $175.00 cheeseburger? Yup, you read right, $175.00! It is Kobe beef topped with foie gras, exotic mushrooms and golden truffle mayonnaise. Golden truffle mayonnaise is made from chopped black truffles, truffle oil, and gold flakes. Gold as in "silver and gold".  So let me get this straight… Some chef in New York decided it would be a good idea to make his gold watch into Miracle Whip? Wow. Remind me not to leave the Midwest.
This is not that burger.
Memorial Day weekend is the unofficial line between spring and summer (or if you are from up here in Wisconsin, the line between winter and summer).
Cheeseburgers sizzling on the grill… What could be a more sure sign of summer than that?
Cheeseburgers are such a basic food that you don't even need a recipe. But here is my recipe, just the same.
Ingredients:
2 pounds fresh ground beef. Not too lean, 80/20 would be good. I used 85/15 this time. If they don't have enough fat, they will fall apart on the grill.
1/4th cup chopped onion.
1 chopped jalepeno. Use as much as you like. We like a bit of kick.
BBQ sauce. Your favorite brand.
Lawry's seasoned salt. Put in as much as you prefer, but don't be scared to use quite a bit. I use about 2 teaspoons (that is completely a guess, I have never measured).

1/4th teaspoon coarse ground pepper.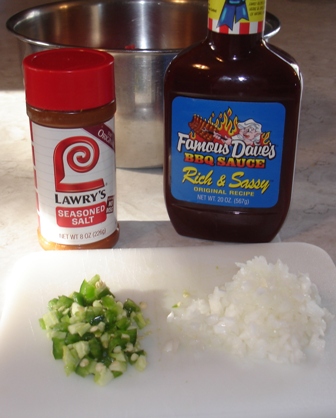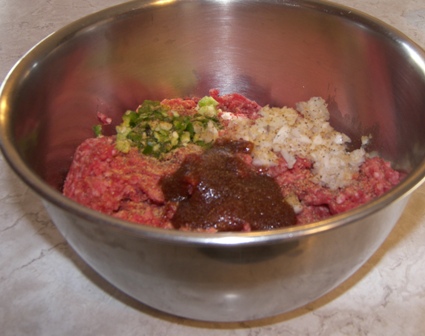 Combine the ground beef, onion, jalapeno, 2 tablespoons BBQ sauce, Lawry's, and pepper in a mixing bowl.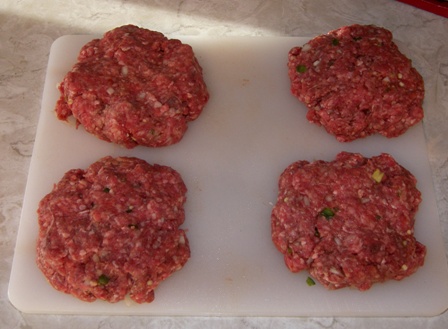 Shape into patties. This is hand work, no Pampered Chef burger shooter or other cheating! This is a cheeseburger, keep it simple. I made 4 patties this time, but that makes pretty big burgers. Depending on your group, you may want to make them smaller.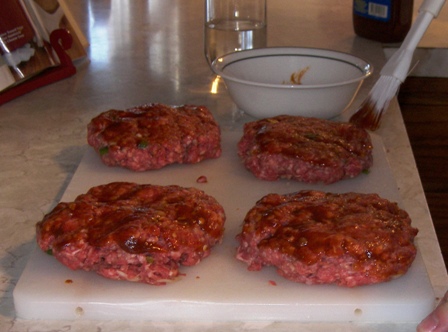 Using a brush, brush a light coat of BBQ sauce on the patties. This is not for flavor as much as to carmelize the suger in the BBQ sauce for a nice "crust". It may actually work better to do this step just a minute before they come off the grill.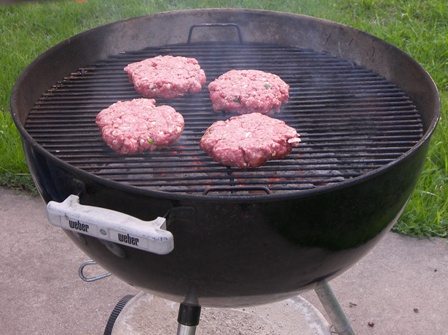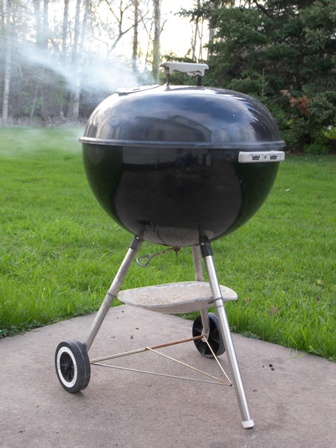 Grill on a charcoal grill. I almost don't want to put times here because each grill will differ in temp. I grilled them for about 6 minutes on each side. DONT LEAVE THEM ON TOO LONG! Seriously, the most common way to ruin a good burger is to overdo it. A little pink in the middle is perfect.
Put cheese on. Leave on grill for an extra minute to melt the cheese. I used provolone cheese. The buns must be grilled.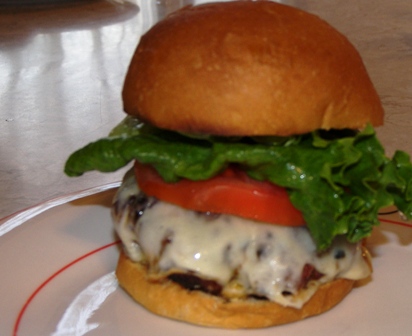 Dress to taste. I like tomato, lettuce, Bread and Butter pickles, ketchup, and mustard.
Ah, now that's a "God bless America" cheeseburger! Serve with extra napkins. 
While you are enjoying your good honest cheeseburger this weekend, remember to feel sorry for some guy out in New York whose self esteem is so low that he needs to eat a $175.00 cheeseburger with jewelry in it, just to prove he can.
Me again: Well, after a grilling post like this, I'm going to close my kitchen for the weekend and be outside. Have a wonderful Memorial Day weekend! See ya Tuesday!