Whenever Saturday evening rolls around, my cooking brain always automatically thinks pizza-crust-pepperoni-cheese thoughts. Maybe it's because I was raised with pizza every Saturday night. So, whether it's pulling a frozen pizza out of the freezer or calling 1-800-WE-NEED-SOME-PIZZA-DELIVERED or going out for pizza with friends or whipping up something from scratch, we somehow usually end up with pizza of some sort on any given Saturday night. If it's a pizza from scratch night, it might be Real Stromboli (pizza variation instructions at the end of the recipe), Quick Stromboli, Saturday Night Pizza, or Redneck Double Pizza (honestly, we only made this once!).
Sometimes I feel in a rut with my cooking. Like right now. And I don't mean just with the Saturday night pizza thing. I mean with all my cooking. Whether it's Sunday-lunch-pot-roast or fried chicken breasts (which we have at least once a week and I really should feature sometime), it seems I kind of make the same type of things way too often. 
I automatically skip over recipes that I'm not used to the ingredient combinations or that take ingredients that I'd need a dictionary for. Dishes like: Dark Chocolate and Pine Nut Crostata, Hawaiian Seafood Chowder, Rhubarb Chili Cubano, Artichokes with Tarragon Butter. I mean, really, wouldn't you skip over the Rhubarb Chili Cubano, thinking "How could rhubarb and chili ever belong in the same dish?!"? That recipe, by the way, comes from the latest Country Woman magazine and from reading over the recipe, I saw that it is in fact regular chili with rhubarb in it!
So, anyway, I'm going to get out of my comfort zone and make myself try one recipe every week that gives me some apprehension and raised eyebrows. Who knows, I may discover that apples baked with cheese is good or that I really do like fruit in my lettuce salads.
But for today, I'll stay in my comfort zone. Surrounded by the ingredients we know and love.
This is actually an experiment of rolled pizza… a variation in looks of regular flat pizza and quick stromboli. We had this last Saturday night. I'm quite sure I won't make it again because it didn't turn out as beautifully swirled as I thought it would. So, why am I featuring it then? Mainly so you know that things flop in my kitchen and because I still think it's a neat idea and maybe you can offer suggestions to make them more attractive… there will be some troubleshooting going on at the end of the recipe.
Pizza Roll
1 refrigerated Pillsbury pizza crust
Pizza sauce
Pepperoni
Shredded cheese
Parmesan cheese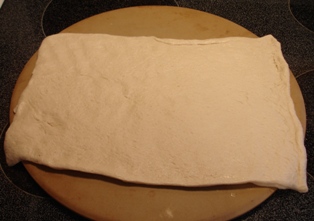 Roll out pizza dough into a rectangle.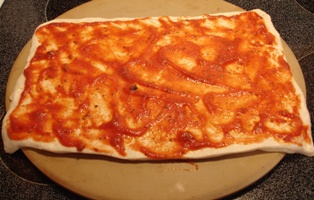 Spread with pizza sauce.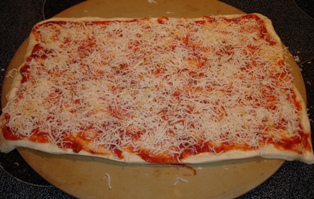 Sprinkle with some cheese.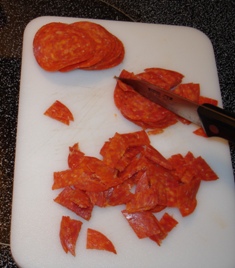 Chop up pepperoni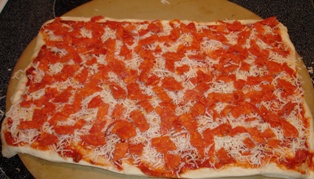 and put on top of cheese.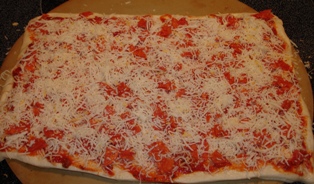 Add more cheese and Parmesan cheese.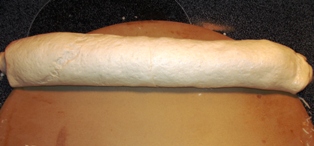 Starting at a long side, roll up like a jelly roll.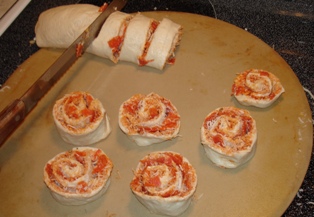 Spray a bit of cooking spray on a sharp knife and cut the roll into 1″ thick pieces. Lay cut side down on baking sheet.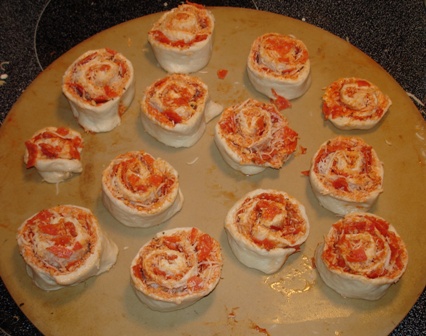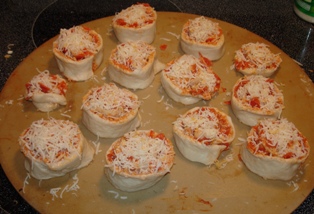 They looked pretty messy, so I gave up on the swirl effect and sprinkled some cheese on top.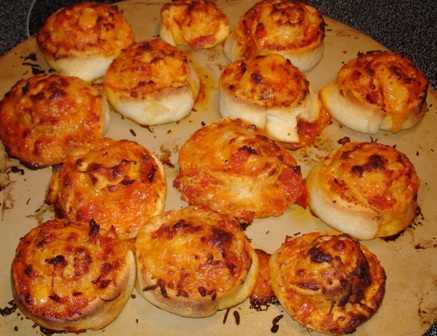 Bake at 400 for 15 – 20 min or until browned.
Now, what to do different… I still think they could be an attractive thing to serve, esp for an evening snack when you have company or something. They, of course, tasted really good, but the appearance had much to be desired.
What should've I done different?
— Were the toppings too thick?
— Would've a stiffer dough done better (like frozen bread dough thawed)?
— Should've I skipped the extra cheese on top? Would've the swirls looked less messy after baking?
— Are you rolling your eyes, thinking 'Just make regular pizza, for crying out loud!'?
— Would cutting it with a string (instead of a knife) make them look neater?
Ok, now I need to start looking for an out-of-my-comfort zone recipe… I don't think I'll have to look too far. I've got that Country Woman magazine sitting here on my computer desk.
Ok, here we go again. The break is over. I had enough Tasty-Kakes and Starbucks to last me for awhile now.
I wish Tasty-Kakes would come to WI. Well, they do come to WI… but only when we bring them here from PA or FL. A couple years ago, I ordered a bunch and they were shipped UPS. For awhile, every time after that, when we'd see a UPS truck, Lexi (who was 3 at the time) would say, "Mom, let's ask him for some Tasty-Kakes!" I guess she thought those trucks had a never-ending supply of Tasty-Kakes in them. Kind of like ice cream and a Schwans truck. Would be nice to be able to just flag one down a UPS truck whenever the Tasty-Kake urge strikes.
And since we live up in the boondocks here, our closest Starbucks is 1 1/2 hours away, so we don't get there often. But along the turnpike, going across IN, OH, and PA, there was often a Starbucks at the travel plazas. Very nice! I tried a couple different things, plus my favorite: a caramel frappucino.
Now, back to the kitchen, new recipes, and all…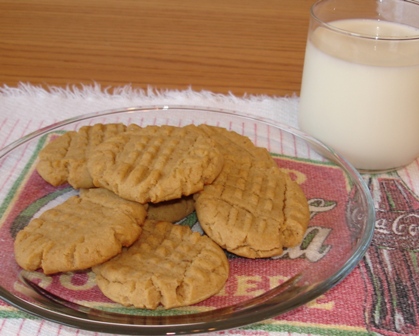 This one isn't really a new recipe. To me anyway. You'd know that if you'd see my recipe card… it's bent a little, it has a bit of sugar stuck to it, and it has a blue star (written by me) up by the recipe name. What first caught my eye when I was flipping thro' the cards was the word "Irresistible". Yeah, that wasn't me putting that word in the title, that's the name of the recipe: Irresistible Peanut Butter Cookies. So, I decided to try them. They were wonderful, and I've been making them for the last couple years. The recipe is from an Easy-to-Bake-Easy-to-Make recipe card.
One thing that was interesting is that it calls for Crisco (w\ the logo) shortening and for awhile, that exact recipe was on the Crisco cans. I don't know why I had never noticed the word "Irresistible" on my Crisco can before. Now, the recipe on there is "Ultimate Chocolate Chip Cookies". I wonder how often they change the recipes on their labels.
One other thing, I always wonder how peanut butter cookies got that trademark crisscross pattern in them. I don't think any other kind of cookie has that and you can always tell a peanut butter cookie by it. I Googled it and there were answers like "To tell them apart from other cookies", "They don't taste as good without that", "They don't flatten by themselves in the oven", "They did it in the 1930s and it stuck".

Irresistible Peanut Butter Cookies
1 1/4 cups firmly packed light brown sugar
3/4 cup creamy peanut butter
1/2 cup Crisco shortening
3 Tbsp. milk
1 Tbsp. vanilla
1 egg
1 3/4 cups flour
3/4 tsp. baking soda
3/4 tsp. salt
Heat oven to 375. Place sheets of foil on countertop for cooling cookies. Combine brown sugar, peanut butter, shortening, milk, and vanilla in large bowl. Beat at medium speed w\ electric mixer until well blended. Add egg. Beat just until blended. Combine flour, baking soda, and salt. Add to creamed mixture at low speed. Mix just until blended. Drop rounded tablespoonfuls of dough 2″ apart on ungreased baking sheet. Flatten slightly in crisscross pattern with tines of fork.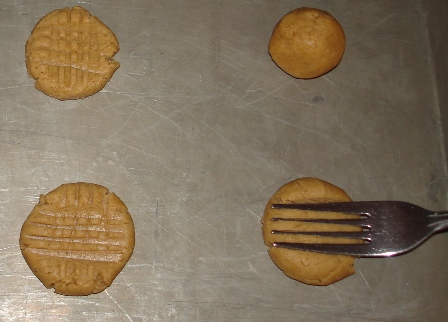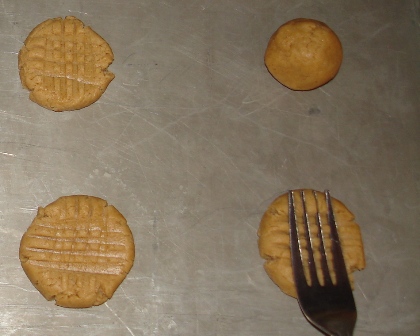 Bake one baking sheet at a time at 375 for 7-8 minutes, or until set and just beginning to brown. Do not overbake. Cool 2 minutes on baking sheet.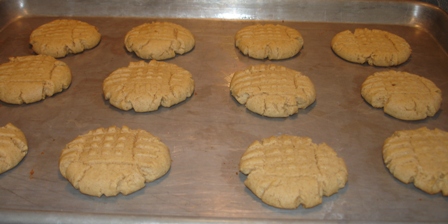 Remove cookies to foil to cool completely.
Makes about 3 dozen cookies.

Soft and chewy… just like a cookie oughta be! Wish I could give you one. Oh yeah, that's right… there are none left to give. 
 Actually a long 'coffee break'. I went on a business trip with Shannon this week. We're in Lancaster, PA right now with the truck and trailer loading up playhouses and some other stuff.
Here's our load:


Heading back to WI tomorrow. I should be back in my kitchen on Saturday. Meanwhile, I'm enjoying eating other people's cooking!

Have a good week!
I tried the corn chip salad over the weekend. Thanks for the recipe, Barb!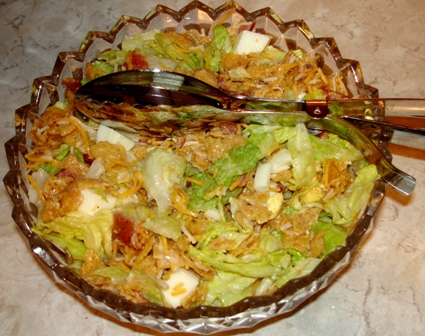 Barb posted it in the comment section of this post. She didn't leave a link, so I can't refer you to her site if she has one. The salad is very easy to make (no veggies to chunk up) and has a nice crunch to it. I liked the combo of salty (corn chips) and sweet (dressing).
Usually, when I think of salad, I think 'diet'. This is not by any means a 'diet' salad! The only thing diet in there is the lettuce. Everthing else is laden with calories and fat. No wonder the salad is so good, huh?!
Barb was right though… leftovers are not good! I made 1/4 batch just for us and we didn't eat it all, so I put it back in the fridge. The next day, it was soggy and the lettuce was wilted.
I'd say a whole batch would be about right for 18-20 people, unless you're making it to go along with a big meal, then it would feed more people, maybe more like 25. Ok, hopefully that guess isn't too far off for those of you who have it in a cookbook if it says how many servings it is! I could not find a corn chip salad recipe in any of my cookbooks.   
Corn Chip Salad
1 head lettuce
6-8 hard boiled eggs
1 pound bacon, fried and crumbled
1/2 pound shredded colby or cheddar cheese
4-6 cups corn chips, crushed (the more-the better)
Dressing:
1 cup miracle whip
2 Tbsp. red wine vinegar (can use apple cider vinegar)
1/4 cup milk
1/4 cup sugar
1/4 cup brown sugar
Toss lettuce, eggs, bacon, and cheese. Add chips and dressing just before serving.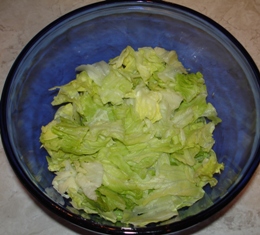 …Lettuce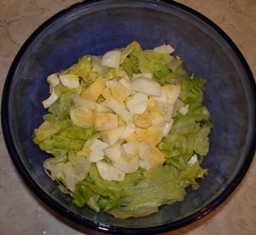 …Eggs
   …Bacon and cheese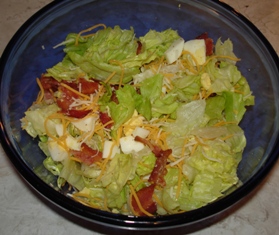 Toss it.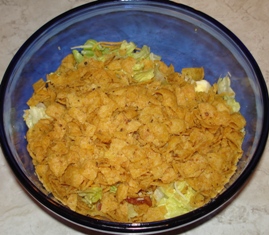 Add dressing and corn chips.
I just put all the dressing ingredients in a bowl and beat it with a wire whisk. Forgot to get a picture of it.
Toss it all together.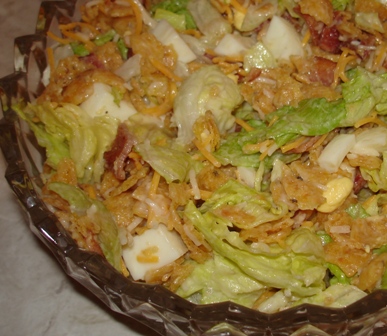 Sounds like some of you have made this, but if you haven't, I'd highly recommend it. The corn chips in there is what makes it so good (and the bacon helps too!). Plus, I've always liked salads that are tossed with dressing.
These are the only kind of bars that last more than a couple days around here. It's not because they're not tempting, it's because they're so RICH and you can't eat more than a couple at a time. One glance at the list of ingredients and I think you'd agree. They are oh-so-good though!
I'm sure this recipe is in quite a few cookbooks, but the one I used is from the Derstine cookbook.
Seven-layer bars
1/2 cup butter or margarine
1 cup graham cracker crumbs
1 cup coconut
1 cup chocolate chips
1 pkg. butterscotch chips
1 can Eagle Brand condensed milk
1 cup chopped nuts
Melt butter or margarine in 9×13 pan. Sprinkle over top graham cracker crumbs, coconut, chocolate chips, and butterscotch chips. Drizzle milk over top. Add 1 cup nuts. Bake at 350 for 25 to 30 min. Cool and cut.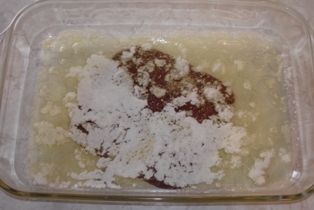 Layer #1: butter.
The dark that you see under the pan is just a hot pad… the pan was hot from melting the butter in the oven.
   Layer #2: graham cracker crumbs
   Layer #3: coconut
My Grandma made Lexi's apron for her (the one that makes the brown sugar pie). Grandma wears that kind of apron all the time and she sewed a few miniature ones for the great-grand-daughters. They were really cute even though they look a bit old-fashioned.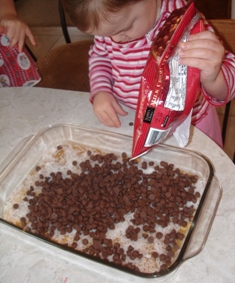 Layer #4: chocolate chips
I like chocolate chips way better than butterscotch chips, so I always trade quantities and put in the whole pkg of the chocolate and only 1 cup of the butterscotch.
   Layer #5: butterscotch chips
   Layer #6: sweetened condensed milk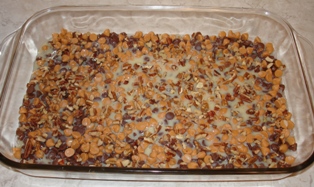 Layer #7: chopped nuts (I used pecans.)
   Just came out of the oven. Slightly browned around the edges.
                                                                                                                                                                                            Mmmmmm! Just delicious!