Up until a few years ago, we had a thing where we'd have my husband Shannon's family over for Easter Sunday lunch. Shannon would make a ham that got rave reviews. I'm not sure what happened, but we don't do that anymore. I guess we probably missed a year and the 'too-new' tradition was lost. Anyway, here is his recipe. He's done it for Christmas, too. He hasn't made it lately, and I only have 2 pictures of it… the last time he made it was before the days that I automatically put 'food' and 'camera' in the same boat, like I do now… these days, food and camera go together "like pancakes and blueberry syrup" (that was a line in a story tape we had in our growing up years and we still kick it around).
Twice-Smoked Ham
1 (12-15 lb) smoked bone-in ham
Whole cloves
Pineapple slices
Marachino cherries
1 cup frozen tangerine juice concentrate
1 cup Polander apricot preserves
1/2 cup French Pommery mustard
1/2 cup Grey Poupon Dijon mustard
1 cup packed light brown sugar
1 tsp. ground cloves
1/2 tsp. course ground black pepper
1/2 tsp. cayenne
To make this ham, use the indirect method of slow-cooking as described on page 13. (You don't need to own a smoker for this. Let's go to page 13… it says: Using a chimney starter, get 15 briquettes red hot. Place coals on one end of grill and place 1 pound of green hickory around coals. Use water-soaked hickory chunks if you can't get fresh-cut hickory. (Shannon buys and soaks the hickory chunks.) Keep the internal temperature of the grill at 200 – 225 degrees. Add more charcoal and hickory chunks every hour as needed. Don't put meat directly over hot coals. Shannon has a rotisserie that he always put the ham on.) Now, back to the recipe: Score the ham in a cross diamond pattern. Stud the ham with whole cloves at each intersection.


Smoke at 225 degrees for 3 hours ('pg 13′ directions above). Remove the ham and place on sheet pan. Secure the pineapple slices and the cherries to the ham with toothpicks.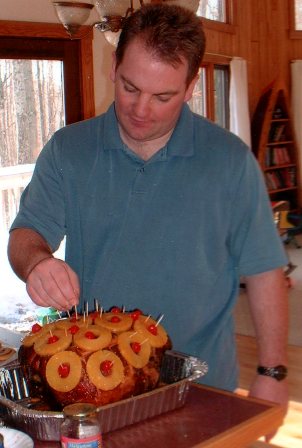 To make the glaze, combine the tangerine juice concentrate, preserves, mustards, brown sugar, ground cloves, and peppers in a bowl and mix well. Generously slather the ham with glaze and bake in a 350-degree oven for 1 1/2 hours. Brush the ham with glaze every 20 minutes. Remove from the oven and let rest for 30 min before carving. Yield: 10 – 12 servings.
Now, if you're church-going and have thought of the conflict of glazing every 20 minutes while you're sitting in church, what Shannon did was glazed it every 20 min while it was smoking, then before we left for church, he poured a bunch of glaze over it and with the cherries and pineapples on there, it stuck pretty good. Then, he glazed it again when we got home.
A lot of work goes into this ham, but it is SO good. The outside is candied and the inside is moist and delicious! Next time we make it, I'll get decent pictures and update with them! We haven't even talked about it yet if we're going to make it this Easter, but it seems like with a ham like that, we should have company, and well, my ankle still feels better being propped up instead of flying around cleaning the house and making food!
This recipe comes from the Famous Daves Backroads and Sidestreets cookbook. I need to feature more recipes out of that cookbook. They have lots of ingredients, which equals lots of flavor! The next one I want to try is a wild rice soup that has 22 ingredients. I've had it at the restaurant several times and it is to die for.
Have any of you ever been to a Famous Daves restaurant? What did you think of it? Have you ever been to the original one in Hayward, WI? Here's a picture of it… I scanned it in from my cookbook. It's actually a 2-page spread and that white line is where the pages meet.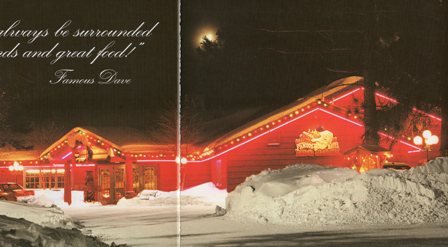 Happy Easter!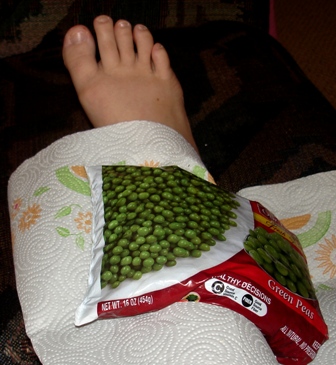 This is my foot, and that would be my ankle under those peas. I sprained it.
This was the first time that I've ever bought cube steaks. Maybe I'm kind of a creature of habit, but I don't really venture away from my 'norm' too much. In fact, I didn't even realize until I found this recipe that cube steaks were just thinner steaks run thro' a tenderizer… at least that's what they look like.
I should know these things because I used to work at a butcher shop with a meat case/deli out front. But, that was 13 years ago, 2 or 3 days a week, for 4 months, in MS. We ran stuff thro' the tenderizer, but I don't remember calling anything cube steaks. Anyway, what still makes my toes curl is thinking about that meat slicer and how we cleaned it. I don't know how you're supposed to clean the meat slicer blade, but we'd take a bucket of hot soapy water and a rag, turn it on, and hold the rag against it as it's spinning around. First on one side, then the other. Any little slip and you'd have had a finger chopped off. I hated cleaning the thing and cringed every time I did. And to this day, 13 years later, I still shivver when I think of it. Oh, we had LOTS of fun working there though… assembly lines of packing meat, getting good at knowing how much burger a pound is, frying thick bacon in the microwave, and Leroy keeping things lively and fun. Ah, good memories! And I still know that when I'm holding raw hamburger, 1 pound is when both hands are around it, but the fingers of the one hand can't quite touch the other hand.
Pizza Steak Bake …taken from an Easy to Bake, Easy to Make recipe card
1/2 cup flour
1/4 tsp. salt
4 beef cube steaks (4-6 oz each)
2 Tbsp. vegetable oil
2 cups (6 oz) sliced fresh mushrooms
1 cup sliced onion (1 medium)
1 can (15 oz) pizza sauce
1 cup shredded mozzarella cheese (I used pizza cheese because I didn't have mozzarella on hand)
Preheat oven to 350. Combine flour and salt in a shallow dish.

 Dip cube steaks into flour mixture, coating well. Heat oil in a 12″ skillet over med-high heat until hot.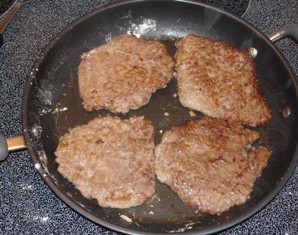 Add cube steaks, reduce heat to medium. Cook until browned on both sides, 4-6 minutes.

 Place browned cube steaks in a 3-qt baking dish (9×13 pan worked great).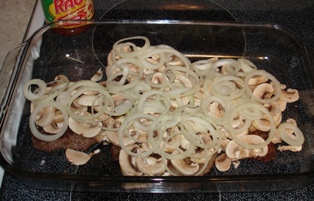 Top with mushrooms and onion.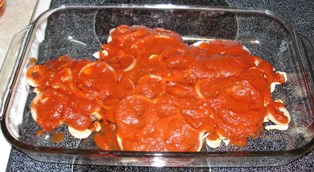 Spoon pizza sauce over top.

 Cover tightly with aluminum foil. Bake steaks 30 min.

 Uncover; sprinkle with cheese. Continue baking, uncovered, until steaks are fork-tender and sauce thickens, about 30 min. Yield: 4 servings.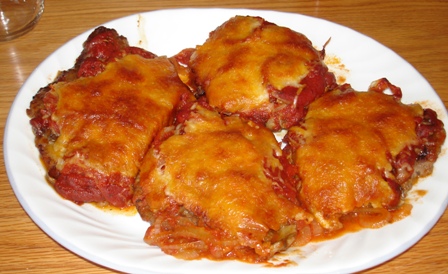 These were tender, we didn't need knives to cut it. They were really good and I'll probably make them again, but next time, I'd add some seasoning in with the flour mixture. Not sure what, maybe some Chef Paul Prudhomme's Meat Magic.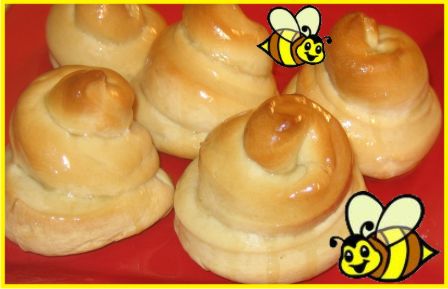 These buns have tempted me for awhile now and this afternoon, I finally gave in and made them. And it was just as fun as I thought it would be, they turned out just as cute as I expected they would be, and they tasted just as good as I hoped they would be! Things don't always go that well in my kitchen! With things that have no chocolate involved anyway.
I just realized that I LOVE honey. Almost every evening for supper, we have hot fresh rolls or bread of some sort and it's always good ol' strawberry jam that goes on the table. Well, these rolls are loaded with honey inside and out and they were so good! We may just deviate from the jam now and then. That reminds me of apple butter. We love apple butter too, my husband especially does. I'd like to find a good recipe and make it sometime, but I'm afraid it just couldn't measure up to the stuff we had at Der Dutchman's in Sarasota, FL. That's what I always think of when I think of apple butter. Actually, I also remember my mom making it when I was young, I should ask her for her recipe.
 Anyway, why am I talking about apple butter?! Back to the beehives…
Beehive Buns …taken from an Easy to Bake Easy to Make recipe card
1 envelope (.25 oz) active dry yeast
1/4 cup warm water (105F – 115F)
2/3 cup warm milk (105F – 115F)
1/2 cup honey, divided
1/4 cup (1/2 stick) plus 2 Tbsp butter, softened, divided
1/2 tsp. salt
3 1/2 -3 3/4 cups flour (I ended up using only about 3 cups because the dough seemed plenty stiff)
Dissolve yeast in warm water in a large bowl; let stand 5 min. Stir in milk, 1/4 cup honey, and 1/4 cup butter. Stir in salt and enough flour to form a soft dough. Knead dough on lightly floured surface until smooth and elastic, 6-8 min. Place dough in greased bowl, turning to grease top. Cover; let rise in a warm place until almost double in size, about 1 hour. Lightly grease baking sheets. Punch dough down; divide in half. Roll each half into a 6″x12″ rectangle. Cut 1″ strips from long edge of each rectangle.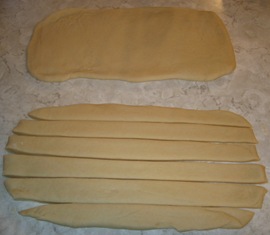 Curl each strip into beehive shape with a wide base and narrow top onto prepared baking sheet.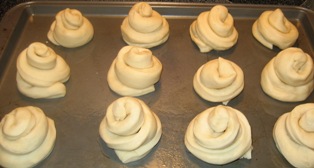 Cover lightly; let rise until almost double in size, about 15 min. Preheat oven to 375. Bake buns until golden, 15-20 min.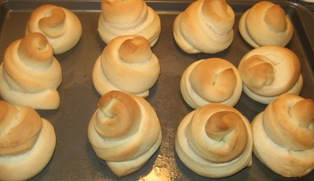 Combine remaining honey and butter in a small saucepan. Heat until butter melts. Brush warm glaze over buns. Remove from baking sheet; place on wire racks. Yield: 1 dozen.

These seriously are SO good! And it was nice to have a variation in shape and taste.
The rest of our meal was a rotisserie chicken (done at the local grocery store), carrots and dip, and oven-crisp potato wedges. The potatoes were also a new recipe, so I'll add them here too.
Oven-Crisp Potato Wedges …from a misc recipe card in my stash of loose recipes
1 1/2 lbs small red potatoes
1 Tbsp olive oil
4 tsp. finely minced garlic
3/4 tsp. coarse salt
1/2 tsp. paprika
1/4 tsp. freshly ground pepper
Preheat oven to 525. Quarter potatoes and place in large bowl.Drizzle olive oil over potatoes and toss. Sprinkle seasonings over potatoes; toss to coat well. Line a baking sheet with foil and lightly spray with vegetable cooking spray. Arrange potatoes on prepared baking sheet.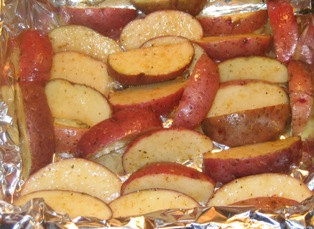 Roast for 20 min, stirring once or twice during cooking. Raise heat to broil. Broil potatoes until crisp, watching closely not to over-brown, about 1-2 min. Serves 4.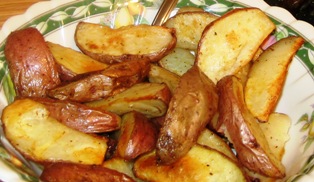 I made a half batch and I also baked them at a different temp because I needed the oven for the beehive buns too. I baked them at 375 for about 40 min, then broiled them while glazing the buns. Worked great.
We liked these potatoes ok, but they were nothing special. We ate them with ketchup. I'll probably make them again sometime, but they won't be on the 'definitely make again' list like the glazed meatloaf is… that meatloaf is probably the new recipe on this site that I make the most often. It is hands down the BEST meatloaf I have ever had… without the carrots, that is!
Have any of you ever been in charge of the kitchen at a wedding? We were for the first time last Friday evening. My cousin Lisl got married. It was actually an easy meal for amateurs like us to start out on… hot ham and cheese sandwiches were the only menu item that needed to be hot. The other things on the menu were: veggies and dip, chips, fruit and chocolate fountain, and of course cake and ice cream.

 I'll start with Thurs. That's the day that the veggies and fruit got cut up and the sandwiches made…
We put the cut up veggies in either buckets with water or a sealed plastic bag. The apples were dipped in pineapple juice, put in sealed plastic bags and still looked great at serving time the next evening. We washed and separated the grapes in clusters. We didn't do anything to the bananas on Thurs. They had to be done last minute (as in during the wedding).
For the sandwiches, we buttered the buns, put 2 1/2 oz of shaved ham on and a piece of cheese, then wrapped them in pre-cut foil squares, and put them in the fridge. On Friday, we got them out of the fridge a couple hours ahead of time, then put some in roasters at 250 for 45 min. and some in the oven at 225 for 1/2 hour. We actually turned the heat up a bit part-way thro' because it sounded like the preacher was winding down early, so they actually got done before the time we were planning.
The way the wedding was set up, the guests dismissed from their seats at the ceremony, went thro' the receiving line, then thro' the food line, then sat down with their food where they had been for the ceremony. So, the food had to be ready at Amen! We actually didn't see the couple get married, but I'm assuming they did.

Here's how the wedding was set up: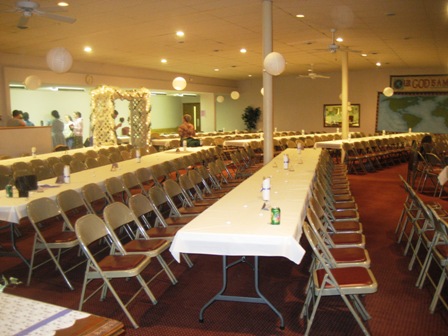 The chairs on one side of the table were turned around so all chairs were facing the front. Then when the guests came back with food, the servers had turned their chairs around to face the table to eat.
The kitchen staff was my husband and I and my brother and his wife. I was the one with all the info from the bride and the mother-of-the-bride, and what a wild couple of hours it was! It actually went good, but man, talk about intense! And I'm not an intense person! Anyway, needless to say, my camera was the least thing on my mind (didn't even get a picture of the bride and groom!). BUT, there was about a 30-second lull between the time when we were totally ready till we expected the first guests to come thro' the door, so I snapped a couple pictures of the buffet table (they're the ones close to the top of this post).
I know they say a picture is worth 1000 words, but I'm seriously lacking pictures, so I'll have to do snapshots with words…
*Click* In this picture:
Directed at me: "We're running out of cups for the punch table. Where are some more?"
Me, scanning the countertops in the kitchen: "I lost track of them. I don't see them in here anymore. Go check around or under the punch table."
He goes out of the kitchen as I'm still frantically looking for cups, then sigh as I hear, "We found them."
*Click*
"Hey, the dip is getting low in the veggie tray."
"There's no more left."
"Are you sure?! Did you look behind everything in the fridge?"
"There. is. no. dip. left! How long is the line yet?"
"It goes back to the arch and that's it then."
"Good. I think what's on the table should reach then."
*Click*
One of the servers: "We have guests at our table who want to leave and they want their cake and ice cream now."
Me: "Not all the guests even got thro' the line for the main course, we're not serving cake and ice cream yet."
Him: "Well, shall I tell them they have to wait?"
Me: "Nah, go ahead and give them some."
*Click*
"Oh no! Look at the chocolate fountain! It's overflowing and not augering up anymore."
"Get some paper towel!"
"What do you think is wrong? Do we need to add some more oil?"
"No, I think it looks thin enough."
A young boy was kinda hanging around it and he said, "Well, I know a banana fell in there."
"Ah, thanks, kiddo. That may be the info we need!"
After digging around in the base with a spoon, my SIL said, "I dug a banana AND an apple slice out of there!"
Once again, the chocolate fountain is flowing smoothly.
*Click*
Things are wild. 3 people talking to me at once and I hear someone calling "Kaaaay" behind me. Meanwhile, the photographer is milling around in the kitchen snapping photos and video clips. I was spooning dip and felt like throwing the whole spoonful at his camera! I know he was just doing his job, but there are sometimes when, job or not, you just are NOT in the mood for some things!!!!
*Click*
The lady in charge of the facilities asked, "Who is the mother of the bride? Has she been back here in the kitchen?"
Me, in a daze, plus trying to think how to describe Arla, "Um, I don't know. She has a blue dress on."
Pause.
Her: "Honey, 75% of the women around here have a blue dress on!" (Blue was the wedding color.)
Outburst of laughter from everyone in the kitchen.
It actually went good, I guess at any wedding over serving time, the kitchen is probably hectic with getting all the food ready at once and keeping 9 sets of servers going.
3 tips that I have from this whole deal is:
1. Plan for the food to get done earlier than you think it should be done by.
2. If you're in the kitchen, bring other shoes along to change into at cleanup time. Being on your feet that much, the change would've felt wonderful!
3. If you're planning your wedding, assign the cooks (if it's not catered), and also assign several more people to come in with fresh energy at cleanup time. When everyone was served and there were a couple extra plates of cake and melting ice cream, I felt this big sigh of relief. But yet I felt like crying… I'd been on my feet for 5 hours and everything was sore and I was drained! And it was cleanup time. Two and a half hours later, we had the kitchen shining, the dishes washed, and the floor mopped. God bless those servers who stuck around to wash dishes and that guest who breezed in with the picture of energy and said, "I'd love to help here. Just put me to work!" There were definitely some people who were wearing halos till everything was over. I won't mention names, but some of them were the helpful people I just mentioned.
Have you ever been at a restaurant where everything just flowed perfectly? The drinks and waitress came as soon as you were seated, the perfectly grilled steak came just as you were sitting back after eating the appetizer, refills came when there was still 2″ left of your Diet Coke, the staff was relaxed and everything seemed to work like a well-oiled machine. One day though, that restaurant had its opening night… the staff wasn't very comfortable, some food was dropped in the kitchen, the appetizer came with the meal, and things seemed a little choppy.
I think every wedding is like opening night at a restaurant… the cooks aren't familiar with the kitchen, the servers don't even know each other, the cooks have never had to have 400 sandwiches ready to go at one time before, the servers look tentative, and some kid drops a banana and an apple in the chocolate fountain.