Before I had any children, I decided that I want to make them special birthday cakes. Some people look at it as a waste of time. I look at it as FUN! Fun without costing alot of money. 
Tiffany just turned 2. I made her a doghouse birthday cake. I used a house-shaped pan that I bought at our local Michaels store. I use the term 'local' loosely… the closest Michaels is an hour and a half away. It's good I live that far away from it, I'd spend alot of time (and money) there. I'll bet I could spend all day there (if I didn't have kids in tow, that is).
I started with a cake mix. Pillsbury Moist Supreme pudding-in-the-mix.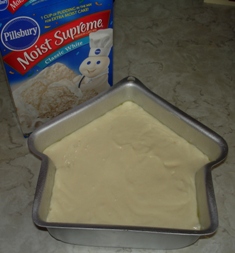 I always use this kind of cake mix for birthday cakes and it always gets rave reviews. So, I figure why make a cake from scratch?! I really don't remember when the last time was that I made a cake from scratch. Oh, probably a red velvet cake last year sometime. I always make red velvet from scratch. But that's the only kind I make from scratch.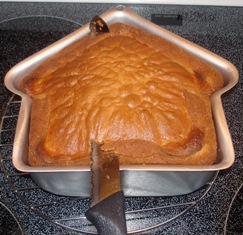 When baked, the cake fills the pan up perfectly. Cut the rounded part off the top with a long-bladed knife.
Now comes the apprehensive part of flipping it out of the pan… will part of the cake stay with the pan? Will I have to dig around at it with a knife? Will it be so bad that I have to start over and go to the store for another cake mix? Before dumping the batter in, I sprayed the pan with PAM cooking spray. Here's how it came out! Perfect!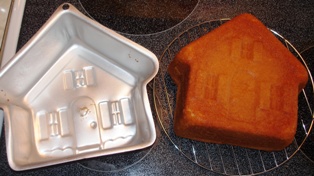 I did not wipe any cake remnants out of the pan before taking this picture. I'd definitely recommend PAM if you ever make something that needs to be baked then flipped out of the pan!
We've got siding on the first side now.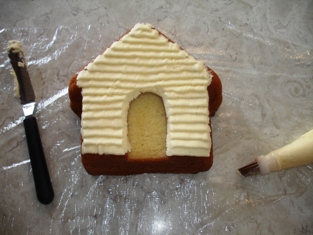 I spread frosting on the cake first to make it flat because it had impressions on there for the windows for a regular house. Um, I don't think I'll have to wade thro' calls from construction companies asking me to join their siding crew! It is pretty much seamless though, so that's good.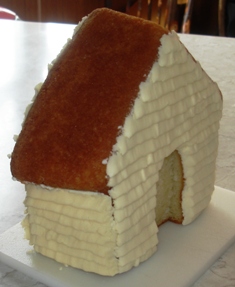 Now all the siding is on, although you can't really tell it.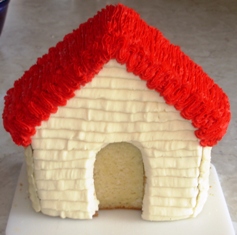 And we have a roof.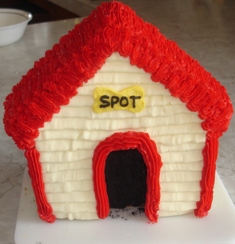 A bit more trim and a name for the dog… SPOT, yeah, I know, so original. But, any other dog name (like Maxwell, which is what Lexi wants to name her first dog) would've been too long to write. Rex would've fit good, too. My first puppy was named Rusty. He was  a pure-bred Collie. Ok, he wasn't actually MY puppy… we had a pair of pure-bred Collies, (beautiful dogs!) and they had pups and so each of us children claimed one and named it. We had them until someone bought them. I had mine the longest and I was tickled when it was my uncle who got Rusty because I could still see him now and then. You don't know how wonderful that was unless you know how nostalgic I am. My uncle named him Rex, so I really like that name for a dog, except he, of course, was always still Rusty to me.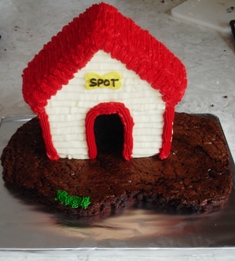 That's brownies under the cake (made with brownie mix, of course). I'm not a cake fan, but brownies I can't leave alone, so that layer is for me. I realized I'm in the minority because the cake was pretty much licked clean and most of the brownie layer was left. Those brownies were just a 9×13 pan, then I cut irregular borders to add a casual look to the cake. The 'cake board' is my cutting board covered with tin foil and taped on the bottom. I just wrapped it up like you would a gift.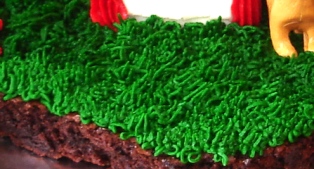 Here is a close-up of the grass. This was time-comsuming. And my hand got sore. But it looked pretty neat on there… made me anxious for Spring! It is, by the way, snowing outside right now. The grass alone took about a half hour. The entire cake took just under 3 hours.


Here are the tips I used. Started from the left: the tip for the grass, for the trim, for the little flowers in the yard which you'll see on the finished cake below, for the roof, and the one for the siding. For the stuff that you'd think I used a round tip for, my round tip fell on the floor and got stepped on and smashed awhile ago, so instead of getting another one, I just put frosting in a sandwich bag and snip off a bit of the corner. Works great! And no tip to clean!
Here's the finished cake…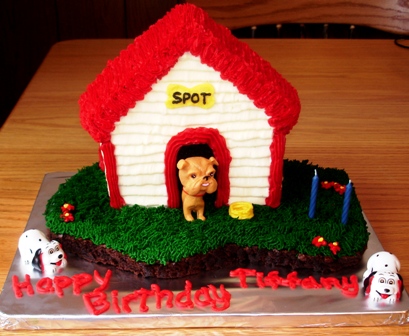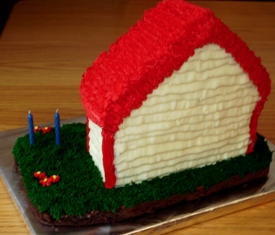 Here's the back of it…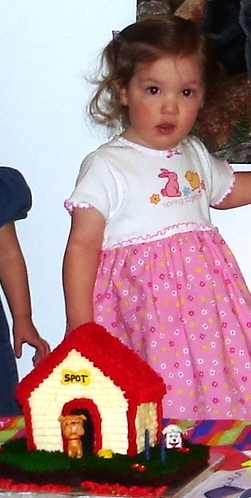 And here's the birthday girl!
This is Tiffany's second birthday. For her first birthday cake, I made her Lego blocks, pictured below.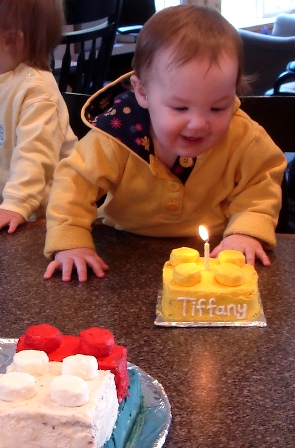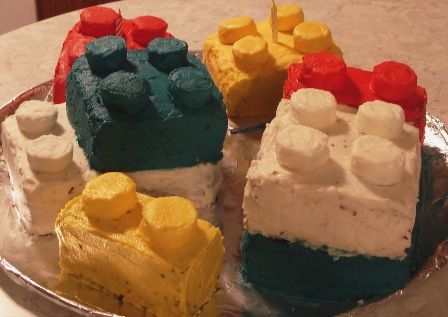 The house pan I used for Tiffany's doghouse is the same pan I used for the house for Lexi's 4th birthday, except for hers I put 2 together to make it a more realistic-shaped house. To see Lexi's cakes: birthdays 1 – 4 and birthday 5. 
If you ask any questions in the comments, please check back because I'll reply in the comments. I'd also love to hear from you what birthday cakes you've made. And if you have some pictured on your blog, feel free to leave a link so we can go see it!
Are you wondering if I'm serious? You'll find out at the end.
I was paging through a cookbook one day last week while I was laid up with my sprained ankle. It was the same day and the same cookbook that I saw the Fudge Sundae pie in a few posts ago. Anyway, I saw a recipe titled 'Oreo Cookies'. I read the directions and they do get flattened and I wondered if someone had actually figured out how to make them with that taste that only Oreos have and with the crunch, too. I had to try them. So, from the Cooking with the Horse and Buggy People cookbook…
Oreo Cookies
1 cake mix, white or chocolate (I used chocolate)
2 eggs
2 Tbsp. water
2 Tbsp. cooking oil
1/2 cup cocoa
Let stand 20 minutes. That's the first directions given, but I took it to mean after everything was mixed together! Do not refrigerate.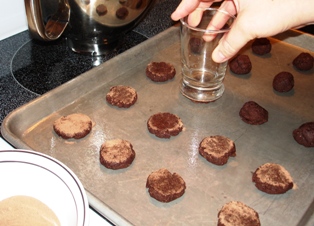 Shape into balls. Flatten with bottom of glass greased once and dipped into Nestles Quik (I think it's actually called 'Nesquik') for each cookie. Bake at 300 for 8 minutes.

Here are the cookies right out of the oven. Yeah, they pretty much look the same as when they went in. Maybe slightly fatter.
I think I went a bit overboard on the Nesquik with a few of them. Oh well. That might not be a bad thing.
Filling:
1 envelope Knox geletin
1/4 cup cold water
1 Tbsp. plus 1 cup powdered sugar (not sure why the 1 Tbsp!)
1 tsp. vanilla
1/2 cup Crisco
And that's where the recipe ends, folks. No directions. This cookbook is kinda interesting that way. Sometime, I'm gonna scan in a recipe from it and see if you can help me figure it out. Usually, I can kinda go from past experience and know what to do, but there's one recipe that sounds very yummy that has me clueless. Anyway, I mixed the filling up and spread it between 2 cookies.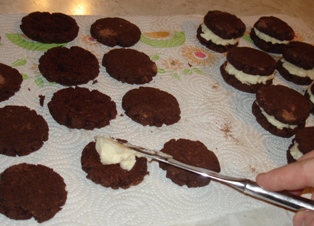 I actually ended up making the filling twice. All I have is butter-flavored Crisco, which is yellow. It makes the filling a light yellow, which I didn't think looked too good, so I made it again and used butter instead. It turned out fine. This recipe made 25 1/2 complete sandwich cookies (51 halves).

Now, our take on them: When my taste-testers (aka: my husband and girls) tested them, here were their responses: Husband, "They look like mini whoopie pies" then after tasting one, "They're better than Oreos." Lexi (5), "Oh, they're so cute!" then a little later, "Mom, can I have another one?" and Tiffany (2), she didn't say anything, she just pulled it apart, licked the frosting off, refused to eat the cookie part, and begged for another one.
They ARE cute. They were the size of Oreos, except fatter. And  they sorta had the same taste. But they didn't have the crunch, they were soft like regular cookies, which if you ask me, when it comes to cookies, 'soft' is better than 'crunch'. Some things aren't like that though. Like chips. These cookies were a bit time-consuming to make though, for no more than food than it ended up being. Maybe if I'd make them bigger it would help.
I doubt I'll get the urge to make them again. Like I said, "Why make 'em when you can buy 'em?"
Or isn't that what I said?
—————————————————-
Coming up next… the making of Tiffany's birthday cake. So check back on Monday! It'll be along the same lines as the other birthday cakes in the 'Birthday Cake" category in the 'categories' section, so you can go look at those awhile if you want to.
This is my 1st Thursday Thirteen. Since this is a cooking blog, my Thirteens will mostly be about things that have to do with my kitchen. Yeah, I thought that made sense too. So, here we go...
I hope I can think of 13 good things so I don't have to put things in like 'Sweep the dirt under the rug instead of bothering to get out the dust pan'. Because we know that that actually doesn't save time. And we know that it's not a good enough excuse that your company is walking in the front door. Plus, we'd never think of doing that anyway. We just know people who do it.
1. Breakfast in a snap… mix up a big batch of pancakes and fry them all. When everyone is done eating, put the rest in serving sizes (2 or 3 pancakes)in Ziploc sandwich bags in the freezer. When you get them out of the freezer, put them in the microwave until they're steaming and soft. They taste as good as they did the morning you fried them!
2. Twice the food, without twice the work… next time you make a casserole, like lasagna, make 2 pans instead of one. You're frying hamburger and cooking noodles anyway, might as well throw more in. Put one pan in the oven for dinner, cover the other pan tightly and put it in the freezer. You'll be SO glad for it next week on one of those harried days… you know the days I'm talking about.
3. Quick bread crumbs… the secret is they're not actually bread crumbs. Keep Club crackers on hand and when a recipe calls for bread crumbs, simply crush the crackers. They taste better too, especially when tossed with melted butter and browned on top of a baked dish.
4. Fresh warm cookies every day… without baking them! Whether you get them out of the cookie jar or out of the freezer, throw them in the microwave for 10 or 20 seconds and you'll have a warm cookie that tastes like it's just out of the oven. Now, I want a cookie. And I do have some in the freezer…
5. Quick measuring… keep a measuring cup in the flour and sugar canisters. You don't have to dirty a cup every time you measure and you don't have the extra step of getting one out of the drawer.
6. Clean-up time… after a meal, do you always have scraps (fat cut off of chicken, food chunks or barbeque sauce left on plates, oil to scrape out of the skillet after frying, etc.)? Get a piece of tin foil and scrape everything onto it, then fold it all up and throw the whole works away. I like tin foil because if something is juicy, I can fold up the sides and it holds it all in.   
7. Easy croutons… sprinkle Italian seasoning on bread, then butter it. Do it on both sides and put it in the toaster. Pop it up as soon as it browns. Cut the toast in squares with a pizza cutter. They taste great and they're soft enough to poke with a fork. 
8. Especially for kids… get a water dispenser (if you don't have one in the door of your fridge). You can get them at Walmart or wherever. It's a jug with a spout on it. Put it on a low shelf and the kids can get their own drinks. No heavy jug or pitcher to pour.  
9. Bread in a hurry… want the bread dough to rise quicker? Warm a towel in the microwave, then wrap it around the bowl that the dough is in. You may have to re-warm it a few times till the bread finishes rising.
10. Bread in even more of a hurry… ah, these are my meal-savers! If you've been reading this site for awhile, you know I'm a fan of these… popable cans of crescent rolls, French bread, and dinner rolls. We have hot bread or rolls at almost every meal and this is just the fastest and easiest way to go! You think they don't taste as good? Well, then you haven't tasted my from-scratch yeast bread. I still have much to learn in that dept.
11. Cinnamon sugar… take an empty cinnamon bottle/can/container (whatever you call it?!) and fill it 1/4 of the way with cinnamon, then the rest of the way with sugar. Shake it and flip it till blended, and you've got a handy topping for toast or unsweetened applesauce. Oh, and take a marker and write 'sugar' on the front beside 'cinnamon'. 
12. Cut it up all at once… when you buy a head of broccoli or cauliflower for fresh eating, cut them up into florets and put them in plastic bags in the fridge. You'll be more apt to eat them that way. And you don't have to get a knife out every time you want some.
13. The shopping list… as you're working in the kitchen and you see the shortening or dishsoap or whatever is getting low, write it on the shopping list (which is magnetic and stuck to your fridge). Your list is ready to go shopping when you are and fewer things are forgotten. Just remember the list! Does anyone else forget the list? Or is it just scatter-brained me? Too often, I find myself roaming the aisles, trying to picture my list and what was on it… while the girls are begging for Hi-C box drinks and throwing colored marshmallows in the cart.Now, I want to learn from you… what shortcuts do you do in the kitchen? 
Don't forget to go visit other Thirteeners at Thursday Thirteen!
Ah, we used to chant that alot. Things were funnier back then.
I'm not screaming for ice cream, but I do feel like screaming, I especially felt like it last night! We were having what looked like a good ol' fashioned WI blizzard out there… that's when big snowflakes are flying horizontally past the window instead of falling vertically. I'll bet the snowflakes going past our windows didn't land till they got to Tims, a mile away. Thankfully, the snow didn't amount to much, but really, it's the end of March! And we just got dumped with snow last week.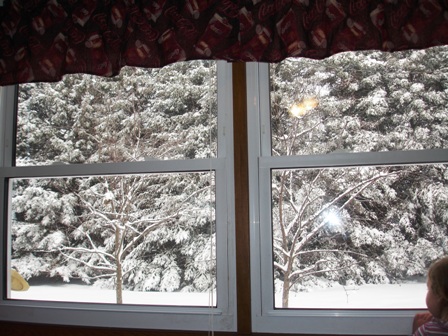 And we still have plenty left.

And it's snowing at the moment!
Anyway, what does that have to do with ice cream? Like the saying "When life gives you lemons, make lemonaide", well, we got snow in March, we want to make snow ice cream.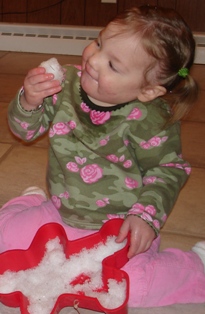 Snow is one ingredient and I think milk of some sort too. But, I haven't been able to find a recipe for it, so I'm wondering if any of you can help us out. I know, seems like kind of a funny recipe to have in a cookbook, but it seemed less weird all the time as I was finding recipes for suet balls for birds, playdough, laundry detergent, and dandelion gravy! I never did find a recipe for snow ice cream though.
So, do any of you have a recipe for snow ice cream? If so, and you have the time, you can leave it in a comment. Thank you!

I'm featuring a fudge sundae pie today that is just tops. One glance at the ingredients and you'll see why you can't go wrong here. There are not alot of recipes that each separate ingredient would be good by itself. I am, in fact, eating a piece right now. I'll be taking a bite every couple sentences. I don't usually eat at the computer, but I make exceptions now and then.
I remember Mom making this when I was still at home. And I've seen this recipe now and then in different cookbooks. The cookbook I used for it this time is Cooking with the Horse and Buggy People. It says the recipes were shared by Amish ladies from Holmes County and Wayne County. So, you readers from there, here you go, a recipe from your neck of the woods…
Fudge Sundae Pie
1/4 cup corn syrup
2 Tbsp. brown sugar
3 Tbsp. oleo (oops, what I said about each ingredient tasting good by itself, I take that back here, forgot about the butter when I said that!)
2 1/2 cups Rice Krispies
Combine syrup, sugar, and oleo and cook over low heat until mixture begins to boil. *Another bite* Man, this stuff is good!!!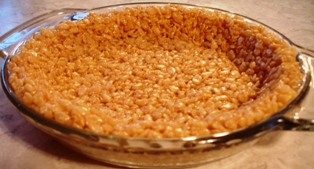 Remove from heat and add Rice Krispies. Press evenly in greased pie pan.
Mix:
1/4 cup peanut butter
1/4 cup fudge sauce
3 Tbsp. light Karo (I used the same stuff as the corn syrup above)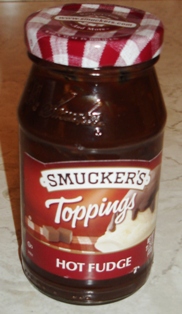 I actually didn't know what they meant by fudge sauce, but I thought I couldn't go wrong with this, so this is what I used.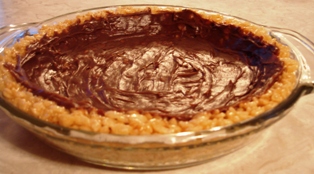 Spread half of mixture over crust.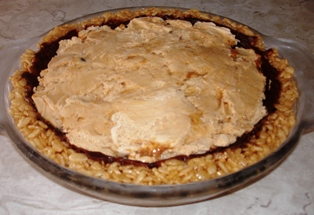 Spread 1 quart vanilla ice cream over mixture. Ok, I usually try to follow recipes exactly so I can feature them accurately, but once in awhile, I just can't help but substitute, like now… Caramel Collision ice cream won over boring vanilla ice cream here.
Freeze. Before serving, warm remaining sauce and drizzle over the top.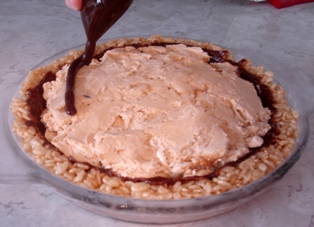 It didn't exactly drizzle (and I warmed it till it was bubbling), so I put it into a baggie and snipped the corner off and piped it on. Maybe I used the wrong 'fudge sauce'.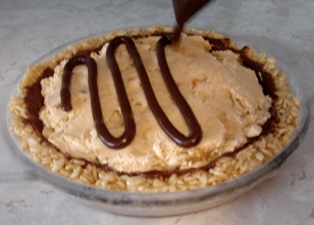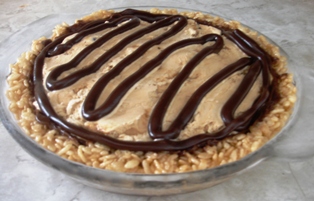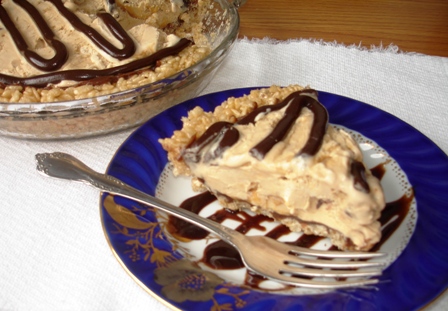 All I can say is YUM!!!