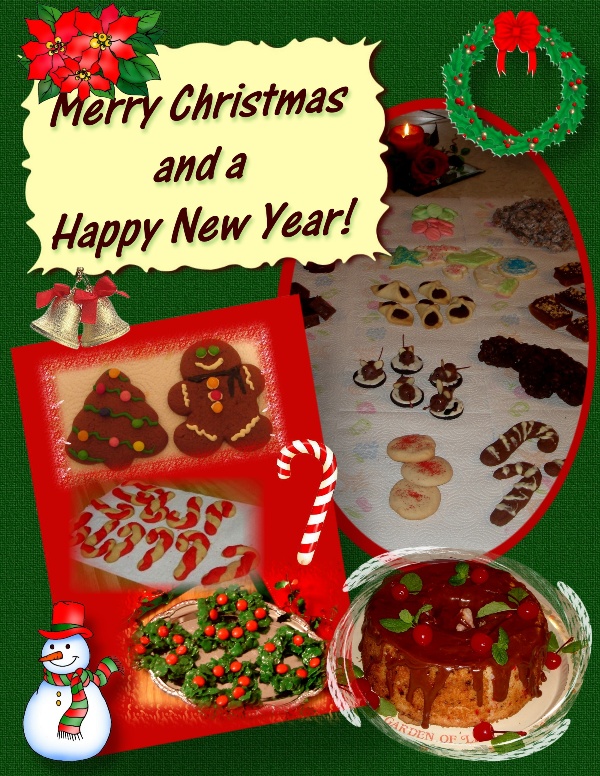 Making and decorating gingerbread men … plus! (We didn't just stick to the men.) After the cookies were baked and cooled, but before we decorated them, I told Shannon that it never occurred to me that I don't actually know how to do this! I hadn't decorated cookies for YEARS!!! So anyway, don't laugh too hard! Here are some of them…
My aunt Ruthie makes the best gingerbread cookies around, so I got the recipe from her. It actually comes from the Mennonite Community Cookbook.
Old Fashioned Ginger Cookies (Leb Kuchen) That's how the recipe title is written… makes it seem authentic, doesn't it? 
2 cups shortening, melted
3 cups sorghum molasses
1 cup sugar
8 – 10 cups flour
1 tsp. salt
2 Tbsp. soda
1 Tbsp. ginger
1 Tbsp. cinnamon
1 1/2 cups buttermilk or sour milk
Heat molasses and sugar together. When sugar is dissolved, add shortening and stir until melted. Remove from heat. Cool to lukewarm. Sift flour, soda, salt, and spices together. Add sifted dry ingredients alternately with sour milk. Stir until a medium-soft dough is formed.


Work dough with hands for 5 min. Let chill in refrigerator for several hours. (They're not kidding about that. It's a soft dough. Ruthie said she usually lets it chill overnight.) Turn dough onto lightly floured board and roll 1/4″ thick. Cut with large round cookie cutter.


Glaze with a beaten egg; dip a small piece of cheesecloth in beaten egg and rub lightly over cookie. Place 1″ apart on greased cookie sheet. Bake at 350 for 20 – 25 min. (I didn't bake them quite 20 min.)  This is the soft chewy cookie that was a favorite of grandmother's day. It is still very popular among many Mennonite families. (I didn't write that, it says that right in the recipe.) Makes 8 dozen large cookies.
Then, let the decorating begin!

This recipe comes from the Derstine cookbook. I had forgotten about these cookies and happened to see the recipe while flipping thro' the cookbook. I remember Mom making them when I was young. As Lexi (5) and I were making them, I told her that my mom made these when I was a little girl. And she said, "And now my mom is making them when I'm a little girl!"
Holly Cookies
32 lg marshmallows
1 stick margarine (I used butter)
1/2 tsp vanilla
1/2 tsp almond extract
1 1/2 tsp green food coloring
4 cups Cornflakes
Red cinnamon candies (I used M&Ms because I couldn't find Red Hots at the store)
Melt marshmallows and margarine in saucepan over low heat. Mix in flavorings and food coloring. Pour quickly over cornflakes in large bowl. Stir until coated. Butter hands well. Working quickly, shape into cookies on wax paper spread on a cookie sheet. Decorate with cinnamon candies before cookies harden. Ok, so she got a little carried away with the decorating!

Allow 2 days (????????) to dry. Please tell me it's a misprint that should say 'hours' instead of 'days'. These cookies may not even live to see 2 days! And they definitely seem hard enough.

                   —————————————————————————-
Change of subject… I was at our Walmart Supercenter today and was looking for 2 things that I couldn't find: molasses and red hots. I looked in the baking aisle for molasses and there was a stocker there, so I asked her, and it was over with the syrup. Then I thought Duh, I should've thought of that. And the red hots, I looked in the candy section, the baking aisle, and the cake decorating aisle. Never did find them. Another thing that kinda surprised me a few years ago was the food coloring. I looked in the cake decorating section and in the cake mix/frosting aisle. Nope, over with the spices. That's one thing nice about shopping online, you never have to look all over for exactly what you want… as my husband says, "Google knows everything".
I saw Crayola candles while shopping one day last month and thought they were so cute, so this is how I decided to use them.
9×13 chocolate cake (pudding-in-the-mix cake mix)

Book carved…

Frosted, but needs another coat…

For the pictures, I looked off of those 2 pages in the picture above and toothpicked them on each side, then piped the outline with black frosting. In this picture, the one picture is already piped on and the other one is just 'toothpicked'…

Done…

I wish I would've let it looking more half-colored instead of coloring in so much. Might've looked more like a coloring book that way. The crayons laying around are candles with the wicks cut off.
And here is the birthday girl…

Liz, Lin, Ruthie, Sandra, Lourdes, and I all got together for a cookie/candy exchange. Ah, so fun!!!! All that good stuff sitting there. And it's fun to see what everyone is making. And you take home a nice assortment of stuff for no more effort than you put into it.
I don't even know what everything was called, but it's all on the picture up there. There were 2 kinds of fudge (peppermint and chocolate). The chocolate fudge didn't last long around here.
 It was my top pick of everything! I think Linda made it. There were several different kinds of cookies, some buttermints, choc covered Ritz sandwiches, caramel/chocolate candy, mice
, and choc dipped pretzels.
Lourdes and Liz making buttermints…

The best part… dividing it all up. Lourdes, Liz, and Sandra.

In the afternoon, Sandra and Ruthie made blended coffees for us all. I shared mine with Tiffany and then she didn't want to give it up…

I'll feature my 3 contributions to the cookie/candy exchange…
They are all taken from Taste of Home Christmas Cookies and Candies.
Envelopes of Fudge
1/2 cup butter, softened
1 pkg (3 oz) cream cheese, softened
1 1/4 cups flour
FILLING:
1/2 cup sugar
1/3 cup baking cocoa
1/4 cup butter, softened
1 egg yolk
1/2 tsp vanilla
1/8 tsp salt
1/2 cup chopped walnuts
In a mixing bowl, cream butter and cream cheese. Gradually add the flour. On a lightly floured surface, knead until smooth, about 3 minutes. Cover and refrigerate for 1-2 hours or until easy to handle. For filling, combine the sugar, cocoa, butter, vanilla and salt. Stir in walnuts, set aside. On a lightly floured surface, roll dough into a 12 1/2″ square; cut into 2 1/2″ squares. 


Place a rounded teaspoonful of filling in center of each square (I piped the filling on). Bring 2 opposite corners to center. Moisten the edges with water and pinch together. 


Place 1″ apart on lightly greased baking sheets. Bake at 350 for 18-22 minutes or until lightly browned. Remove to wire racks to cool. Yield: 25 cookies.

  Yeah, there were a few flops! It works better to pinch the corners together, then fold them down and pinch again.
Christmas Eve Mice
24 Oreos
1 cup choc chips
1 tsp shortening
24 maraschino cherries with stems, well drained
24 chocolate kisses
48 sliced almonds
green decorating gel
red decorating gel
Everyone else was done, so they helped me do these. They were kinda fun to do and we got some laughs out of the deformities, but it does look easier than it is! Here are Lin and Ruthie working on them…

Carefully twist cookies apart; set aside the halves with cream filling. Save plain halves for another use. In a microwave, melt choc chips and shortening; stir until smooth. Holding each cherry by the stem, dip in melted chocolate, then press onto the bottom of a kiss. Place on the cream filling of cookie, with cherry stem extending beyond cookie edge. For ears, place slivered almonds between the cherry and kiss. Refrigerate until set. With green gel, pipe holly leaves on the cream. With red gel, pipe berries between leaves and pipe eyes on each chocolate kiss.

Store in an airtight container at room temp. Yield: 2 dozen.
Ice Cream Sundae Caramels
2 cups sugar
2 cups (16 oz) dark corn syrup
2 cups (1 pint) vanilla ice cream, melted, divided
1 cup butter
8 oz choc candy coating
1/2 cup peanuts, finely chopped
In a heavy 4-qt saucepan, combine sugar, corn syrup, 1 cup ice cream and butter. Cook and stir over low heat until mixture boils. Increase heat to medium; cook and stir until candy thermometer reads 242 (nearly firm-ball stage).

Remove from heat; gradually stir in remaining ice cream. Return to heat; cook without stirring to 244 (firm-ball stage). Immediately pour, without stirring, into a buttered 9×13 pan. Let cool until firm. Invert candy onto a baking sheet. Melt candy coating; spread over candy. Sprinkle with nuts. Cut into 1″ squares. Yield: About 3 1/2 pounds.