My food group was on for salad and dessert for carry-in at church a few weeks ago. I made a veggie and dip tray and Chocolate Peanut Supreme dessert. I try to make my featured recipes like the recipe says, but the dessert recipe has a substitution in it. But I'm fine with that because it's an idea you might like to use sometime… you know how when you're baking cookies and something comes up (like, the baby needs attn, you get to talking on the phone, or you just plain forget about them) and then that batch gets darker, which makes them crunchy instead of soft and bend-able, and nobody wants to eat them? Well, when that batch cools, crush them with a rolling pin and put the crumbs in a bag in the freezer, then when you make a recipe that calls for graham cracker crumbs or crushed Oreo crumbs for the crust, just pull out your ready-made crumbs and use them. Saves you from having to eat dark crunchy chocolate chip cookies!
Chocolate Peanut Supreme   …from the 2000 Quick Cooking cookbook.
1/2 cup chunky peanut butter (didn't have chunky, so I just used creamy)
1/3 cup butter or margarine, melted
1 1/2 cups graham cracker crumbs (I substituted the above-mentioned cookie crumbs)
1/2 cup sugar (I used about 1/4 cup because the cookies were sweeter than g.c. crumbs)
1 pkg (5.9 oz) instant chocolate pudding mix
3 cups cold milk
1 carton (12 oz) frozen whipped topping, thawed
1 cup chopped peanuts (I skipped the peanuts and sprinkled some cookie crumbs on top)
In a bowl, combine peanut butter and butter. Stir in cracker crumbs and sugar; mix well. Press into a greased 9×13 pan.


Prepare pudding with milk according to package directions, spoon over crust.


Spread with whipped topping.


Sprinkle with peanuts.


Cover and refrigerate for at least 1 hour or until set. Refrigerate leftovers. Yield: 12-16 servings. This was SO good, but I do want to try it the right way sometime (without substitutions)!
And here's the veggie tray… 

I saw layered finger jello on misssteph101's site awhile ago, so I asked her for the recipe. We have our school program/picnic today, and I made it for that. It's fun and easy and very pretty! Thanks Steph!
Layered Finger Jello
For each colored layer:
1 3 oz pkg of jello
1 pack (or Tbsp) unflavored gelatin
1 cup boiling water
For the white layer:
1 14 oz can sweetened condensed milk
4 packs (or 4 Tbsp) unflavored gelatin
2 cups boiling water
Mix each layer separately in containers. Let stand till room temperature, stirring occasionally.


Put 1st color in. Put in fridge until firm.

 ———————————————————————————————————————————————————————————————————————————————————————————————————————————————

Put a third of the white layer in next. Refrigerate until firm.

 ——————————————————————————————————————————————————————————————————————————————————————————————————————————————————
Repeat layers until done.

—————————————————————————————————————————————————————————————————————————————————————————————————————————————————–
——————————————————————————————————————————————————————————————————————————————————————————————————————————————————-
——————————————————————————————————————————————————————————————————————————————————————————————————————————————————–
——————————————————————————————————————————————————————————————————————————————————————————————————————————————————–
When all mixtures are at room temp, it takes about 7 minutes till it's firm enough to put the next layer on. As you can see below, I didn't let the green get quite hard enough before putting the white on, or the white was still too warm, or both.
Mix and match and have fun!

Diabetic?… To make a sugar-free version, use sugar-free jello for the colored layers. For the white layer, use evaporated milk and 6 packets (or however sweet you want it) of Equal or other sweetener instead of the sweetened condensed milk.
This jello can be so fun! Use it for any occassion…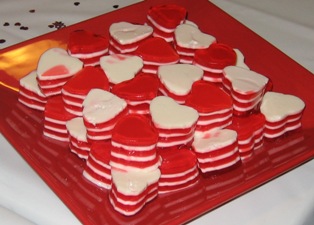 Valentine's Day: red and white. You can even cut it out with a heart-shaped cookie cutter.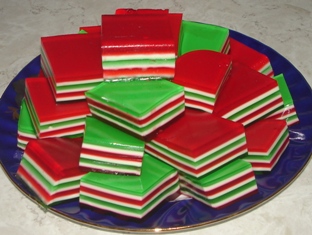 Christmas…red and green (and white). ——————————————————————————————————————————————————————————————————————————————————————————————————–
–St. Patrick's Day… green and white.
–4th of July… red, white, and blue.
–Easter or Spring… pastels (4 colors of jello, and instead of having a white layer, mix 1/4 of the white part with each color, making them a more pastel color).
–School colors… if your school has colors.
–Or to make it more colorful, you can make 2 pans and make sure that the top and bottom colors are all different, then have some flipped over so all 4 colors show. Like this: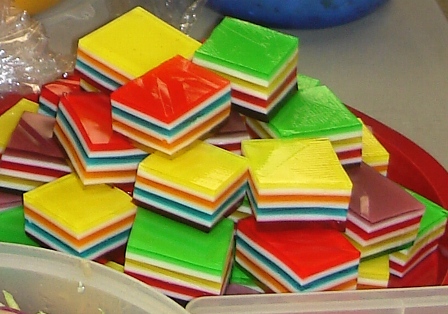 Ok, here goes… The Sugar Cookie Recipe!
I've never met a delicious sugar cookie. To me, they're all kinda blah and tasteless and something you have to make at Christmastime. But this one isn't totally tasteless… it has nutmeg in it!   
I don't actually make sugar cookies, I just use this recipe for fruit pizza crust. But, there is enough dough left over (after measuring out 20 oz) for about 8 cookies, so I bake those. I don't have pictures of them and I don't feel like making a batch just to get pictures.
First, I want to introduce the cookbook to you that this recipe comes from…

 …it is my most prized possession in my entire cookbook collection. It was given to me by my grandma (the one who makes the brown sugar pie) and she got it from her mother, so it was my great-grandmother's cookbook! It was given to Great Grandma in 1943. I feel extremely privileged to now own it and it's on my list of top 10 things to quick grab if there would be a fire. There is hand-writing in it… like notes written beside recipes, variations on things like strawberry shortcake and split pea soup and check marks written beside some recipes, probably her favorite ones. Also, tucked in hit-n-miss are a bunch of loose recipes, mostly written on regular scratch paper, but there's a tapioca recipe written on a deposit slip that has my great grandma and grandpa's names on it and a chop suey pickles recipe written on a piece of old wallpaper.

Vanilla Sugar Cookies
1/2 cup shortening
1 cup sugar
2 eggs, beaten light
1 Tbsp. cream
2 1/2 cups flour
2 tsp. baking powder
1/2 tsp. nutmeg
1/2 tsp. vanilla
Cream shortening and add sugar gradually, beating until creamy. Add the beaten eggs, cream, and vanilla, and beat well. Add the sifted dry ingredients and mix thoroughly. Put through Alumilite Cooky Press onto Viko Aluminum Cooky Sheets. Bake in a hot oven, 400, for about 10 minutes, or until light brown in color.
I think this aluminum Viko stuff is/was a specialty thing, kind of like Pampered Chef is… I have a couple Pampered Chef cookbooks and the directions always specify using their products for mixing, scraping, measuring, etc too.
I've been craving fruit pizza ever since it got warm outside. It's such a good summer dessert!
Fruit Pizza    …from the Taste of Home 2nd Edition cookbook, with some personal preference changes by me
1 pkg (20 oz) refrigerated sugar cookie dough …I make a cookie dough from scratch, then measure out 20 oz.

I think homemade is tastier… my recipe (featured here) has nutmeg in it. 
1 pkg (8 oz) cream cheese, softened
1/4 cup powdered sugar
1 carton (8 oz) frozen whipped topping, thawed
Kiwi
Bananas
Mandarin oranges
Grapes
I've never put kiwi in. There are other fruits I like better. Here's the order and fruits I use: mandarin oranges and grapes, bananas, strawberries cut in half, pineapple (fresh, not canned! it's the best!!), blueberries, mandarin oranges, bananas, and one marichino cherry in the middle. I vary the order sometimes, but it's always those fruits.
Glaze:
1/4 cup sugar
1/4 cup orange juice
2 Tbsp. water
1 Tbsp. lemon juice
1 1/2 tsp. cornstarch
Pinch of salt
Pat cookie dough into an ungreased 14″ pizza pan.


Bake at 375 for 10-12 minutes or until browned; cool.

In a mixing bowl, beat cream cheese and powdered sugar until smooth. Fold in whipped topping. Spread over the crust.
Arrange the fruit on top. In a saucepan, bring sugar, OJ, water, lemon juice, cornstarch, and salt to a boil, stirring constantly for 2 min or until thickened. Cool; brush over fruit. I make the glaze and let it cool while the crust is cooling. I'd think if you'd put the fruit on, THEN make the glaze, that the bananas would be brown by the time it's cooled. As soon as I get the first ring of bananas on, I glaze them. Then I put the rest of the fruit on and glaze the whole works. I use a pastry brush.


Store in refrigerator. Yield: 16-20 servings.

  Now tell me, are you in the mood for fruit pizza?
Tried and True
Not a new recipe. Just one that's so good, you've gotta have it!
 It's from the Derstine cookbook .
Taco Salad
1 lb hamburger
1 chopped onion
Salt and pepper
2 cans chili beans
Taco salad seasoning, 1 envelope
Lettuce, chopped (I use about 2 heads)
4 med tomatoes, diced
8 oz cheddar cheese, grated (I use taco cheese or Mexican cheese)
TACO DRESSING:
Sprinkle on crushed taco chips
2 c. oil
2 c. sugar
3/4 c. vinegar
2 tsp. salt
2 tsp. Worcestershire sauce
1/2 c. ketchup
Fry hamburger, add rest of ingredients, serving over lettuce, tomatoes, and cheese. Blend dressing thoroughly. I do an all-in-salad side dish out of this recipe. When we were on food committee at church, I got the idea from one of the ladies (actually she's one of the Derstine's who compiled the cookbook) who makes it whenever she's on for salad.
Pictured below is a half batch. Fry the hamburger and onion. Add taco seasoning and salt and pepper. Drain the beans a little and put them in a large bowl. 


Put in the hamburger mixture next.


Put cheese over that (the hamburger should be cold so the cheese doesn't melt).


Put diced tomatoes on next (forgot to take a picture).
Then the lettuce.


Then the crushed chips (again forgot a picture). I make the chip layer at least 1/2″ deep. At this point, you can put the lid on and it can be refrigerated for at least a couple hours. Mix all the dressing ingredients in the blender.


Toss the salad and mix the dressing in (I don't use quite all the dressing). Serve immediately.

  Forgot a finished product picture, so this is what was left after the meal. Leftovers are not good… If you make it for lunch, the lettuce will be wilty and the chips will be soggy by suppertime. If served as a side dish, I'd say a whole batch would serve about 25 people. We had grilled brats and hot dogs with it… I know, kinda mixing all-American with Mexican, but that's what we were in the mood for.