What a day! I got up this morning and mixed up some frosting for a birthday cake for one of the school teacher's birthday party this afternoon.
The first thing that happened is that I splattered red food coloring on my housecoat (bummer, no more fun baking before getting dressed)… then things got worse from there. I was piping roses onto toothpicks and this being I think my first time doing that, you can imagine how good it went! I soon lowered my standards on how nice the roses had to look and the whole rose-making process went faster from there.
I went out of the kitchen for about 2 minutes for a bathroom break when Lexi said, "Mom, Tiffany got into the sugar. Oh, now she dumped some on the floor. Mom, can we play in it?" I came back to the kitchen as soon as I could and this is what I found…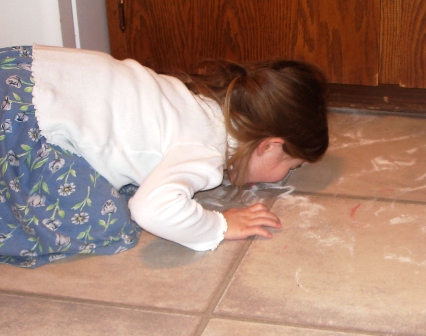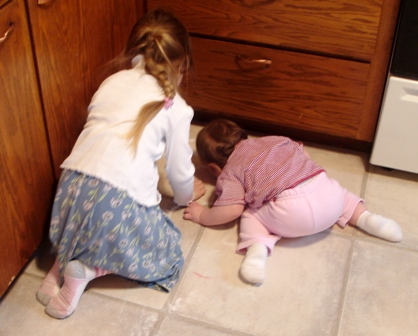 They were both licking sugar off the floor! Lexi said, "This sugar isn't very good not on anything, but we like it anyway." They were so sticky, so I put them in the tub while I cleaned up the floor (not like I had alot of extra time for that!). The sugar, by the way, is stored in a canister in that bottom drawer in front of them.
I had to run to Walmart because I wasn't sure I had enough powdered sugar for all the frosting I was going through, plus I had to get ice cream, chips, and drink yet to round out the party. I got Lexi some popcorn chicken at the deli for her for lunch and as I rounded a corner in the store, I felt myself step on something at about the same time Lexi said "Oh, no!" 3/4 of her chicken had spilled and went down thro' the holes in the cart and they were all laying on the floor behind me. I hurry picked them up, not looking around at other shoppers.
When we got home, Tiffany was kind of clingy, so while I was trying to carefully write "Happy Birthday Miss Hershey", she was tugging at my skirt. Poor girl hadn't had much of mom all morning. And while I was carefully and meticulously putting the flowers and leaves on, Lexi (who was standing on a chair beside me) would once in awhile lean on my shoulder and say, "That looks very beautiful!" How can you say "DON'T BUMP ME!!!" after something like that?!  
Anyway, I had to leave by about 2:00 and I got done with the cake at 1:53, so it was a rush of changing the baby, getting on shoes and jackets, getting everything out to the car and when we got to the school, I got everything around, ready to go, and was as cool and composed as could be on the outside, but on the the inside it felt like I was still in high gear. On the way to the party, just out of the blue, Lexi said, "Mom, you are a very good mom." Oh, I love that girl!!!! I said, "Oh, thankyou. Sometimes it seems like I rush us all around so much and forget to be nice." She said, "Yeah, you do, but you're still a good mom."
So anyway, here's the making of the cake…
I did the roses on toothpicks, then poked the toothpicks down thro' a grater and a colander and pulled them out the bottom. Then, I put the roses (still on the colander and grater) in the fridge to get hard, then transferred them to a plate.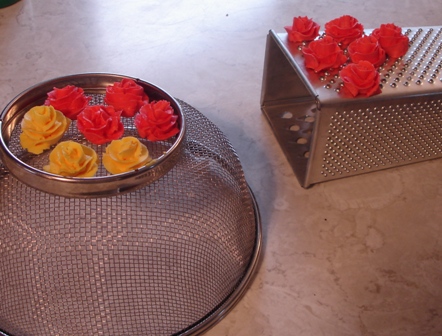 Putting the ribbon on. I had always wanted to try that, and it worked great. I did it right after frosting the sides so the ribbon would stick.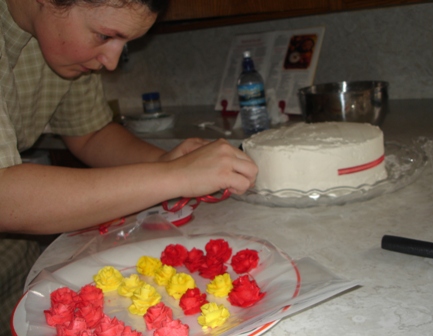 The bow is separate, stuck on there with a dab of frosting.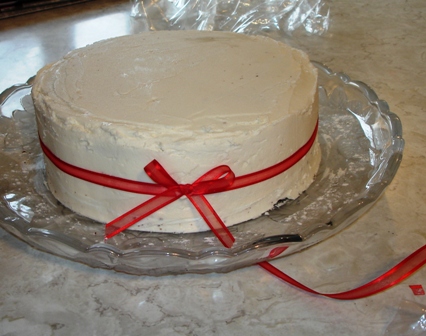 A bit of trim and some writing. The cake is starting to look promising, even though things are hectic around here.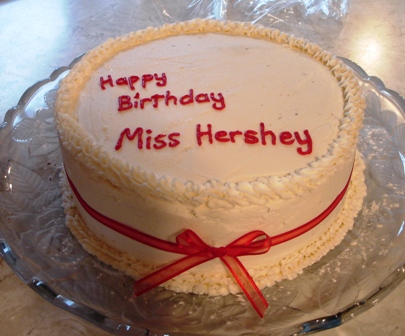 The roses are placed on… I think I made too many, but put them on anyway.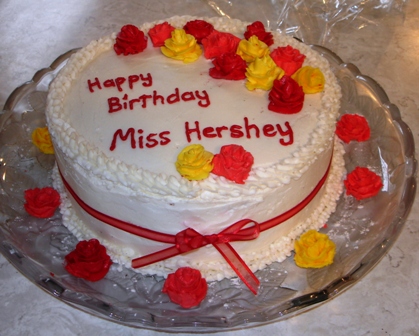 DONE!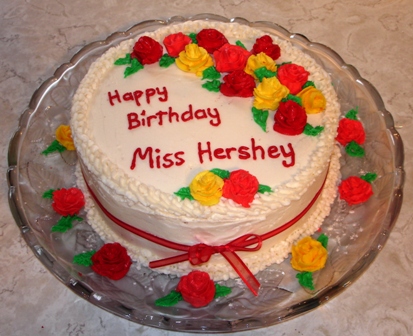 And here is our top notch 1st grade teacher.
As I was at the party among all the excitement, trying to relax inside, I realized that some things in life just aren't worth getting stressed over. Things like a totaled kitchen waiting at home and the horror of the girls licking sugar off the floor and the spilled popcorn chicken and the bumps and tugs while decorating a cake. There's more to life… like excitement, laughter, friends, and those 2 sweet girls I can call my own.
I haven't been taking much time to cook lately… just stuff like open-faced pork chop sandwiches, ravioli and applesauce, stromboli, and tonight we had baked sweet potatoes and grilled ham and salad. No new recipes and no good ones that haven't been already featured. I'm a very sporadic cook, so I'm going into my reserve of meals that I made in a cooking streak and didn't have time to post. Here's one of them…
Pigs in Blankets
There are different ways of making these, but here's how I did it…
1 can refrigerated crescent rolls
24 Li'l Smokies
Separate rolls and cut each roll into thirds (you can also cut them in half if you like more bread per weiner, then it would be 16 Li'l Smokies instead of 24).


Starting at a wide edge, roll a Li'l Smokie up in it. Put on ungreased cookie sheet. Bake at 375 for about 12 minutes.

Very good! Quick snack if company is coming. Children love 'em, too!
———————————————————————————————————————-
Broccoli Casserole
2 pkgs (16 oz each) frozen broccoli florets
1 can (10 3/4 oz) condensed cream of mushroom soup, undiluted
1 cup (8 oz) sour cream
1 1/2 cups (6 oz) shredded sharp cheddar cheese, divided
1 can (6 oz) french-fried onions
Cook broccoli according to package directions; drain well. In a large saucepan, combine the soup, sour cream, 1 cup cheese, and 1 1/4 cup onions.


Cook over medium heat for 4-5 minutes or until heated through. Stir in the broccoli. Pour into a greased 2 qt baking dish.


Bake, uncovered, at 325 for 25-30 minutes or until bubbly. Sprinkle with the remaining cheese and onions. Bake 10-15 minutes longer or until cheese is melted. Yield: 6-8 servings.

I made a half batch for us. This stuff is SO good!!!! I went a little heavier on the french-fried onions and also used mozzerella and reg cheddar in place of the sharp cheddar (sharp cheese is NOT my thing!).
———————————
Pudding Pumpkin Pie
1 egg white, beaten
1 reduced fat graham cracker crust (8 inches)
1 cup cold fat-free milk
1 pkg (1 1/2 oz) sugar-free instant vanilla pudding mix
1 can (15 oz) solid pack pumpkin
1 tsp. pumpkin pie spice
1/2 tsp. ground cinnamon
1/2 tsp. ground nutmeg
1 1/2 cups reduced fat whipped topping, divided
Brush egg white over crust. Bake at 375 for 5 min. or until lightly browned. Cool on a wire rack. In a large bowl, whisk milk and pudding mix. Stir in the pumpkin, pumpkin pie spice, cinnamon, and nutmeg. Fold in 1 cup whipped topping. Pour into crust.


Refrigerate for 4 hours or overnight. Cut into slices; dollop with remaining whipped topping. Refrigerate leftovers. Yield: 8 servings. 1 piece = 180 calories.

(That color change is the difference between no flash and flash… it doesn't change colors once it's refrigerated! LOL) I couldn't have told this was a diet pie. Could probably be made though with non-diet ingredients. It was really good! Nicely spiced. Will definitely make again!
From my mom…
Easy Cinnamon Biscuits (not sure of the real name, if there is one)
2 7.5 oz cans Pillsbury biscuits (10 biscuits per can)
2 handfuls brown sugar
Cinnamon
8 oz Cool Whip
Grease 9×13 pan and put biscuits in.


Sprinkle brown sugar and cinnamon on top.


Spread Cool whip on top.

Looks more like a dessert now, doesn't it?

Bake at 375 for about 20 minutes.

  These are great!!!!! There's a goo at the bottom and next time, I'm planning to add some pecans on top before putting on the Cool Whip. They take very little time to assemble, plus no rising time. Very good! Keep on hand for a warm breakfast on busy mornings!
From my mom-in-law…
Yum Yum Pudding
60 Ritz crackers
1 stick butter
2 qt vanilla ice cream
2 boxes instant vanilla pudding
1 1/2 cups milk
Crush crackers. Mix with melted butter. Spread out in a 9×13 pan and bake at 350 for 5 min.  (I made a half batch for us, so used a smaller pan here and should've used a smaller bowl later!)

 
Beat softened ice cream. Add milk and pudding. Put crumbs in the bottom of a serving dish, saving some crumbs to sprinkle on top.


Pour ice cream/pudding mixture over crumbs.


Top with remaining crumbs.


Store in refrigerator (not freezer).  Yum is right! I didn't remember having it before and as I was making it, I was so tempted to add some chocolate for an extra layer. Glad I didn't because it was so good!!!! Lots of buttered toasted crackers!
Here is a pizza dough recipe that I tried last night. I copied it off of madisonsmom2's site from awhile ago. There is oregano in the crust and I thought I could actually taste it… but if that was just my imagination, it seems like a neat idea anyway! 
1/4 C. oil    
1 egg
      
Mix these 2 together and add:
1/8 C. sugar  
1 tsp. salt  
1/2 C. hot water   
Mix.
Dissolve 1 pkg yeast in 1/2 C warm water and then add and mix.
Mix in:
3 – 3 1/2 C. flour
1 tsp. Oregano
Knead 15 minutes (Whew! Definitely got my exercise in with that!) and let raise 1 hour. Madisonsmom2 says, "I roll mine into a cookie sheet

 
and spread the pizza sauce on


and bake it 20 min. Add the rest of your ingredients


and bake till the cheese is melted. Happy eating."  

  I baked the crust w\ sauce at 375 for 20 min, then I thought maybe I should've had it at 400, so I upped it to 400 while putting the toppings on, then baked it for about 15 more min. Perfect crust!!!! I put it on a 16″ pizza pan. We ate 1/2 of the pizza (it was huge), so the rest is in the freezer for another meal. 
I know this is now very out of season, but…
Featuring: Our family Valentines meal (for a bit of history, go to the next page to the Feb 11 post).
Menu:
Cupid breadsticks
Lasagna
Robust Italian Salad w\ tomato roses
Red hot salad
Broken Glass Salad
Punch
White Chocolate Mousse
Cheesecake (regular and mocha)
Here's the action…

Breadsticks… it's Pillsbury popable breadsticks, shaped into hearts and arrows. Don't ya love the towel? That would be Kris'… she's crazy about coffee. She made the breadsticks…

Lasagna… We all brought ingredients for the lasagna and Kris put it together. She put a heart shaped tin foil piece on before putting the last layer of cheese on. Then when it was done baking, Seth took the tin foil off and this is how it looked…

Robust Italian Salad… I made this…


The tomato roses were easier than I thought they'd be. I discovered the secret is to peel the tomatoes as thin as you can. Here's a closer up of a rose…

Red hot salad… Galyn made it. (She also made a sugar-free cherry delight for Tom for dessert, which I don't have a picture of)…

Broken glass salad… Kris made it…

Punch… Bruce and Sheila made the punch… I brought strawberries for the goblets (actually an idea off of th3rdtimesacharm's site)…

White Chocolate mousse… Kris made it…

Cheesecake… these were set between each couple and we shared them. There were also regular round cheesecakes for the unmarrieds and for seconds. Bruce made all the cheesecakes…

Candy baskets on the table… I think Sheila did those… actually, most of the decorations are Sheila's…

A place setting…

 We ate by candlelight. Partway thro' the meal, Sheila put more candles on.
 There is always no end to jokes from the guys about not being able to see what they're eating, etc. Last year, Tom and Shannon got their cell phones out, lit the little screen, and propped them up beside their plates for extra light. It's actually plenty bright. Dad says he likes it because it saves on electricity and heating. That's the type of things we have to put up with from the guys.
Mom is busy with school teaching, so this year Sheila, Galyn, Kris, and I did the meal, but it was at Mom and Dad's house. Dan and Jan couldn't make it because they just had a baby. For those of you who know our family, but are wondering who Seth and Kris are… they're 'part of our family'. They fit right in and it would seem very weird without them!